In today's Wall Street Journal drama column, I review a regional revival of Kenneth Lonergan's Lobby Hero. I also take note of the off-Broadway transfer of the Berkshire Theatre Group revival of Fiorello!, whose original run I reviewed in June. Here's an excerpt.
* * *
Kenneth Lonergan is having a very good year. "Hold On to Me Darling," his first play since 2012, opened off Broadway in March, and "Manchester by the Sea," his first film since 2011, will be released in November. Would that he were more prolific, but everything Mr. Lonergan does is worth waiting for, and worth revisiting. That's why I went down to Tysons, a suburb of Washington, D.C., to see 1st Stage's revival of "Lobby Hero," in which he rings provocative changes on the simple yet compelling theme with which he has long been productively preoccupied: Life is messy. The results were worth the trip. This enthralling production, staged with absolute assurance by Alex Levy, 1st Stage's artistic director, is at least as good as—maybe even better than—Playwrights Horizon's original 2001 version.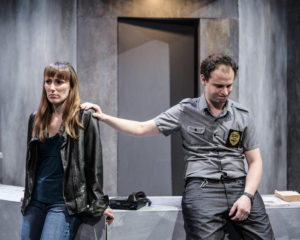 "Lobby Hero" is a conversation piece that unfolds in and outside the lobby of a New York apartment house. The characters, two private security guards and two cops, get entangled in a tight snarl of mixed motives arising from a murder that may have been committed by the brother of one of the guards….
Things get progressively more complicated from there, to the point where it becomes impossible for any of the four characters to do the right thing without hurting someone else. This being a Kenneth Lonergan play, you know that nobody, no matter how nice or sympathetic he or she may seem at first glance to be, is going to get off easy.
Because "Lobby Hero" is all talk, its success is entirely reliant on the quality of the talk—and the talkers. As always, Mr. Lonergan holds up his end with the discreet virtuosity of a theatrical craftsman who has spent a lifetime paying close attention to the world around him. All four of his characters sound like honest-to-God working-class folk, the kind you could imagine meeting on the subway. So, too, do the members of Mr. Levy's cast, who seem as unaffectedly true to life as the characters they play….
* * *
Read the whole thing here.