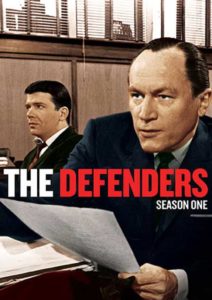 In today's Wall Street Journal "Sightings" column I take note of the release on home video of the first season of Reginald Rose's The Defenders. Here's an excerpt.
* * *
Television was born in 1999, or maybe last Tuesday. Such, it seems, is the assumption of those critics who take it for granted that serious TV drama didn't exist until "The Sopranos" came along, and that the dramatic series of the 21st century are so uniquely excellent that they put their predecessors far back in the shade….
Um…maybe. But older viewers may feel inclined to cast their nets more widely. Even in the '60s, which brought us such exercises in silliness as "Gilligan's Island" and "Mr. Ed," there was no shortage of gripping prime-time fare scattered among the dross. Take "The Defenders," among the most acclaimed dramas of that dread decade. Yes, it's in black and white, but the best episodes of "The Defenders" are still as fresh and vital as anything you'll see on the tube today. To binge-watch "The Defenders: Season One," a nine-DVD set just released by Shout! Factory, is to realize that series-TV drama for grownups wasn't invented by David Chase.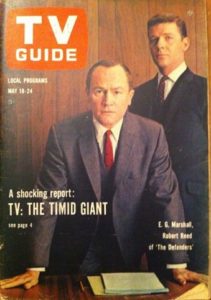 "The Defenders," which aired on CBS from 1961 to 1965, was one of TV's first weekly courtroom dramas. Reginald Rose, the show's creator, knew his way around the genre, having written "Twelve Angry Men," which started life as a 1954 episode of "Studio One." But it was nothing like the vastly more popular "Perry Mason," in which Raymond Burr put the bad guy on the stand each week and grilled him on both sides until he broke down and confessed. Instead, E.G. Marshall and Robert Reed played a father-and-son team of defense lawyers who took rock-hard cases that pivoted on such still-controversial issues as capital punishment, euthanasia and—in 1962, no less—abortion. "The law," said Rose, "is the subject of our programs: not crime, not mystery, not the courtroom for its own sake."
Rose, like most screenwriters then as now, was an unabashed liberal, and "The Defenders," like "Twelve Angry Men," sometimes lapsed into one-sided issue-of-the-week sermonizing. ("The Benefactor," the pro-choice abortion episode, is a particularly heavy-handed case in point.) As the series developed, though, it became wholly adult in its willingness to acknowledge that in the real world, the good guys—and their lawyers—aren't always as good as they seem….
* * *
Read the whole thing here.
A scene from "The Quality of Mercy," the first episode of The Defenders, starring E.G. Marshall and Robert Reed and guest-starring Jack Klugman. This episode was originally telecast by CBS on September 16, 1961:
E.G. Marshall appears as the mystery guest on What's My Line? This episode was originally telecast by CBS on July 12, 1964. The host is John Charles Daly and the panelists are Bennett Cerf Arlene Francis, Dorothy Kilgallen, and Robert Q. Lewis: