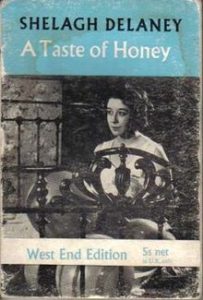 In today's Wall Street Journal I review an important off-Broadway revival of Shelagh Delaney's A Taste of Honey. Here's an excerpt.
* * *
Shelagh Delaney wrote her first play, "A Taste of Honey," a snapshot of life in working-class England, in 1958, when she was just 18 years old. Amazingly, it had successful runs in the West End in 1959 and on Broadway the following year, was turned into a hit movie (which has just been reissued on home video by the Criterion Collection) in 1961 and was revived no less successfully on Broadway in 1981. That, alas, was the end of Delaney, who died in 2011 without writing anything else that did remotely as well. It was as if she'd made a deal with the devil: You get to hit the jackpot the first time you pull the lever, but never again.
"A Taste of Honey" continues to be staged with fair regularity in England, but it's rarely seen in America anymore, though I reviewed a very fine production by Chicago's Shattered Globe Theater in 2008. The Pearl Theatre Company's new revival is the first time that it has been performed in New York since 1981. That surprises me, for it is a marvelous piece of work, at once devastatingly blunt and uncommonly poignant. No matter: Austin Pendleton, the director, and his five-person cast have done right by Delaney's play, and now that the news is full of the hopes and fears of America's own working class, it couldn't be more timely.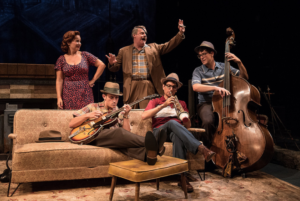 "A Taste of Honey" is the story of Jo (Rebekah Brockman), a 17-year-old girl-woman from Manchester who lives with Helen (Rachel Botchan), her sluttish, self-dramatizing mother, in a dingy flat with "a lovely view of the gasworks." Jo has longings far beyond her station, but she is knocked off the track when she falls in love with and is impregnated by a black sailor (Ade Otukoya) who ships out without knowing that he's going to be a father. Unwilling to live with Helen and her latest lover (Bradford Cover) and determined to bear her child instead of aborting it, Jo invites her only friend, a homeless gay art student named Geof (John Evans Reese), to move in with her.
That's pretty much all there is to "A Taste of Honey," which ends inconclusively, albeit purposefully so. Bright and talented but devoid of prospects, Jo has learned too young that (in her own stoic words) "we don't ask for life, we have it thrust upon us." What, then, will she make of hers?…
For the record, Joan Plowright and Amanda Plummer played Jo on Broadway, Rita Tushingham starred in the film version and Helen Sadler was heart-tuggingly good in the 2008 Chicago revival. Hence it's high praise to say that Ms. Brockman is worthy of her predecessors, giving an earthy performance that feels less like acting than living….
Mr. Pendleton has given "A Taste of Honey" a staging that serves the play with scrupulous, self-effacing care….
* * *
Read the whole thing here.
An excerpt from Tony Richardson's 1961 film version of A Taste of Honey, starring Rita Tushingham and Murray Melvin: