My "Sightings" column for this week's Wall Street Journal, which appeared on the paper's website over the weekend, took note of the death on Friday of Edward Albee. It is running in today's print editions. Here's an excerpt.
* * *
Edward Albee, who died on Friday at the age of 88, wrote one of the half-dozen greatest American plays of the 20th century—and one of the half-dozen worst American plays of the past decade. In truth, far more of his 30-odd plays were bad than good. Most of the fulsome tributes to the author of "Who's Afraid of Virginia Woolf?" that have been posted, printed and tweeted since his death overlook this latter fact. Few of them, however, failed to mention that he couldn't get a decent review between 1975 and 1994, when the off-Broadway production of "Three Tall Women" restored him to critical favor. If you didn't know better, you might well suppose that the critics, not Mr. Albee himself, were mainly to blame for his long eclipse.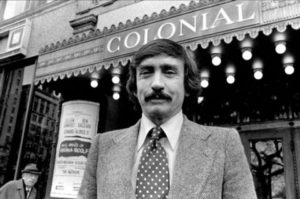 It's easy to see why Mr. Albee metamorphosed from the bad boy of American theater into its grand old man. Not only did he live a long and productive life, but he was endlessly quotable and never hesitated to speak his mind, usually to hair-raising effect. But now that he is gone, it is his work, not his famously sharp tongue, for which he will be remembered—or not. "I have been overpraised and underpraised," he said in 1982. "I assume by the time I finish writing—and I plan to go on writing until I'm 90 or gaga—it will all equal itself out." But it hasn't, not yet, and we are nowhere near sorting out his legacy. Was Albee a great playwright, or did he merely happen to write one great play?
The greatness of "Virginia Woolf" certainly wasn't evident to everyone at the time of its premiere. Robert Coleman of the New York Daily Mirror went so far as to call it "a sick play for sick people." A fair number of other critics were equally disgusted by its snarling sexual frankness, as well as by Mr. Albee's determination to stick a knife in the chest of what he took to be the complacent optimism of mid-century America. Like "The Rite of Spring" before it, "Virginia Woolf" was more a succès de scandale than an instantaneously clear-cut artistic triumph…
Three Broadway revivals and hundreds of regional stagings later, "Who's Afraid of Virginia Woolf?" is now universally regarded as a modern classic. But to this day, it remains the only one of Albee's plays to have made a lasting impression on the general public, enough so that it was even spoofed on "The Simpsons." And while "Three Tall Women," "The Zoo Story" (1958), and "The Goat, or, Who Is Sylvia?" (2002) are also justly admired by critics and theatergoers and continue to be performed throughout America and the world, it would be an understatement to say that no such consensus exists as to the merits of the rest of his output….
* * *
Read the whole thing here.
An excerpt from Steppenwolf Theater Company's 2011 Chicago revival of Edward Albee's Who's Afraid of Virginia Woolf?, which transferred to the Arena Stage of Washington, D.C., and was produced on Broadway in 2012. It was directed by Pam MacKinnon and starred Carrie Coon, Madison Dirks, Tracy Letts, and Amy Morton: