In today's Wall Street Journal drama column I review a Connecticut revival of Joe Orton's What the Butler Saw. Here's an excerpt.
* * *
I keep two lists in the top drawer of my desk. The first one is of plays that I love but have yet to see onstage. ("While the Sun Shines," anyone?) The second is of first-rate plays that I've never seen done well. Prior to this week, the second list was topped by "What the Butler Saw," Joe Orton's 1967 farce about an insane asylum, its sex-crazed staff and an equally crazy policeman who goes there in search of dirty work at the crossroads. "What the Butler Saw" is one of the few perfect farces to be written in modern times, but it's tricky to stage, which may explain why it's never been produced on Broadway and is infrequently performed anywhere else in America. I've reviewed it in Chicago and Tampa, and while both versions were watchable, neither came up to scratch. Not so Westport Country Playhouse's production, directed by John Tillinger and starring Paxton Whitehead, which gets everything right about a play that's perilously easy to get wrong….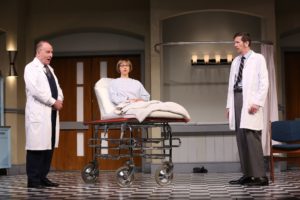 A lightly veiled homage to "The Importance of Being Earnest," "What the Butler Saw" was the last of Orton's three full-length black comedies. No sooner did he finish editing it than he was beaten to death by his lover, a failed actor who couldn't come to terms with his gifted companion's success. All three plays are farces peopled with seemingly respectable middle-class Brits who seethe with repressed desires. In "What the Butler Saw," for instance, we meet Dr. Prentice (Robert Stanton), a psychiatrist who longs to invade the person of Geraldine (Sarah Manton), a prim young maiden who has come to his office looking for work. No sooner does he inveigle her into stripping (he's a doctor, you know) than his wife (Patricia Kalember) shows up and the doors (there are four) start slamming….
What makes Orton's one- and-two-liners land with such explosive satirical impact is that they're propelled by a plot so tightly wrought that "What the Butler Saw" can't help but go over—so long as the director doesn't get in the way by inserting gratuitous business whose sole purpose is to let the audience know when to laugh. Fortunately, Mr. Tillinger, who is well known for his stagings of the farces of Alan Ayckbourn, doesn't need to be reminded that the characters in a farce don't know that they're funny (that's the joke). Instead, he starts things off at a leisurely pace and lets the momentum build, and before you know it, you're whizzing round Orton's sharp comic curves at well past the speed of sound….
* * *
Read the whole thing here.
The trailer for John Tillinger's 2014 Los Angeles revival of What the Butler Saw, starring Paxton Whitehead: