In today's Wall Street Journal I review the premiere of Jane Anderson's Mother of the Maid in Lenox, Massachusetts, and the Shakespeare in the Park production of Cymbeline in New York's Central Park. Here's an excerpt.
* * *
George Bernard Shaw cornered the market on plays about Joan of Arc with "Saint Joan," which bagged him the 1925 Nobel Prize for literature. But other writers of note, including Maxwell Anderson, Jean Anouilh and Bertolt Brecht, have since put the Maid of Orléans on stage, albeit with varying degrees of success. Now comes Jane Anderson, whose teleplay for HBO's 2014 adaptation of Elizabeth Strout's "Olive Kitteridge" won her deserved acclaim, and whose "Mother of the Maid," which was given its premiere last Friday by Shakespeare & Company, takes a tack sharply different from its predecessors. Instead of concentrating on the semi-legendary exploits of the virgin martyr (Anne Troup), Ms. Anderson shifts the emphasis to Isabelle (Tina Packer), her all-but-unknown mother, and does so to riveting effect.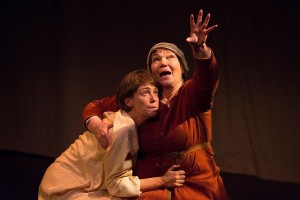 The conceit of "Mother of the Maid" is that the Arcs, though dressed in 15th-century attire, speak in the rough-hewn manner of a modern-day working-class British family, while St. Catherine (Bridget Saracino), the spectral narrator, sounds like a wisecracking millennial whose casual flippancy ("O.K, that went well") allows skeptical viewers to keep the play's religious content at arm's length. Not that it's hard to do so in any case, for "Mother of the Maid" is less about martyrdom than motherhood, and specifically about the yawning chasm of class and comprehension that opens up when an ordinary parent bears a gifted child who gradually turns (in Isabelle's anguished words) into "something that's taller and smarter than you will ever be."
Ms. Packer's performance is extraordinary in every way, a fast-flowing stream of indelible moments that she transmutes into an inseparable whole….
The Public Theater can do no wrong these days. First "Fun Home," then "Hamilton," and now a "Cymbeline" in Central Park that makes joyous sense out of a play that even the most devoted of Shakespeareans have oft looked at askance. What makes it a "problem" play (as most literary scholars categorize "Cymbeline") is that the complex plot is stuffed with synopsis-defying implausibilities that in a less effective production can obscure the quintessentially Shakespearean themes of jealousy, forgiveness and reconciliation that give "Cymbeline" its emotional kick. Daniel Sullivan, the director, has gotten around this obstacle by shading his staging in the direction of knockabout farce, but doing so with the lightest and sweetest of touches….
* * *
To read my review of Mother of the Maid, go here.
To read my review of Cymbeline, go here.