It seems miraculously, even magically appropriate that I should be able to listen to Constant Lambert's 1937 recording of Peter Warlock's String Serenade on my iPod, as I did a few weeks ago, while simultaneously reading about Hugh Moreland, my favorite character in A Dance to the Music of Time, Anthony Powell's twelve-volume roman fleuve about life in England before, during, and after World War II.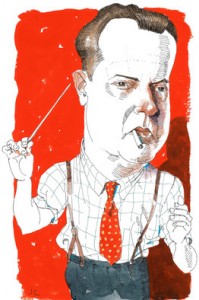 As longtime readers of this blog know, Moreland was Powell's fictionalized version of Lambert, to whom he was very close. All who knew Lambert agreed that his portrait in Dance was both evocative and convincing. Powell knew Warlock, too, if less intimately, and portrayed him as "Maclintick" in Dance. His real name was Philip Heseltine—Peter Warlock was his professional pseudonym—and Powell's reminiscences of the man himself ring no less true:
[He] had by taking thought turned himself into a consciously mephistophelian figure, an appearance assisted by a pointed fair beard and light-coloured eyes that were peculiarly compelling….I always found him agreeable and highly entertaining; though never without a sense, as with many persons of at times malignant temper, that things might suddenly go badly wrong.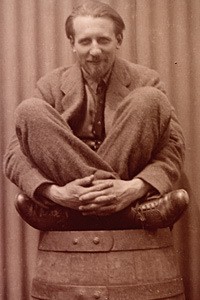 Call him what you will, Heseltine/Warlock was a minor master whose strong style is immediately recognizable. Among the best and most fully realized of his works is the String Serenade, composed in 1922 and dedicated "to Frederick Delius on his sixtieth birthday." It's a six-minute dance movement, a melancholy, gently swaying minor-key "siciliano" in six-eight time. Delius heard it on the radio in 1926 and sent Warlock a warm note claiming to be "charmed with its musical sensibility and coloured atmosphere!"
Lambert was just as fond of the siciliano, which turns up repeatedly in his own compositions, and it isn't hard to figure out why he interpreted this particular specimen so sympathetically in his parallel life as an orchestral conductor. Like Warlock, he was much given to melancholy ("Moreland's face in repose, in spite of this cherubic, humorous character, was not without melancholy too") and, for all his high spirits and flashing wit, never seemed quite at home in the world. He died of drink, more or less, in 1951. It was a sad and unsuitable end, though not nearly so sad as that of Warlock, who gassed himself, having first put out his cat.
I love the music of both men passionately, and it's surprising that I'd never before had occasion to listen to any of it while reading about them in A Dance to the Music of Time, seeing as how I'm a similarly ardent admirer of Powell's writing. For modern technology facilitates such exercises in aesthetic serendipity, and all it took for me to bring these three long-dead friends together again was a few quick clicks on my laptop. I wonder, though, what they would have thought of being summoned from the shades in such a way. Would they have seen the electronic wizardry of the twenty-first century as a mortal threat to art?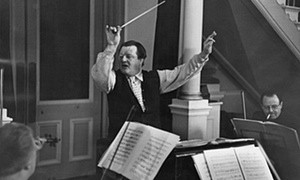 Consider, for example, the first sentence of this post, in which I pay implicit and reflexive homage to the shiny new god that we call "multitasking." But is it really so magical and miraculous as all that? To read a book or listen to music on a computer, after all, is to be no more than a keystroke away from distraction, which is the enemy of the intense, focused concentration that those who love art once cultivated as a matter of course. Do I really profit from being able to listen to Warlock's music conducted by Lambert while simultaneously reading what Powell wrote about both men's personalities—or am I watering down all three experiences, in something of the same way that so many postmodern museumgoers water down the immediate experience of looking at great paintings by simultaneously listening to recorded lectures about their greatness?
No doubt all this is but one of the countless aspects of the inseparably mixed blessing that is progress. In exchange for the boon of instant access to art of all kinds, my generation of aesthetes now lives under the ever-present aspect of instant distraction from its consoling beauties. In the end, this access may prove to have been a devil's deal—for which reason the man who chose to call himself Peter Warlock might well have taken a macabre kind of pleasure in it.
* * *
Constant Lambert conducts Peter Warlock's Serenade for Strings:
To hear Anthony Powell talk about Lambert in his 1976 appearance on the BBC's Desert Island Discs, go here.