In today's Wall Street Journal I review the Broadway transfer of Hamilton and a Maine revival of Nice Work if You Can Get It. Here's an excerpt.
* * *
Lin-Manuel Miranda's "Hamilton," the multi-racial rap musical about Alexander Hamilton and the making of America that sold out the Public Theater this spring, has now moved to Broadway, just in time to profit from the ruckus over the possible removal of its namesake from the $10 bill. Not that the show needed any more publicity: It was already a plutonium-hot ticket, stoked by ecstatic reviews of the premiere and acres of near-lascivious advance coverage. No matter what the critics say this time around, "Hamilton" seems a safe bet to occupy the Richard Rodgers Theatre forevermore.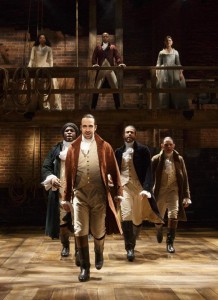 So it should: "Hamilton" is the best and most important Broadway musical of the past decade. Why important? Because it sounds as though it had been written last week instead of a half-century ago. At the same time, and even more surprisingly, "Hamilton" enlists the musical language of hip-hop in the service of a patriotism that is at bottom as old-fashioned as skyrockets on the Fourth. Yet there is nothing quaint about the deeply thoughtful way in which Mr. Miranda has interwoven the tension between Hamilton's personal ambition and sense of national mission with the parallel capacity of his fellow framers to balance realism with idealism….
The uptown version of "Hamilton" is not greatly changed from its off-Broadway predecessor. It's still on the long side—two hours and 45 minutes—and I continue to think, as I did in February, that judicious cuts would have made it even stronger. That doesn't matter much, though, for the vaulting energy of Mr. Miranda's score sweeps all cavils aside…
Valerie Harper, who has continued to act while battling cancer, fell ill last Wednesday during a performance of "Nice Work if You Can Get It" at Maine's Ogunquit Playhouse and was subsequently replaced on Tuesday by Brenda Vaccaro. Unable to postpone my planned Sunday-afternoon visit to Ogunquit, I instead saw Leslie Alexander, Ms. Harper's emergency stand-by, and can report that no apologies of any kind were needed for her tough-broad second-act cameo as Millicent Winter, whose role was created by Estelle Parsons in 2012. Ms. Alexander couldn't have been better, and neither could the rest of the production, which is comparable in quality to Kathleen Marshall's original Broadway staging.
Much of the credit belongs to Peggy Hickey, the choreographer. She has a knack for knowing pastiche, and her evocations of Prohibition-era theatrical dance are lively and smart….
* * *
To read my review of Hamilton, go here.
To read my review of Nice Work if You Can Get It, go here.
To read my review of the original off-Broadway production of Hamilton, go here.
A CBS Sunday Morning feature on the off-Broadway premiere of Hamilton: