In today's Wall Street Journal I review two new plays, Lynn Nottage's Sweat at the Oregon Shakespeare Festival and Annie Baker's John off Broadway. Here's an excerpt.
* * *
Reading, the Pennsylvania city whose name has become a byword for Rust Belt poverty, is the subject of not one but two new plays this year, Douglas Carter Beane's "Shows for Days" and Lynn Nottage's "Sweat." But while Mr. Beane gave us a frothy farce about how he fell in love with theater by joining a local drama troupe, Ms. Nottage has chosen instead to take a searching look at the workers who lost their jobs when the factories of Reading started shutting down.
It is Ms. Nottage's special gift—I'm tempted to call it, in the old-fashioned sense of the word, her genius—to bring politically charged themes to dramatic life by embodying them in characters whom she portrays not as spokesmen for a cause but as ordinary people living ordinary lives. You can see how she does it in "Sweat," whose theme is the effects of the North American Free Trade Agreement on America's unionized working class. The play is set in a blue-collar bar, and its principal characters are a racially diverse group of men and women whose well-paying jobs ("I plan on retiring from the plant when I'm like 50 with a killer pension and money to burn") are in the process of migrating to Mexico. What is at stake, it soon emerges, is not just their ability to pay the rent but the very meaning of their lives….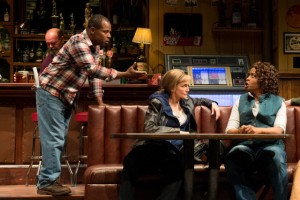 No, Ms. Nottage doesn't have all the answers, or any of them. Her play is a one-sided shriek of pain, not a coolly reasoned position paper on macroeconomics, and some will doubtless dismiss it for that reason alone. They shouldn't: "Sweat" is fully and illuminatingly alive to the moral complexities of the situation that it depicts. Among other things, Ms. Nottage doesn't let us forget that the union now fighting for the jobs of its members once fought to keep blacks and Latinos out of the factories of Reading…
Annie Baker has followed the critical and commercial success of "The Flick," her Pulitzer-winning dark comedy about a trio of lonely losers, with "John," in which she approaches the same subject from a different angle. This time around we meet Elias and Jenny (Christopher Abbott and Hong Chau), an unhappy couple who seek to salvage their shaky relationship by paying a Christmastime visit to a too-quaint-for-words Gettysburg B&B. Their host (Georgia Engel, who seems not to have changed at all since she played Georgette in "The Mary Tyler Moore Show") is a mousy older woman whose insipid manner masks an intense devotional life of which we see only suggestive flashes…
An exceedingly promising setup, in other words, and "John" is full of poetic, handsomely wrought scenes that ought to add up to more than they do. The problem, once again, is that Ms. Baker has drowned them in a sea of portentous pauses and protracted silences…
* * *
To read my review of Sweat, go here.
To read my review of John, go here.
The trailer for the Oregon Shakespeare Festival production of Sweat: