In today's Wall Street Journal "Sightings" column I report on the night I recently spent in Taliesin, Frank Lloyd Wright's Wisconsin home. Here's an excerpt.
* * *
"No man," said Dr. Johnson, "is a hypocrite in his pleasures." Of all the truths told by that matchless observer of human nature, this one may come closest to absolute exactitude. We often lie to others about what pleases us, but few deceive themselves when pursuing their own happiness—and when the party in question is an architect who is designing a house for himself, he'll almost certainly build what he likes, not what he thinks he ought to like.
All this came to mind when I slept last month in the guest bedroom of Taliesin, Frank Lloyd Wright's rambling 601-acre country estate, not far from the village of Spring Green, Wisconsin….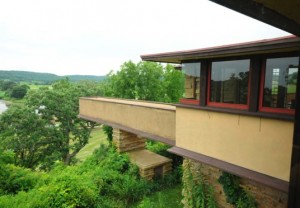 The hillside living quarters, originally built in 1911, were ravaged by fire and rebuilt in 1914 and 1925, after which Wright spent the rest of his long life tinkering with Taliesin, which he used as a kind of living sketchbook. It was there that he experimented with devices later employed in homes designed for his clients, incorporating other touches strictly for his amusement, the most fanciful of which is a vertigo-inducing cantilevered walkway that juts out from the living room. I tried to walk all the way to the far end at midnight, and turned back after a few shaky steps.
When the last tourist leaves and you lock the door, a deep, soothing hush settles over the house. I wandered in silence from room to room, looking with freshened eyes at the myriad ways in which Wright built Taliesin so as to dissolve the difference between the spacious interior and the serene countryside that surrounds it. Then I sat down in the living room, which contains a massive limestone hearth, huge picture windows that let in starlight from the night sky, a Bechstein concert grand (on which I softly played a Bach prelude) and a Wright-designed four-sided music rack meant for use by a string quartet….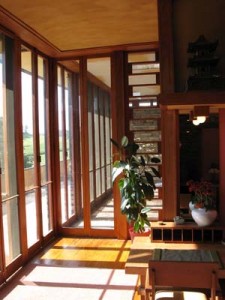 At length I retired to the stucco-and-stone guest bedroom, a smallish space with unexpectedly high ceilings (Wright appears to have designed many of his buildings with his own small stature in mind). Its simple furnishings include another hearth, a desk, a reasonably comfortable bed and a bookshelf containing a quirky but somehow characteristic selection of volumes…
The room is not for slugabeds. I was awakened at dawn by bright sunshine flooding through the unshaded floor-to-ceiling windows. It felt strange at first to wash in the bathroom sink, but then I remembered that before it was a museum, Taliesin was a place where people lived, one of whom was a genius who designed it specifically for his pleasure but also wanted ordinary Americans to own smaller houses of their own that partook of the same harmonious beauty….
* * *
Read the whole thing here.