I left the following story out of my Wall Street Journal column about spending a night in Frank Lloyd Wright's home because I suspected that most of my readers wouldn't have believed it. It is, however, true, and I share it with you here for your amusement.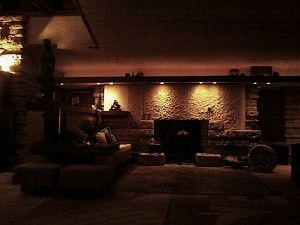 As I sat in the living room of Taliesin at midnight, it occurred to me that it would be appropriate for me to listen to a piece of music that Frank Lloyd Wright would have liked, so I fetched my iPod, plugged in my travel speaker, and played the Busch String Quartet's 1941 recording of the cavatina from Beethoven's B Flat Quartet, Op. 130.
I thought as I listened of what Aldous Huxley wrote in his essay Music at Night about the experience of listening to late Beethoven on a starlit June evening:
Blessed and blessing, this music is in some sort the equivalent of the night, of the deep and living darkness, into which, now in a single jet, now in a fine interweaving of melodies, now in pulsing and almost solid clots of harmonious sound, it pours itself, stanchlessly pours itself, like time, like the rising and falling, falling trajectories of a life. It is the equivalent of the night in another mode of being, as an essence is the equivalent of the flowers, from which it is distilled. There is, at least there sometimes seems to be, a certain blessedness lying at the heart of things, a mysterious blessedness, of whose existence occasional accidents or providences (for me, this night is one of them) make us obscurely, or it may be intensely, but always fleetingly, alas, always only for a few brief moments aware.
No sooner did the music start than what looked to me like a blackbird flew into the room. It fluttered around until the movement came to an end, then vanished. I never saw it again.
A few days later I told my friend Keiran Murphy, a Wright scholar who works at Taliesin, about the incident. "Probably a bat," she said matter-of-factly. "We get them all the time."
* * *
This is the record that I played at Taliesin: