Plain English: August 2012 Archives
I am an EastEnders addict. Anybody reading this who doesn't have access to BBC television will probably be at a loss to understand this reference to the long-running TV soap opera, which takes place in "Albert Square," a fictional postal address in London's East End. I, like millions of other middle-class Brits (though I'm only half Brit, and that by dint of passport only, not birth), go slumming in Albert Square four times each week for a half hour starting at 7.30 or 8.0.
And I mean "slumming." The whole point of the series is that the highest moral type you encounter in EE is the lovable rogue. Otherwise the dramatis personae consist of an entire catalogue of villainy, from Falstaffian slightly bent to Iago-like pure evil. There are no virtuous women living in Albert Square, and no honest men. Even the children, though charming, are adept at calculating the odds.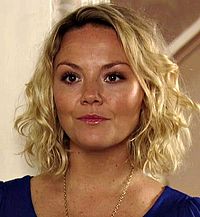 Janine Butcher
The Tempest is a play for which it is possible to feel real affection. In this it is, of course, unlike the tragedies: you can't imagine having warm, happy, cheerful or loving feelings about Macbeth, Hamlet or Othello. (There was a famous American Yiddish theatre production of King Lear - the moral of it being, "You bring them up, feed them, clothe them; then look what they do to you in your old age!" You can perhaps conceive of feeling affectionate in a superior, amused way about such a staging.) It's possible to love the tragedies, as it is The Merchant of Venice, Romeo and Juliet and several of the comedies and histories - and as it is not, say, the Taming of the Shrew or Timon of Athens.
Why am I fond of The Tempest? Not because it suits my political feelings. I can see merit in the interpretation that says the play's point is anti-colonialism - it's a reading that fits. But it can't be the whole story, and making it so has resulted in any number of poor productions that I've seen. The Tempest is too much a tale of the natural order being subverted and restored - of dukes being dukes and princes, princes, and of Miranda being a natural aristocrat, though all the home she knows is the desert isle - to impose a single ideological straitjacket on its plot and subplots.
Kirsty Bushell as "Sebastian"