Confessions of a soap addict
I am an EastEnders addict. Anybody reading this who doesn't have access to BBC television will probably be at a loss to understand this reference to the long-running TV soap opera, which takes place in "Albert Square," a fictional postal address in London's East End. I, like millions of other middle-class Brits (though I'm only half Brit, and that by dint of passport only, not birth), go slumming in Albert Square four times each week for a half hour starting at 7.30 or 8.0.
And I mean "slumming." The whole point of the series is that the highest moral type you encounter in EE is the lovable rogue. Otherwise the dramatis personae consist of an entire catalogue of villainy, from Falstaffian slightly bent to Iago-like pure evil. There are no virtuous women living in Albert Square, and no honest men. Even the children, though charming, are adept at calculating the odds.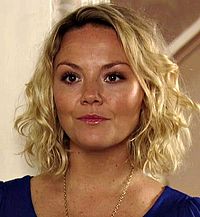 Janine Butcher
Why do we like it so much that we weep at the very idea of missing an installment of this weekly brew of nastiness? The obvious answer, that it's the best-written, best-directed thing on TV, isn't the whole story. It's true that the dialogue is so up-to-the-minute that it doesn't simply reflect non-Received Pronunciation speech (the accent is not really the Cockney implied by the location, so much as it is the Estuary English now spoken by nearly all uneducated Londoners - and by a great many educated ones as well). In some cases, I'd claim, EE actually sets the linguistic trends.
I met some of the writers a dozen or more years ago in - of all places - Almaty in Kazakhstan. (It's a long story, but they were there to help found the Kazakh TV industry.) Many of them were upper-middle class public-school (or equivalent) educated kids from professional families living somewhere like Hampstead; but my god, did they have acute ears. They were true professionals, also, in the sense of being able to anticipate the next social problem that would affect those beneath them - way beneath them, as they were better paid than I was - on the socio-economic ladder. Whether it was single motherhood, abortion, gay schoolboys, obesity or baby-snatching - the EE writers were there before the broadsheet papers even noticed there was a problem. Governments could have done worse than use them as consultant forecasters.
As for the directors - these vary from programme to programme and week to week, as do the writers. But they all have in common the breathless speed with which the cuts proceed in each episode. Remark on something to someone watching with you, and you've missed the next vital cue. Watching EE demands such mental agility that I'd argue that it improves the viewer's reasoning powers, maybe even increases your IQ. It certainly does wonders for your grasp of social issues; and by making the sufferers characters that you care about, gives you a certain sympathy with people that likes of whom you - the comfortable, middle-class viewer with a university degree - will probably never encounter in real life.
Of course I should hasten to add here that the colossal viewing figures for EastEnders couldn't possibly be made up exclusively of middle-class people. A good many viewers, perhaps a majority, might come from the traditional working-classes (if there are any of these left) and from the underclass, for whom a TV set is one of the rights of life. (This is probably the place to say that I have an ancestral tie myself, if not to Albert Square, to the Whitechapel district of the East End, from where my maternal grandparents emigrated to the USA - though I don't actually know whether either of them was born in London. We still have plenty of family in London, although we've lost touch with them.)
All this is by way of saying how much pleasure I got from this week's Diary in The Spectator. The genius who edits it has commissioned Steve John Shepherd, who plays the character of Michael Moon in EastEnders to write it today. In his first paragraph he writes about an Asian man who recognises him in a branch of (the middle-class shop) Marks & Spencer, and calls him "a very naughty man." Says Mr Shepherd, his interlocutor obviously "enjoys the psychological torture my character ...in EastEnders inflicts on people." Myself, I love Michael Moon - he's handsome, charming, and has married and had a child with the female Iago called Janine Butcher. So wicked is Janine that she became a Jewish convert in order to marry a rich man, whom she then murdered. It's a brave fellow that takes on Janine, even if he is himself being transformed "into the devil's son."
I'm afraid I must have missed some of the episodes in which Michael's "diabolical stature" grew. I certainly did not catch the programme in which he was shown reading the Times Literary Supplement on a bench in Albert Square. I regret this omission more than I can say. I am very cross indeed with the TLS just at the moment, as they recently ran a cover piece on a book to do with food that was so incompetent that I felt bound to write a personal note of complaint to the Editor. I feel the piece did a great deal of damage to the fledgling academic field of food studies, and that it was unforgivable of the TLS to print such a foolish piece, let alone put it on the cover. If I hadn't been associated with the paper for about 40 years, both as reviewer and reader, I'd cancel my subscription. I wonder if that was the number of the TLS Michael Moon was shown reading in Albert Square?