Plain English: September 2009 Archives
I love going to what a former-debutante girlfriend used to call (generically) "the play" at the Almeida Theatre in Islington. The small, 325-seat auditorium is a warm, intimate space, the foyer and bars are welcoming, and it's located just off Upper Street, which has gone from slummy to chic in the past 20 years, and teems with interesting restaurants, making it an adventure to eat after the show. In addition the theatre's adventurous programming policy makes almost everything the company presents very well worth the schlepp to this part of North London.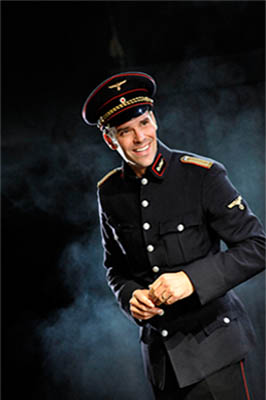 Joseph Millson in Judgment Day at the Almeida Theatre. Photo Keith Patterson
Edinburgh 2009 (2)
Apologies are owed to Edinburgh International Festival director, Jonathan Mills, as this is his third, not second, EIF, which I jolly well ought to know, as I was here for his inaugural festival, and very fine it was, too. My Edinburgh host and I were both convinced it was number two; my host and I are the same age, verb sap.
Very often in the past I have found the musical events of the Edinburgh Festival the most memorable, such as the occasion in the 1960s when at a Richter/Rostropovich complete Beethoven piano-cello sonatas cycle, I sat opposite a young Daniel and Jacqueline du Pres, mesmerised, sadly, not by the Beethoven but by du Pres nibbling the ends of her golden tresses. And they left at the interval.