Dies illa
I love going to what a former-debutante girlfriend used to call (generically) "the play" at the Almeida Theatre in Islington. The small, 325-seat auditorium is a warm, intimate space, the foyer and bars are welcoming, and it's located just off Upper Street, which has gone from slummy to chic in the past 20 years, and teems with interesting restaurants, making it an adventure to eat after the show. In addition the theatre's adventurous programming policy makes almost everything the company presents very well worth the schlepp to this part of North London.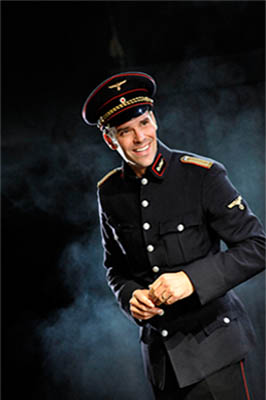 Joseph Millson in Judgment Day at the Almeida Theatre. Photo Keith Patterson
On this occasion there was another reason for me to catch the first night, which is that the new production,
Judgment Day
a 1937 play by Ödön von Horváth, is being given in a new version by Christopher Hampton. He's had some deserved big hits recently, such as the 2006 film
Atonemen
t, Yasmina Reza's 2008
God of Carnage
and an adaptation of
The Seagul
l at the Royal Court and on Broadway (2007-08) and has previously adapted three other plays by Ödön von Horváth. Hampton's film,
Carrington
, was first bruited at my kitchen table; so I take a special interest in his work.
Judgment Day
powers down the tracks like the express train that is its central metaphor, in a plot about a rigid, moralistic stationmaster who makes one mistake, but a lethal one. Joseph Millson gives a striking performance as Thomas Hudetz, who always does his duty, follows orders to the letter, and has something of the automaton about him - until one evening he is distracted by a flirty village girl who kisses him, and causes him to forget to set the switches in time. It seems almost out of character that he tries to shirk responsibility for the fatal crash that follows and, indeed, is acquitted by the authorities. We're sympathetic to him at first, because he has a ghastly, cold, older wife. So chilly is she, that even her own brother, Alfons, disowns her. Alfons is, after a fashion, the conscience of the play, and at first sides with the stationmaster, as does everyone - the flirt even perjures herself for him.
It all unravels in a distressing, frightening way, heightened by James Macdonald's direction and particularly by Miriam Buether's fabulously simple set that smoothly transforms itself from the railway station to a country inn. The play deals with shared guilt in 1937 Germany. There are no swastikas, no pictures of Hitler, no references to the Nazi party and no military uniforms. The only man who has a conscience has no idea what to do about it. The dilemma, and the catastrophe consequent on not solving it, are Germany's.
Following the 1933 election Ödön von Horváth left his native Bavaria for Budapest, where he renewed the Hungarian passport to which he was entitled by his paternity; and in Vienna that year he married a Jewish opera singer to give her a usable passport. Yet the next year he went to Berlin, to observe the Nazis at first-hand. Hampton says of this time in von Horváth's career: "The seven plays and two novels that poured out in the short time remaining to him are a compendium of the petty prejudices and rancorous suspicions of an era of epic mean-mindedness." After the Anschluss in 1938 he decided to emigrate to America, but en route stopped in Paris, where he was killed in a freak accident by a falling branch of a chestnut tree.
Judgment Day reminds me of some of J.B. Priestley's plays of ideas, though this is better constructed, more subtle and more satisfying even than An Inspector Calls. Why don't we regularly see the plays of as West End and Broadway staples? If any of the others are as good as Judgment Day, we're missing a hell of a lot.