RE: What's in and what's out?
By
Andrew Taylor
Since Adrian Ellis is asking, I make a motion that we include the following from his list in the realm of ''expressive life'': Motor-cycle maintenance, chess, frying an egg, recreational sex. No particular reason...I would just like to be in a policy discussion that includes those things alongside symphonic music and quilting bees. Do I have a second?
To be honest, we have neither the process nor the authority to make those decisions. Rather, all the current and potential players in the game and their representatives can choose for themselves whether the larger frame serves their specific purpose. I'm hoping that most of them are having that very discussion right now (or perhaps they're already done).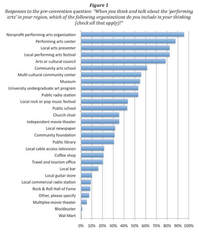 Back in 2008, Elizabeth Long Lingo and I (and a fabulous research team) actually dabbled in the very question for a
Curb Center research initiative at the National Performing Arts Convention
in Denver. Since the convention was drawing a national audience of arts professionals, advocates, and supporters from multiple disciplines, our research team wanted to know how
they
drew the frame around ''performing arts'' (essentially the ''what's in and what's out'' question).
Here are the results of that pre-conference survey question
for those who care to know (click the link or the image for a full-size view).
I found it interesting that the convention was intended to bring more muscle and motivation to a national conversation about public policy and the performing arts, but that two of the largest national and local purveyors of music (Walmart) and media theater (Blockbuster) didn't make the cut.
About
This Conversation
Are the terms "Art" and "Culture" tough enough to frame a public policy carve-out for the 21st century? Are the old familiar words, weighted with multiple meanings and unhelpful preconceptions, simply no longer useful in analysis or advocacy? In his book, Arts, Inc., Bill Ivey advances "Expressive Life" as a new, expanded policy arena - a frame sufficiently robust to stand proudly beside "Work Life," "Family Life," "Education," and "The Environment." Is Ivey on the right track, or
more
Our Bloggers
Adrian Ellis; Alan Brown; Andras Szanto; Andrew Taylor; Bau Graves; Douglas McLennan; Ellen Lovell; Bill Ivey, William James; James Early; Jim Smith; Lewis Hyde; Marian Godfrey; Martha Bayles; Nihar Patel; Russell Taylor; Sam Jones; Steven Tepper

more
Contact us
Click here to send us an email...
more
Resources