Of Ticket Monopolies and Messes
By
Douglas McLennan
So today comes word of approval of the
TicketMaster/Live Nation merger
. Together these companies control 83 percent of the concert ticket business in the US. The government set some conditions before approving the merger, but these do little if anything to mitigate the fact that one company will control a huge piece of the nation's concert business. So where does this fit into an Expressive Life equation? Is this a cultural issue or a markets/monopolies issue or both?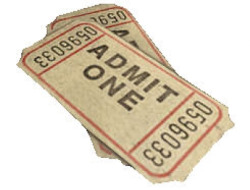 I get that expanding the frame still means having a list of who's on the boat and who's off. But even after one determines whether frying eggs is on or off, it seems to me that an expanded list means expanded difficulty in determining desirable rational policy. Authors versus Google books. Musicians versus recording companies. Concertgoers versus TicketMaster. Where do you come down?
It's difficult enough when it's just the non-profit sector and there seems like even the semblance of a commonality of model. There are many issues where cultural policy for the public good seems easy (access to cultural heritage being an obvious one) But how do we expand the frame to deal with something even so fundamental as the ticket business without making a mess?
About
This Conversation
Are the terms "Art" and "Culture" tough enough to frame a public policy carve-out for the 21st century? Are the old familiar words, weighted with multiple meanings and unhelpful preconceptions, simply no longer useful in analysis or advocacy? In his book, Arts, Inc., Bill Ivey advances "Expressive Life" as a new, expanded policy arena - a frame sufficiently robust to stand proudly beside "Work Life," "Family Life," "Education," and "The Environment." Is Ivey on the right track, or
more
Our Bloggers
Adrian Ellis; Alan Brown; Andras Szanto; Andrew Taylor; Bau Graves; Douglas McLennan; Ellen Lovell; Bill Ivey, William James; James Early; Jim Smith; Lewis Hyde; Marian Godfrey; Martha Bayles; Nihar Patel; Russell Taylor; Sam Jones; Steven Tepper

more
Contact us
Click here to send us an email...
more
Resources