Bring out the Tinfoil Hats
By
Douglas McLennan
Bill: it's not that I'm worried we'll be out of our depth or get it wrong if we expand the frame. It's that I think the weight of history is against it. You might not want to play the conspiracy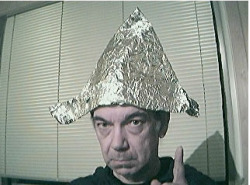 theorist, but I'm happy to call it out. Yes, I do think that it's easy to marginalize the arts in the broader culture by setting aside a token underfunded agency and then letting artists fight over the scraps. As I have heard you say, the real cultural public policy decisions on media ownership, copyright, trade policy etc, are largely made outside of the NEA's gaze. And these issues have enormously more impact on the culture than the few millions dangled in front of the NEA.
I think a big part of the struggle here is to figure out how citizens can have more of a voice in these public policy issues. This is far more important than the small grant funding the NEA has at its disposal (though of course I don't want to minimize the value of that direct support for art). Right now the default winners on cultural policy are companies like Disney, who own issues such as copyright. As you so shockingly point out, a great deal of our cultural heritage is under the lock and key of private interests and we (artists or audience) don't necessarily have access to it.
But here's my problem. We're in the midst of a revolution in the ways culture is produced and distributed. A very big part of this revolution is the breakdown of traditional channels and institutions, the empowerment of individuals to be more creative and find audiences for that creativity. The traditional powers of centralization are being overtaken by more efficient dynamic network effects. The fragmentation and the constant rewiring of that fragmentation, it seems to me, increasingly resists attempts to generalize or common-ize the validation of culture.
Many of us are still thinking of culture or information or communities in terms of centralizing places like websites or institutions. But I see culture and communities atomizing and networking in organic ways that make sense for the moment or the place, then melting away and reforming around the next idea that makes sense. This is the power of the creative revolution that gives artists the power to create and distribute in ways they never were able to before.
So. Any list you might make of expression would necessarily have to be fluid and ever-evolving. It might be unworkable. Better, I think, to take up the suggestion below of tackling
costs, barriers, and access.
In these at least, there are some principles that could be articulated for the public good. But how sexy is this? How do you create and rally a constituency around them?
About
This Conversation
Are the terms "Art" and "Culture" tough enough to frame a public policy carve-out for the 21st century? Are the old familiar words, weighted with multiple meanings and unhelpful preconceptions, simply no longer useful in analysis or advocacy? In his book, Arts, Inc., Bill Ivey advances "Expressive Life" as a new, expanded policy arena - a frame sufficiently robust to stand proudly beside "Work Life," "Family Life," "Education," and "The Environment." Is Ivey on the right track, or
more
Our Bloggers
Adrian Ellis; Alan Brown; Andras Szanto; Andrew Taylor; Bau Graves; Douglas McLennan; Ellen Lovell; Bill Ivey, William James; James Early; Jim Smith; Lewis Hyde; Marian Godfrey; Martha Bayles; Nihar Patel; Russell Taylor; Sam Jones; Steven Tepper

more
Contact us
Click here to send us an email...
more
Resources