main: May 2008 Archives
Some artists make art. Some make icons. Some, like Keith Haring, made both. Haring (1958-90) started out as a guerrilla subway artist. You see, there were all these unsold advertising boards in the subways: blank and all-black, like vertical schoolroom blackboards. He went around inscribing them in white chalk with a joyous repertoire of cartoony outline-figures. Some people pried them off and saved them.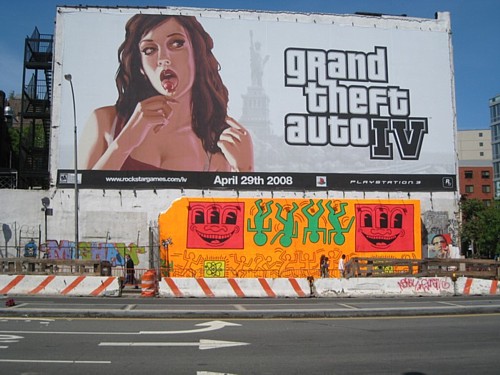 Keith Haring: Houston Street and Bowery Mural, 1986/2008
Then he went all-color and began to cover the world with his Martian invaders, disco/hip-hop dancers, doggies, howling werewolves, and (my favorite) radiating/radioactive babies. He covered notebooks, hallways, walls, and objects of all kinds -- even the dancer Bill T. Jones. Also canvases, although I don't think canvases were his natural medium. In 1986 he opened his Pop Shop in Soho, where one could get Haring T-shirts, note cards, postcards, skateboards, buttons, etc. Art for the people!
Early on, before he was famous, I sometimes saw him furtively buying magic-markers at my corner newspaper/magazine/stationery store on Second Avenue and Ninth Street, long replaced by some mass-food eatery of no consequence.
Magic markers? Obviously the cause of a graffiti plague. There may have been a law or should have been a law preventing sales of such weapons to teenagers. There was a spray paint law. At this point, Haring was no longer a teenager, but he looked youngish and pleasingly nerdy, like a cross between a School of Visual Arts student and Harold Lloyd.
Unlike Jean Dubuffet (one of Haring's idols and influences), who discovered his doodle-derived L'Hourloupe language late in life, Haring was precocious. He developed his own visual bag of tricks when he was still an art student: a graphic language of exuberant, cartoony figures that could be applied to any surface. But unlike Mayan or Egyptian pictograms, Haring's icons are immediately readable.
The recently recreated Haring mural (courtesy Goldman Properties, Deitch Projects, and the Keith Haring Foundation, at Houston and Bowery in Manhattan to Dec. 21, 2008) features his atomic logo, dancing boys, and a funhouse man and his twin. The Day-Glo colors almost guarantee fun-fun-fun. But, wait a minute, are the figures dancing or running and skidding? What is amusing about the symbol for atomic energy? Particularly one with radiating lines? Aren't the grinning funhouse twins with three eyes more than a bit creepy? Or are they just dopey? And why are the chartreuse dancers upside down? Dancing on the ceiling, I guess, in some coloring-book nursery of the mind.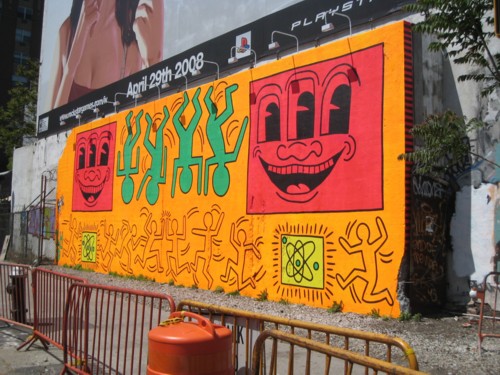 Haring: Houston Steet and Bowery Mural, 1982/2008
Here we have to revert to Infantilism - perhaps a subdivision of Pop, but even more insidious. After all, in a consumer world who really wants to grow up? Nostalgia for the nursery seems to be universal, possibly because being a grownup is an expensive, full-time job. In art, when we say the Nanny State we don't mean socialism, we mean the state of Infantilism. Jeff Koons and Takashi Murakami are ace practitioners, and so was Haring, although his work seems not to have been ironic, just meant to please. In that regard, he succeeded.
From his writings (available on the official Haring website) we know he wanted to make art for the public, which is akin to leaping over the art world wall. In the past, according to the modernist myth, this happened only through the good grace or the happenstance of posterity. Haring didn't seem to be searching for spiritual truths, self-knowledge, or even a contribution to the art discipline, goals that sometimes can be awfully pompous and a bit pretentious.
He did, however, have a social conscious, as witnessed by his 1986 Crack Is Whack mural, now scheduled for restoration, and several AIDS awareness artworks.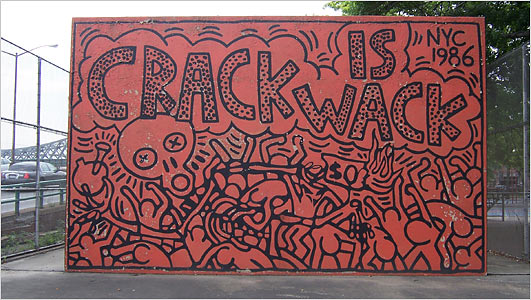 Haring, Crack Is Whack, 1986
On the other hand, if young men dancing, howling werewolves, and radioactive babies suit your mood - as they do mine when I am feeling particularly cheerful or need to be rescued from a funk - then Haring is your guy.
And it does occur to me that all the Infantilists are men. Why? Because women associate art with moving forward into self-determination and maturity rather than with a retreat to the romper room?
Furthermore, does Infantilism have a history prior to Haring, back beyond Dubuffet to Joan Miró at his best and Salvador Dalí at his worst? Closer in time, an old-fashioned shrink might have seen Abstract Expressionism as Infantilism, since pushing paint around can be like playing with excrement. Thus, wonder of wonders, we can link Koons, Murakami, and Haring to Jackson Pollock and Willem de Kooning.

How to use the Artopia Archive. Scroll down past "Monthly Archives" and then "Categories" for a list of actual headlines.
For an Automatic Artopia Alert for new posts contact: perreault@aol.com