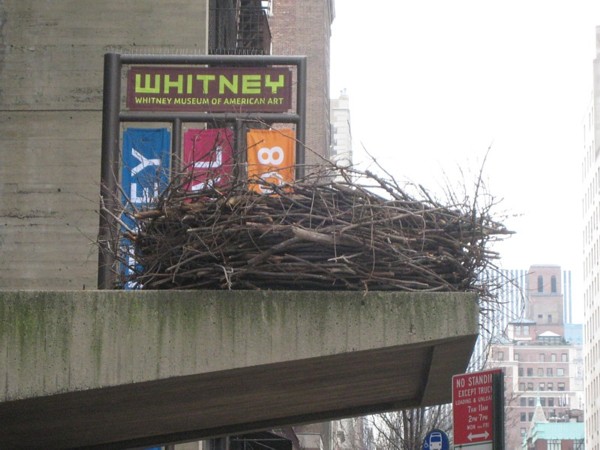 Fritz Haeg: Animal Estates (detail)
Quantifications
Don't believe everything you read; the Whitney Biennial isn't all bad. In fact, as a crystal ball, it is cause for hope. But before we start reading tea leaves, we can indulge in quantifications.
Some of us tally women. There are 28 out of 81 artists by my count. On the other hand, some search out artists of color. Some list painters. And there are legions who quantify regions: 29 from the West Coast. In regard to regions, do artists who have moved upstate to either bank of the Hudson — the new Hamptons — count as New Yorkers anymore?
And how many curators? Alas, this Biennial gives me the feeling of too many cooks. Only a committee could include photo-realist painter Robert Bechtle, photo-conceptualist Louis Lawler and abstract painter Mary Heilmann. There are too many lookalikes and almosts. Could this be because Henriette Huldisch and Shamim Momin, the curators of record (both Whitney staffers), were "overseen" by chief curator Donna De Salvo and advised by Thelma Golden, Bill Horrigan and Linda Norden? Or perhaps this mix of voices is responsible for whatever success is in place.
But it's the dealers who really count, right? Which is why I like "Who Won the Whitney Biennial?" by Alexandra Peers on Conde Nast's portfolio.com, although I hope she is being satirical.
In olden days, as soon as picked by the Whitney curators, an unaffiliated artist was immediately corralled in time for that all-important free ad: "Courtesy of Gallery X" on the wall label. In most cases, however, the curators had already let the dealers do the walking. How else can you find the up-and-coming? An open call? Or maybe visit the art schools, as some art dealers now do?
Which dealers have three or more artists in the Biennial? Elizabeth Dee is one. Suzanne Vielmetter of Culver City and Berlin has five. And according to Peers, the losers are: Barbara Gladstone and David Zwirner, neither of whom had a single artist. She was wrong about Jeffrey Deitch: Voluptuous Horror of Karen Black is offered courtesy of Deitch, or so reads the Armory handout.
But there is more news.
Less Is More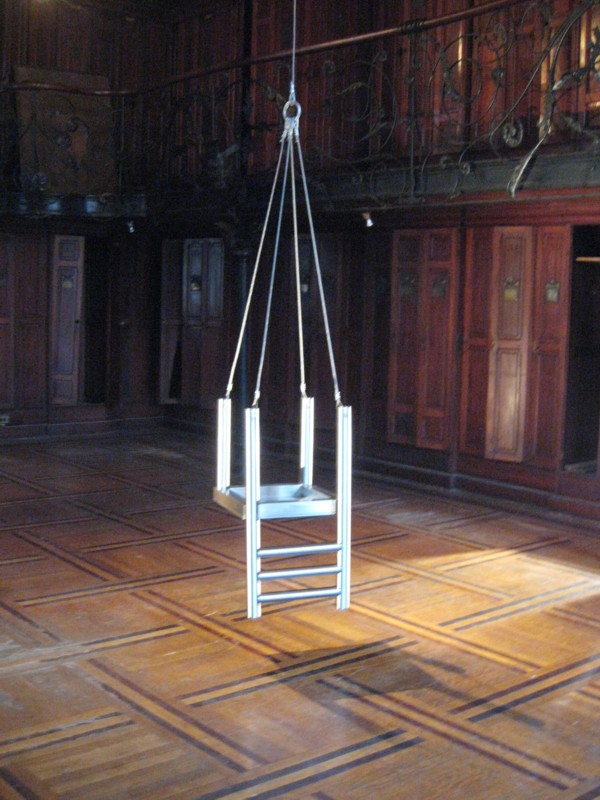 Bozidar Brazda: Our Hour: Radioff (detail)
This time we are confronted by 81 artists as opposed to the 114 presented in the '06 survey, which allows a clean, clutter-free installation — of a lot of clutter. New Museum please take note: Art still needs space around it. Space is a frame.
Installations of various kinds have a higher visibility than ever before; the addition of the gloriously Victorian Park Avenue Armory as a venue allows more room for the site-specific.
Installations I particularly liked at the Whitney:
Phoebe Washburn: While Enhancing a Diminishing Deep Down Thirst, The Juice Broke Loose (The Birth of a Soda Shop). Genre: funky, funny, fake machine — in this case, apparently to produce Gatorade.
Fia Backström: Let's Decorate and Let's Do It Professionally. The curators were invited to make clay letters that spell out: Toothy Smile, Expresso, Communal Focus Group, but it is not clear if the curators or the artist chose the words. This art-therapy installation includes Whitney logo wallpaper, tablecloth and napkins. Should be on sale at the gift shop, but they are not. Yet.
For some reason the artist left out: ties, pens, pencils, potholders, umbrellas, and totes, available elsewhere with appropriate museum logos. I would add condoms.
Mika Rottenberg: Cheese consists of videos of goat-tending by women with really long hair, displayed in a scrap-wood shack.
Daniel Joseph Martinez: Divine Violence. A hundred-and-twenty-five panels listing the names of groups attempting "to affect politics by violent means."
And at the Park Avenue Armory (643 Park Ave., at 67th Street, to March 23) standouts were:
MK Cuth: Ties of Protection and Safekeeping. What Is Worth Protecting? Participants write their answers on flannel strips that are then braided with artificial hair, the results draped about the ornate Library/Silver Room. Another hair piece. Is this a trend?
Bozidar Brazda: Our Hour: Radioff. An inverted, hanging metal chair serves as an "antenna" for prerecorded songs and live ambient sounds in another of the ornate Armory rooms.
Bert Rodriguez: In the Beginning… Artists holds prebooked "therapy sessions" inside a white cube. You can't really hear what's going on and, since all appointments are already booked, you can't get in. Another therapy piece. Is this a trend too?
Olaf Breuning: The Army. Thirty lamps made of Chinese teapots with lightbulbs and globes adds up to a roomful of "disifunctional" soldiers, entirely appropriate to an Armory.
As usual, I did not have the patience to linger over the video offerings. Couldn't most films and videos be available online? Unless there is an installation component, I don't see why not.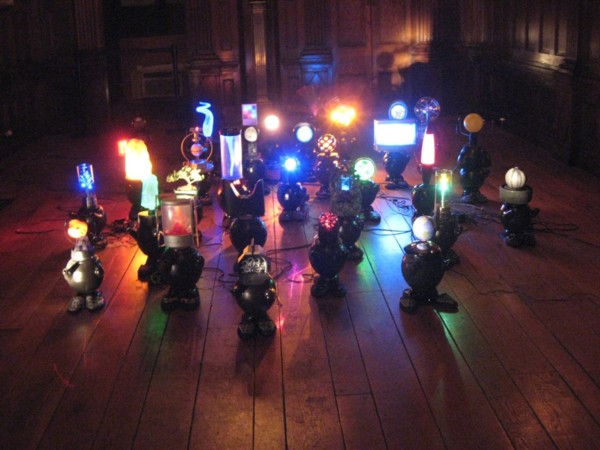 Olaf Breuning: The Army
Is This the End of Art for Dummies?
We may be getting only Beuys-Lite, Acconci-Lite, and Haacke-Lite, but art is back on track. The '80s hijacking of art by bombastic egotism and Picabia parodies suddenly seems an ancient, commercial diversion.
If the current reorientation of art has not yet produced major results, this is possibly because art criticism is not fully tracking, evaluating, or rewarding this return to art values, as opposed to market values. The collectors are out of control and sometimes function as art dealers themselves, with a big, quick, high-profit turnover — aided by the auctions. The auction houses are still seen as trendsetters and the true measure of artistic success. The auction houses and art fairs make traditional art dealers seem like guardian angels.
Nevertheless, if the Biennial is a true measure of what's happening now and what is ahead, we are finally emerging from the swamp of dumb painting and the stupid, counterproductive commercialization of art. I'd like to think it is merely a case of higher values winning out, the perennial need for meaning, and talent, talent, talent. But because nothing is ever as simple or clear-cut as we might like it to be, I suspect it has to do with selling, too.
Conceptual work — which is sometimes quite entertaining — functions as a loss leader, pulling customers into galleries, priming them for purchases of more saleable art, sometimes by other artists. In today's inflated market, even installations can be sold.
For Artopia Alerts when new entries are posted e-mail: perreault@aol.com