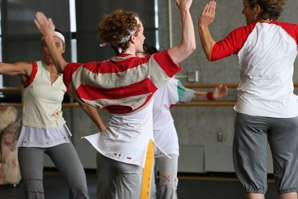 Right of Spring
Drawing on a wide range of source material for movement and gestures — from the BBC's dramatization Riot at the Rite, to Sarah Bernhardt, Robin Williams, Groucho Marx, and Yvonne Rainer — this dance attempts to invoke the passion and furor that accompanied the premiere of the original at the Theatre des Champs-Elysees, Paris, May 29, 1913. — 'RoS Indexical' program notes
Yvonne Rainer's new dance piece, RoS Indexical — RoS is short for Rite of Spring — was at the Hudson Theater on West 44th Street in the heart of the Theater District for two performances, Nov. 18 and 19. It was jointly commissioned by Performa 07, the Second Biennial of Visual Art Performance, and Documenta 12.
Rainer is a dance icon who in the early '70s gave up dancing and choreography to make feminist films. She is now back.
My balcony perch afforded an excellent view of the stage floor. I had what was once called the king's seat and would be easily able to see the floor patterns of the dance — important in the Baroque era — and the orchestra audience. The latter is always important to take in so you can count bald heads and what in Florida are disparagingly called Q-tips by the born-theres to get an estimated demographic.
To my right were ballerinas. I could tell because they were lovely and just a bit too thin. And on my left was another, younger ballerina, sitting between Mom and Dad. An Artopia orchestra plant later told me that he and his boyfriend had been surrounded by ballerinas and their grandparents, none of whom — derived from overheard chit-chat — seemed to have a clue who Rainer was.
Because of the ratio of ballerinas to Q-tips, I'd say the average age was 32, the same as for a movie at the Sunshine Theater on Houston Street; too young for Broadway, and positively infantile compared to the Metropolitan or City Center operas or any symphony orchestra concert.
From my king's seat I spied the bespectacled Rainer "mingling" or, rather, receiving. I cannot swear there were curtsies from her fans, but there was certainly a lot of air-kissing. A few dance critics were recognized by Artopia, and I myself spotted avant-garde film critic Amy Taubin and John Erdman, who performed in Rainer's 1973 This Is the Story of a Woman Who… And Nan Goldin or Lynne Tillman? I had forgotten to bring my binoculars.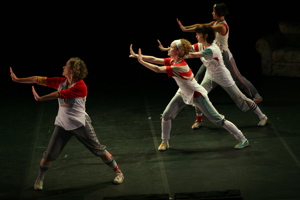 A card table and four folding chairs are at stage right. There are headsets on the table, although from my balcony seat this was not clear until the four women performers in colorfully layered gym gear enter and sit at the table — and the headsets on. They hum to the beginning section of Stravinsky's Rite of Spring, mimicking the sounds coming through their earphones (which we do not hear). They are at first rather out of tune.
Your Artopian spy, yours truly, recognizes the music because as a teenager Rite was one of his favorites — and not only because, played at full volume, it drove his parents nuts. Vying for first place against Bach's Brandenburg Concerto #5, even he knew Rite was a rite of passage.
At stage left rear is an overstuffed sofa. The music now blares from the theater's sound system. I remember the sounds. Part of liking Rite was the story of the riot in the theater in Paris at its and the knowledge that Vaslav Nijinsky had done the choreography. We permanently carry around in our head the album-cover illustration to Debussy's Prelude to an Afternoon of a Faun. Loony Nijinsky, impresario Sergei Diaghilev's peasant-souled inamorato, choreographed that one too. Nijinsky as a faun; Nijinsky with hoofs. Better that than silly Petrouchka Nijinsky.
The four women stomp in unison; do pow-wow motions with elbows up. Throughout there is a lot of elbow action, I'd guess quoting photos and other documentation of Nijinsky's attempt to be "primitive." But since this is Rainer's Rite, Rainer's Nijinsky, there are ordinary movements: fallings, walkings, sittings and going here and there from place to place, but sometimes in time to the pounding music. Occasionally, all four dancer move in unison too. I do not remember in-unison group movements or movements cued by or in time to music in Rainer's now legendary The Mind Is a Muscle, which I saw at the Anderson Theater in the East Village in 1968. The Mind was a brilliant summation of what Rainer had done before at Judson Church, as one of the stars of that peak of dance creativity in New York, in America and in the world.
Suddenly the soundtrack of RoS includes illusionary catcalls from the audience: I paid my money for this? This is an outrage; this is garbage. Or words to that effect. The houselights come on once or twice to remind us of the physicality of place. This is New York, not Paris. The people sitting around us are sitting there like sheep, dance sheep.
The dancers remove their sneakers and move about in tissue-box shoes. Black banners inscribed in white with words on both sides, descend from the stage rafters and hang above the dancers who are oblivious to them…SAVAGE…DECAY…WHO? ME?…IF NOT NOW…AARGH…One rectangle turning in the air said LUNCH on one side, SUFFER on the other. One slowly turned from DECAY to LAPSED. The dancers below may be the speakers or thinkers of these words, but they appear to be unaware of them — as "unaware" as the onstage audience in a production of Gioachino Rossini's Oedipal Semiramide I once saw in Berlin. A ceiling of roses slowly descended, apparently crushing the onstage "audience," which the opera made clear they surely deserved. Nothing so operatic here. The words above, unlike the roses, stay where they belong.
At one point, plants in the audience, two of them in folkloric Russian costumes, storm the stage in protest and actually carry off one of the dancers. Never fear, she returns, no worse for wear.
And the music? Nowadays, alas, it is hard not to think of Disney's Fantasia, in which the once-shocking Rite of Spring is conducted by Leopold Stokowski, the pounding dissonance cueing a battle of cartoon dinosaurs. Walt Disney has a lot to answer for; but for this sin alone he is from now on permanently banned from Artopia.
Rainer's new stage piece allows us to hear Stravinsky again. That in itself is a miracle. Our ears are cleaned out; we no longer have to deal with the bad stuff, the conservative music he wrote later in his career. And we can finally bury Walt's dinosaurs. (Now if we could only do something about Julie Taymor's desecration of The Magic Flute.)
And then later we think, as if talking to Edwin Denby (who was the best dance critic ever), one thing dance does is help us see music. It doesn't illustrate music, it makes it visible.
I have been reading poet Charles Baudelaire's rare "novella" La Fanfarlo, serendipitously found two days ago while scouring the thrift shop of The Ladies Village Improvement Society of East Hampton.
In La Fanfarlo, the antihero's beautiful mistress is a dancer, perhaps to allow Baudelaire, the art critic who championed Delacroix and Manet, to offer some of his thoughts on that form:
The dance can reveal everything mysterious that is hidden in music, and it has the additional merit of being human and palpable. Dancing is poetry with arms and legs. It is matter, graceful and terrible, animated and embellished by movement.
Dancing is poetry with arms and legs!
And, in the case of Rainer, it is poetry with a brain. Dancing can also be a critique. Dance can be analytical and ironic.



A Call to Arms (and Legs)
Rainer must choreograph more dances. Her choreography will allow us to share her mind, her theatricality, and her pitch-perfect negotiation of meaning and dead-cold formality, all anchored in the way we move. After George Balanchine there was Merce Cunningham; after Cunningham there is still only Rainer.
The irony here is that the audience for Rainer's RoS was so passive, unlike those Parisians so long ago who instinctively knew that their world had ended. Here is Rainer playing with a sacred piece of modern music, playing with modernism, showing us dancers in sneakers, elbows ever up, making fun of Nijinsky's probably very silly choreography. Here is Rainer in the act of joyfully and with a light hand deconstructing an acknowledged masterpiece, a musical benchmark, In the process she gets at exactly why it is a benchmark. And we are stunned.
Dance, of course, has been on the back burner for nearly 40 years. Proto-Artopians used to go to dance concerts, as well as underground films and gallery openings. Denby, long after he had stopped writing, taught two or three generations of artists and poets (including his downstairs neighbor Willem de Kooning and poet Frank O'Hara, who worked at MoMA) how to look at dance, simply by inviting them as his guests. Well, not exactly "simply." One knew his eyes were peeled; he was on dance alert.
I remember the elderly Denby (he, yes, had been a comic dancer in the Weimar Republic) once leaning over and whispering, "Watch her come on stage from our left. She will be invisible until she hits the center at the rear." He was right. Suddenly, as one of Balanchine's best, she was dance personified, she was bigger than life. She had become her own spotlight. And she wasn't even pretending to be a princess or a dying swan.
Why would anyone interested in art want to see Mark Morris, as amusing as he can sometimes be? Or the depressing, overwrought Pina Bausch?
Shall I entertain you with my theories about why dance lost its edge? It is not that certain minor postmodernist choreographers were seduced by Broadway, or that everyone got worn out or disillusioned or simply too old to dance and knock about; or that some dancers began to think they were philosophers. Some of them are.
No, dance critics are largely to blame. A few really, really bad, boring critics with tin eyes in key positions can kill a world.
For RoS, Deborah Jowitt in the Village Voice gave out one of her patented, almost purely descriptive, reviews. Hey, Deborah, what is Rainer's place in dance now? Is RoS worth seeing? Well, at least this piece isn't poisonous, like the trashing dished out by the untalented N.Y. Times dance critic Claudia La Rocco. She calls what I saw as constantly engaging "a thoroughly dispiriting evening" and an "ill-conceived encounter with dance mythology." She also claims that "the rules of engagement have changed radically since Ms. Rainer — once at the forefront of change — left dance."
The rules of engagement have changed? Really! The rules of engagement have disappeared, thanks to conservatives like La Rocco. A review such as this proves that Rainer is still on the edge.
La Rocco is obviously not the new Jill Johnston we sorely need. Without Johnston's constant attention to Judson Church dance in the Voice during its heyday, it is doubtful that post-Cunningham dance would have thrived. Nor does it look like our new Johnston, whomever she or he is, will make it into the now largely unread Village Voice. But, please, when can the Times lead critic, Alastair Macaulay, who is excellent when he describes the details of a Balanchine dance like Agon, try something more adventurous?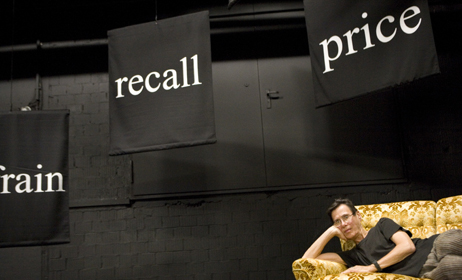 For Automatic Artopia Alerts to new postings: perreault@aol.com