…………..REVIEWS OF MARTIN PURYEAR, ALAN SHIELDS,
MORIKO MORI, AND ALAN SARET…..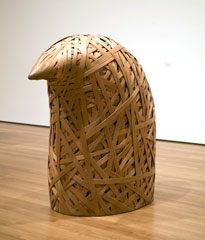 Martin Puryear, Old Mole, 1985.
Lumber Art
The Martin Puryear retrospective at MoMA (11 West 53rd St., to Jan. 14, 2008) presents a panoply of engaging sculptures. The large-scale pieces in the second-floor atrium conquer that unfriendly, gigantic-broom-closet space. If you look up, you normally feel you need to avoid bird-droppings; if you look down from the sixth-floor walkway, you want to jump. Miraculously, the suspended 36-foot Ladder for Booker T. Washington (1996) and the slender 63-foot stalk of the wheeled Ad Astra (2007) conquer the architectural mistake. The horizontally deployed but enormous Desire (1981), with its big wagon-wheel linked to an inverted basketry cone, anchors Puryear's atypical forays into extreme height.
Should we consider that Puryear is African American? It's hard to avoid. Titles such as Ladder for Booker T. Washington would give it away in any case. And the works themselves? Puryear's links to craft traditions and his sensitivity to wood would not by themselves point to his ethnic background. Cultural background? His obviously includes Miro, Brancusi, Noguchi and the Minimalists.
Many of Puryear's sculptures are organic Minimalism with a twist: a carefully constructed single image that is allowed to morph into a sculpture with a beak or tail, as in Old Mole (1985) The hollow interiors, unlike any plywood Robert Morris, are often exposed. You can peek inside. Such is the case with Bower(1980), Mus(1984), Thicket (1990), and Brunhilde (1998-2006).
We could also think of Puryear's cool but playful sculptures as outsize H. C. Westermanns, minus the autobiographical yarns and the jokes. Puryear has that kind of hands-on feeling for wood, but he goes much further than carpentry to embrace the techniques of yurt building and basketry. His work is cross-cultural and refined.
Puryear's language includes studied awkwardness, as in Lever #1 (1988-89), Lever # 2 (1989), and In Sheep's Clothing (1996); the use of several kinds of identifiable wood, often in contrast to metal mesh or odd materials like pitch, which, of course, comes from evergreen trees; and the appropriation or quotation of a myriad of woodworking and building techniques, basketry, and even leatherworking, sometimes in reference to particular cultures.
The panoply of mid-sized sculptures – more massive than a person but no taller than most who will circle these obdurate constructions — and wall pieces (horizontal lines of wood, lines of twisted rawhide and hair, hoops) on MoMA's 6th floor present the solid working out of these themes — with finesse and, yes,
humor.
Don't be tricked into comparing him with Richard Serra, whose spectacular torqued battleship hulls were last on the bill. Although Serra's scary giants will forever haunt the sixth-floor exhibition space, succession in programming does not mean comparisons are required. Puryear's art belongs to an entirely different universe.
SCROLL DOWN FOR OTHER REVIEWS
For an Automatic Artopia Alert when new topics are posted, e-mail Perreault@aol.com.
Alan Shields Returns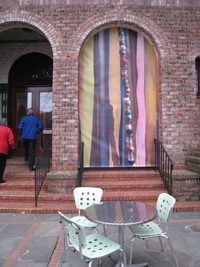 Entrance to Parrish Art Museum, Southhampton, L.I., N.Y.
Glitter Can Be Gold
Alan Shields (1944-2005) is one of those artists who disappeared. After a flashy start at Paula Cooper, he deserted the art world for the North Fork of Long Island and became a pilot of the Shelter Island Ferry.
For those not in the know, the North Fork is definitely not the South Fork. Although Native Americans pictured their Long Island as a fish with its mouth about to nibble what we now know as Manhattan and its two-finned tail far out east to sea. Instead, hold up your left arm and make the victory sign. There you have Long Island. Your armpit is Manhattan; your index finger is the South Fork and all the monied Hamptons; your middle finger is the North Fork; Shelter Island floats between these two fingers.
The exquisitely diffident North Fork is only now profiting from the Hamptons real-estate spill. Before you hit Greenport and then the ferry to Connecticut, there are farms and vineyards now ringed by McMansions. Waterfront properties on the bay or the sound no longer go for a song.
Not on the North Fork, which has no museum of its own, but at the Parrish Art Museum in South Fork Southampton, still the land of polo and sweater sets, is where I had a chance to reexamine some of Shields' paintings, dimly but fondly remembered. The exhibition is called "Alan Shields: Stirring Up The Waters" (Parrish Art Museum, 25 Job's Lane, Southhampton, New York; to Dec. 31). P.S. 1 recently offered a similar resurrection, but of painter Peter Young. Young is another escapee from art-world prime time, but a Minimalist/proto-P&D pointillist who departed to Bisbee, Arizona, at the height of his marketability in the early '70s.
My theory is that the search for viable products during a hot art market is not only fueling the cradle-robbing of M.F.A. candidates, but also causing some exhumations.
Unlike Young, who is still making art, Shields has gone to his reward. This small exhibition at the Parrish of big works by Shields is but a sampling of what is a closed oeuvre, and it's high-time for a re-evaluation. Like others in the late '60s/early '70s, he was anti-Minimalist and anti-formalist. He tried to destroy the limits of painting. Unstretched paintings, off-the-wall paintings, merry-go-round paintings, bird-cage paintings? Strips of canvas that look tie-dyed and lengths of beads draped here and there? Why not. In their time, Shields' paintings looked more hippie-trippy than like the actual answer to Donald Judd, which is what they look like now.
I do not, however, warm to the hanging pieces; Shields' investigations of the carnivalesque and backpack portability come across as a bit flimsy and out of control. Of the fully three-dimensional paintings, I only really like W.S.A. Jon Wilis Tun, 1969. It could be an entirely closed pup-tent for a big, fun-loving pup with a taste for colorful geometry.
The winners are the large wallpieces/paintings that mock and deconstruct what then passed for real paintings and yet celebrate the decorative excitement of color, paint and, in two grand instances (S.P.,1970 and J + K, 1972), long ropes of beads. At one point, as we saw at P.S. 1, Young made his own beads, perhaps thinking of them as miniature paintings, but Shields' use of beads is, I think, more daring.
In S.P. the three long ropes are like swag across the paint soaked canvas; in J + K, lengths of beads are draped every which way across the central rectangular void. A third terrific piece is a porous weave of painted strips of cotton belting, beads and curious sticks. If this be plaid, then even plaid can be new.
If I had my way, I would survey the wallpiece-paintings by themselves. The three shown at the Parish are masterpieces. I hate the term, but I can think of no other. How many others lurk in storage?
We shouldn't leave art resurrections to the needs of the quixotic art market, now controlled by collector-dealers and their ilk. Couldn't at least one major New York museum include exhibitions of underappreciated artists who deserve a second look?



SCROLL DOWN F0R REVIEWS OF MARIKO MORI AND ALAN SARET.
For an Automatic Artopia Alert when new topics are posted, e-mail Perreault@aol.com.