Two Questions
1. Do artists have rights over their artworks even after they are sold?
2. What is a conflict of interest?
I too read other art critics, but Artopia is not metacriticism. We will leave that for other places. Nevertheless, occasionally I am stirred up. My two questions were generated by reviews that were in the N. Y. Times of Friday, February 9.



Neuberger Museum website "image" for Richard Prince exhibition
Prince Nixes Pix
The first topic is inspired by Roberta Smith's review of the current Richard Prince exhibition at the Neuberger Museum of Art, SUNY Purchase, N.Y. It's called "Fugitive Artist: The Early Work of Richard Prince, 1974-77." I do not fault Smith's opinions of the art. I may await Prince's forthcoming Guggenheim survey in order to get a better grip on why his prices are so high. I was always intrigued by his re-photographing of Marlboro ads, but left cold by his written-out jokes-on-canvas. The car hoods might tip the scale. Maybe then I will understand why the Guggenheim has accessed his upstate house with all contents for its permanent collection.
Prince seems to object to his early works being shown at the Neuberger. He does not own them; they come from various corporate and private collections. According to Smith, Prince previously claimed he had destroyed these mid-'70s pieces; early exhibitions at the Kathryn Markel and Ellen Sragow galleries are omitted from recent Prince tomes. SUNY Purchase professor Michael Lobel has effected the disinterment. The artist refused to allow the works to be illustrated in the catalog.
"It is hard to understand Mr. Prince's disengagement from a respectful show of works he obviously took seriously," writes Smith. "Some are a bit embarrassing, but in the main they increase his stature. Cynics might say he did it to get attention, but in principle he may be right. The unillustrated catalog aside, it could be argued that living artists should always stand back and let curators and art historians do their work."
I'm afraid that's not really the point. The real issue is whether a living artist has authority over the display and the treatment of his or her work. In the E.U., where the legal principle is called Droit Moral, the artist does; here also, but only for work made after 1990.
According to the Visual Artists Rights Act of 1990 (VARA), "a work reflects the personality of the artist and these rights are regarded as personal rather than economic rights. The rights granted under VARA, which are similar to those granted to creators by many other nations, are the rights of attribution and integrity…" (Smithsonian Museum).
Furthermore the Legal Information Institute of the Cornell Law School states that under VARA, "the artist shall have the right to prevent the use of his or her name as the author of the work of visual art in the event of a distortion, mutilation, or other modification of the work which would be prejudicial to his or her honor or reputation."
According to the letter of the law, Lobel and the Neuberger are off the hook: VARA doesn't apply to the Prince works. But in terms of the spirit of the law and in the eyes of Artopia, both the curator and the institution are culpable. You either respect the wishes of artists, or not. We don't want owners of artworks to cut them up to fit their walls, lend them for porn shoots, or use them for ironing boards — as Marcel Duchamp, at his most playful, once suggested. We would never cede that artists can or should control the interpretation of their works, but while artists are alive, their decision whether to exhibit work or not should be respected.
In this regard, before there was VARA in the U.S. there was a highly publicized incident involving artists' moral rights.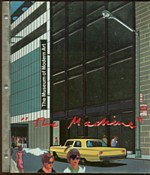 Catalog: The Machine As Seen at the End of the Mechanical Age
Forgotten History?
Several artists in Pontus Hulten's "The Machine As Seen at the End of the Mechanical Age" at the Museum of Modern Art (November 1968 – February 9, 1969) objected to how their works were displayed or maintained. Takis simply objected to where his kinetic sculpture was placed and, if I remember correctly, that it was a small piece from the MoMA collection and not, let's say, something more befitting an acknowledged leader of kinetic art. Hans Haacke – now justly celebrated for his political art — for some reason did not like that his steam and refrigeration piece was turned off every evening by the guards. The ice that was meant to accumulate simply melted away every night. Wen-Ying Tsai also could not get staff cooperation in terms of his interactive kinetic sound sculpture. No one notified him when it wasn't working, and he was therefore represented by an artwork not fully functional, not really his.
All three artists were used to Droit Moral protections under the Berne Convention. Takis is Greek; Haacke, German; and although Chinese, Tsai had shown mainly in Paris. In 1969, the U.S. had no such law. Looking back, the fracas was a bellwether of globalization disjunctures, reflected in art practice.
But there's more.
Having alerted the press, Takis arrived and removed his sculpture, sitting with it protectively in the sculpture garden.
By this time, a full-fledged artists' group was in formation. Others I remember being involved at the early stages of what became the Art Workers Coalition were Willoughby Sharp (who founded Avalanche Magazine), critic Gregory Battcock of New Art and Minimal Art anthology fame, Benny Andrews (later head of Visual Arts, National Endowment for the Arts), Robert Morris, Les Levine, Tom Lloyd, Dennis Oppenheim, and, of course, the three artists already mentioned. I was also active with the group.
On January 28, our demands, which had escalated, were submitted to MoMA director Bates Lowry, the Director or MoMA. They included: "The museum should recognize an artist's right to refuse showing a work owned by the Museum in any exhibition other than one of the Museum's permanent collection" and "The Museum should appoint a responsible person to handle any grievances arising from its dealing with artists." We also demanded rental fees for artists and the now equally utopian notion of free admission to the museum. We also wanted more work by black and Latino artists shown in the museum.
Those were different times, times of protest against the war in Vietnam, and everyone was unhinged by the assassinations of JFK, then Martin Luther King, Jr. and RFK.
By May of that same year, Lowry was no longer Director.
And later in 1969, the Art Workers Coalition, now a fully formed organization, kept on dreaming up demands such as more exhibitions for women artists…not only at MoMA but in all museums and galleries. Robert Morris and Poppy Johnson were voted in as co-chairs and packed meetings of the Coalition were held at the School of Visual Arts.
MoMA Launches Latin Dud
I have often said that the art world runs on conflict of interest, but we don't like it. There are rules about such things. This second topic is inspired by Holland Cotter's brave Times review of MoMA's Armando Reverón exhibition (through April 16).
After devoting far too many words to describing some totally inconsequential art, Cotter adds the following paragraphs:
MoMA has given solo show to only four Latin American modernists. Why should Reverón be one of them? On the surface at least he exemplifies cultural stereotypes that art historians are trying to move beyond, the Latin American artist as an exotic: instinctual, irrational, primitivizing, in tune with nature, fantasy-driven, "spiritual," indebted to – rather than in control of – European forms.
Artopia agrees.
Maybe there were practical reasons for the choice. Several of the paintings in the show, organized by John Elderfield, chief curator of painting and sculpture at the museum, belong to Patricia Phelps de Cisneros, a MoMA trustee with a fabulous Latin American collection, including the largest number of Reveróns in private hands (The museum's new curator of Latin American art, Pérez-Oramas, who consulted on this show used to work for the Cisneros foundation in Caracas).
Uh-oh.
What I learned during my many years as an employee of several museums and nonprofit art institutions – and through my membership in the American Association Museums – is that there must not be even the appearance of a conflict of interest.
Artopia agrees with Cotter that MoMA's "effort to expand its definition of modernism to include the world" is positive. Artopia, however, would do more than hint that there might be better Latin American candidates for MoMA market approval. Although we are not personally familiar with the Venezuelan art scene, we do know of many Brazilian and Argentine modernists more deserving than Reverón. Contrary to Cotter's kicker, Reverón is not "an artist…you will be glad to know."
Except for one or two all-white beach paintings from the '20s and the painting props for his silly nudes, the work is so banal that we are literally forced to examine the wall labels for hidden agendas. Curator John Elderfield is a Matisse expert, but Reverón is no Matisse.
MoMA's contemporary galleries are now looking good. There's even a David Hammons African-American flag. The theme show "Out of Time" has some splendid work. It, therefore, comes as a shock to see the schlock on the sixth floor.



Kristofer Paetau and Ondrej Brody: ArtForm Accident, 2005
Finally, on a more positive note, I was greatly relieved (if you will excuse the expression) that things in New York are not as bad as in Prague. This I learned from the website of the talented and provocative Swiss art-couple Kristofer Paetau and Ondrej Brody.
Mr. Paetau threw up at the '05 ArtForm in Berlin. This choice piece of art, reflecting my sentiments about art fairs exactly, received 15,000 hits on YouTube. Mr. Brody once set himself afire as an artwork. And the two, when bored by audience taunts that they were nothing but neo-dadaists, recently destroyed their Apple computer and walked off a lecture platform in Berne.
The Paetau/Brody website also includes footage of their so-called Prague Shit-In, held in the Czech Republic National Gallery of Art. Therein, five artists simultaneously relieved themselves on the floor after revelations that the Director had purchased his own artworks for the museum's permanent collection…and at inflated prices.
FOR EMAIL ARTOPIA ALERTS WHEN NEW ENTRIES ARE POSTED CONTACT: perreault@aol.com
Also note: All entries can now be searched. See column to the right.