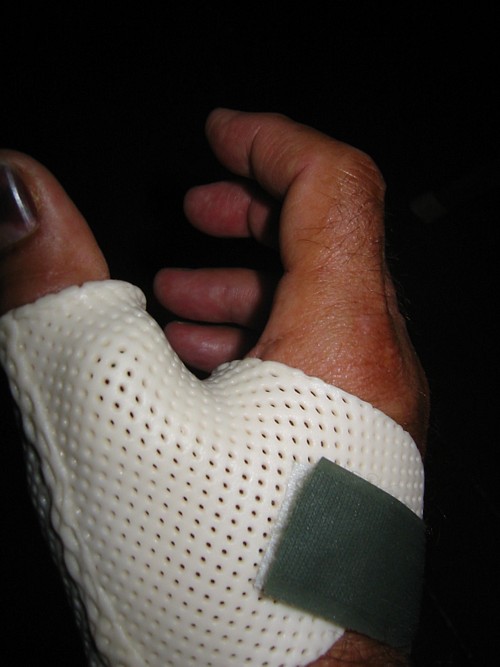 My Opera Accident
To explain the Artopia hiatus, I should first tell you about my Opera Accident. I was trying out my new iPod on St. Marks Place on my way to Kim's Video, listening to the scary Polish contralto Ewa Podles having a go at an aria from Handel's Renaldo ("Tale stupor m' occupa../Such stupefaction possesses my senses") when I hit a sidewalk crack and went sailing. To land on my thumb. Thumb dislocated, tendon snapped. At the E.R., the kind doctor said: Writer and artist? We'll definitely have to fix your thumb. After all that's what separates us from the apes.
Did she mean my thumb, or being a writer and artist?
For awhile my hand was Frankenstein gruesome, but now the stitches have faded and the stainless-steel pin with its blue map-tack head is out. I am mending, but still in a chic thermo-plastic splint that could pass for a Michael Jackson glove.
I am right-handed, so of course I landed on my right-hand thumb. Cutting food is difficult; turning on the ignition of our trusty country Honda nearly impossible. I have to lean way down and poke my left hand through the steering wheel. Unaccountably, women seem particularly curious about how I manage my fly. Answer: Most of my pants have zippers. And, oh yes, my September exhibition at the Lab Gallery had to be rescheduled. The top-secret new work requires sewing, so I like to say that rather than sew, I was sewn.
And looking at art? You don't need your right-hand thumb to look at art. You don't squint one eye and hold your thumb out in front of the other eye to take a bead on a painting.
In point of fact — as proven below — I have been out and about searching for art. It is a habit hard to kick. Since my thumb was inoperative, it was a little difficult to take notes, as is my wont. And although writing helps me see (sometimes I have to scribble in order to see), I often compose without looking at my jottings, which in any case are sometimes illegible.
But there is another, more important, reason for my hiatus. As an art elder, I believe it is my duty to maintain certain standards.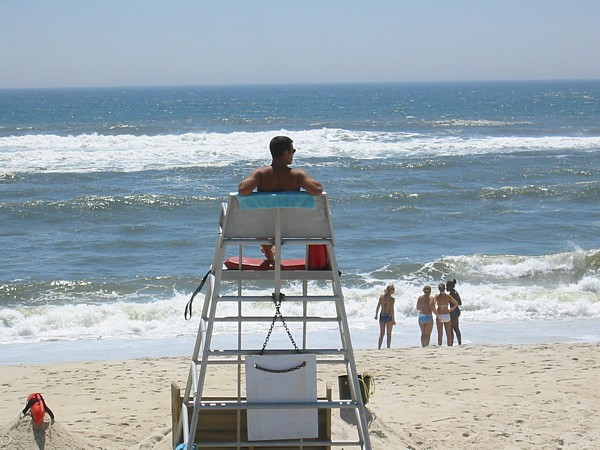 Even Critics Need a Break
The art world shuts down in summer. How did this come about, this closing off of all art commerce in July and August? And why is the break, alas, being compromised, to the dismay of traditionalists like myself?
The museums have always stayed open. Since it was such an odd idea that anyone would want to look at Picasso in July and August, they implied they were doing so for the schoolchildren on the loose and for the poor who did not have the means to vacate the concrete jungle. But in reality, the museums expected tourists, which they now have. And need.
In my youth, the gallerists — who were called art dealers then — departed to the potato fields of Long Island, which the artists had pioneered and where even then the rich could be reached. The artists and poets wanted to rub shoulders with Jackson Pollock and Bill de Kooning, who were Hamptons fixtures.
Since the shutdown corresponds to the space between the ending and the beginning of the academic year, one theory has it that the relationship is causal. Some artists are schoolteachers; but gallerists and collectors are not. So there goes that theory.
Is it the heat? Before air conditioning, city offices used to shut down on Fridays so workers as well as executives could flee to The Shore, The Island, or The Mountains. But now, even with universal air conditioning, dress-down Fridays end in mid-afternoon. How else can you catch that early train to Fire Island?
The Times and other backward publications like Time Out tried this year to promote the notion that staying in the city was chic; the kids are all doing it because their rents in Williamsburg are so high. Give me a break. Neither on the Long Island Railroad nor the LIE have I seen any lessening of youthful escapees. Let's face it, watching movies projected on a bed sheet hung up on a Williamsburg tar beach is not really fulfilling, or particularly fair to the films. A roof is not the best place for cross-class hooking up.
The truth is that since Roman times, a summer retreat has been de rigeur. The gentry still leave London. Even colonial Philadelphians headed for the Jersey Shore. And many still do. The Long Island Algonquins had Fire Island summer encampments where the breezes were plentiful, fishing was easy, and shells to be made into wampum were in abundance.
We must hang tough. I will not tolerate "gallerists" who say they have to pay rent and utilities all summer anyway so they might as well be open. Open for what? Boring group shows? I don't really believe that European tourists buy enough art to make it worthwhile. I want to see the sales receipts!
Traditions must be maintained.
I find it horrible that the New York Times makes its gang of art reviewers file all summer long, thereby undercutting the season previews that spark the fall. How can we look forward to autumn in New York if art is just business as usual through the whole summer? We can't. The art season must be in tune with the theater season, the dance season, the concert season, the opera season. Misplaced greed is no excuse. Are we not nomads?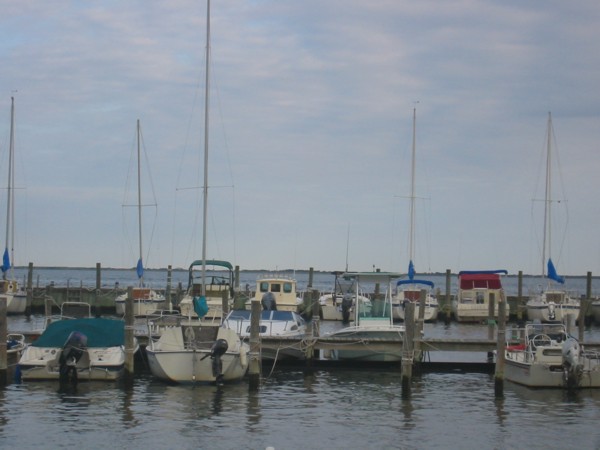 Tilling Marina, L.I.

Tilling-on-the-Bay
My secret summer hide-out is little, lovely Tilling-on-the-Bay, halfway between the Brooklyn Bridge and Montauk Point, with a town beach on Fire Island across the Great South Bay.
Tilling (not its real name) has had its fashionable moments. Once a whaling village, it was already a resort by the time of the Civil War. Later the Ashcan School found it picturesque; Glackens had an eye for the dock at the bay. But now the rooming houses and hotels are gone. And the theater where Irving Berlin performed and probably sang "Yip-Yap-Yaphank" and "Oh How I Hate to Get Up in the Morning" in honor of Camp Upton (a nearby army training camp during WW I ) is an IGA superette. Camp Upton is now the Brookhaven National Laboratories and is not to be confused with the once nearby Camp Siegfried, which was the summer playground of the German American Bund and its Young Siegfrieds in the late '30s. See Marvin Miller's: Wunderlich's Salute, Malamud-Rose, Smithtown, N.Y., 1983, for all the awful details.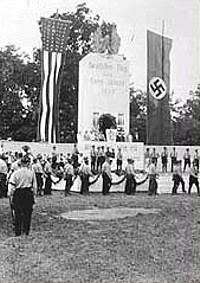 Camp Siefried, Yaphank, L.I., 1937
Nowadays, Tilling blends Colonial Revival with actual Colonial, thus creating a picket-fenced, Norman Rockwell stage set. Where are you Judy and Mickey? Where are you the New Urbanism? Where are you The Truman Show? Where are you Seaside, Florida?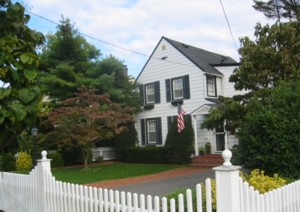 Typical Tilling House, 2005
On Tilling-on-the-Bay Day, for a fee you can even throw plastic balls at the mayor suspended over a tub of water, and if you're lucky he will fall into the drink. The mayor smiles; everyone cheers. But not The Mothers in Black, who, although they stand at the Tilling crossroad every Friday to protest the war in Iraq, have been precluded from marching. Costly insurance is required.
The fashionistas came in the '60s and again in '90s. But now that a certain fashion magazine editor and a famous photographer of hunky, Aryan youths (once found hanging out at the Tilling deli) have left, there are just enough celebrities to make it pleasant. The beautiful daughter of a genius Italian film director and a Swedish movie star is our official celebrity, and we need no one else. Although Tilling — Sister City of Sainte Maxime, France — is sometimes referred to as the un-Hampton or the Secret Hampton, it is actually closer to the English village of Tilling (which is probably Rye) in E. F. Benson's hilarious Mapp and Lucia books. Then too, more than one of the volunteers at the Tilling-on-the Bay Historical Society or at the Methodist thrift shop could pass for Miss Marple.
Tilling Fences Make Good Neighbors
Tilling has a dark side. The original Fire Island Beach — where the whaling ship inlet was before sand closed it off — once banned blacks, Italians, and schoolteachers. I can understand banning schoolteachers, but Italians? And there is worse to tell.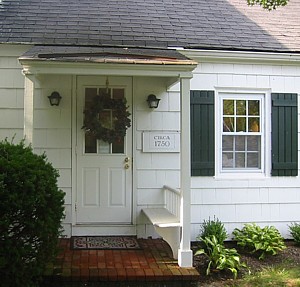 Tilling'sOldest Building
The thrift shop I pass every day, which is Tilling 's oldest building (c. 1750), was the slave quarters for the Tilling Farm. Slaves in Tilling? Slaves on Long Island? Slaves in New York?
Because of "Legacies: Contemporary Artists Reflect on Slavery" at the New-York Historical Society (170 Central Park West, through January 7, 2007), I have been thinking about slavery.
Slavery on Long Island, Slavery in New York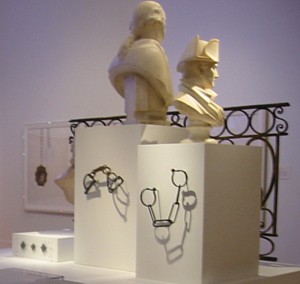 Fred Wilson: Liberté/Liberty, 2005

Who's for slavery? None of us, although in some places slavery in one form of another still exists. It is not entirely free labor, as Lowery Sims calls it in her concise catalogue essay for "Legacies." It is more precisely cheap labor, for even slaves have to be housed and fed, which does cost something. At the risk of stepping on Nazi toes, I'd call it forced labor. Furthermore, you were owned, became a kind of meat machine that could be bought, sold, traded, and even bred. Even up North, until very late in the game, the master (or mistress) owned your offspring too. You were 2/3 of a man (or woman). That's how colonial census-takers counted slaves in all of New England and Long Island.
Nevertheless, referring to slavery as free labor does put the onus where the onus belongs: on profit. No doubt, some owners convinced themselves they were Christianizing savages by stripping them of their own culture and inflicting the penitence of hard labor, with no time off for good behavior. But in reality it was a cheap way to get servants and farmhands, far better than dealing with the contracts of indentured servants from Ireland.
Now we have machines. Or so it goes. Now we do not need to buy flesh and handle the whip. We can dangle baubles, iPods, and designer sneakers as motivation. Or, yes, health care.
And yet, when we see those manacles, tags, and irons in Fred Wilson's presentation Liberté/Liberty or read even bits and pieces of the runaway slave narratives, we are appalled at the first and curiously moved by the second. Is it because we too want to subjugate — or, on a more positive note, are also in bondage?
An African or an African American will have a more personal response to these artifacts and stories. And what are we to feel if we are descendents of both slaves and slave-holders, which might be more common than supposed?
Although indentured servants may have been treated miserably, there was hope. There was an end point. Slavery was forever. Those of Eastern European descent — I myself am half-Polish although my grandfather came over with an Austrian passport — will not rejoice to learn that the cognate of slavery and slave is Slav, since Slavs were the common slaves of the Middle Ages.
I missed the Historical Society's more historical "Slavery in New York" show, but the Amsterdam News newsprint handout is still available, as is the thick catalogue ."Legacies" is the contemporary art follow-up.
The exhibition includes 30 artists and one collective, The Anti-Slavery Group. As it happens, three of the artists are MacArthur Fellows: David Hammons (here represented by one of his Body Prints, made by pressing parts of his body into margarine and pigment and then onto the paper); Kerry James Marshall, showing close-ups of spectators of "the lynching of Thomas Shipp and Abram Smith on August 7, 1939 in Marion, Indiana" in the form of pictures in lockets; and Fred Wilson. Art by these three works, as do photographs by Lorna Simpson, Marc Latamie (a beheaded statue of Napoleon's Josephine on Martinique), and Maria Magdalena Campos-Pons. Cheers too for Joe Lewis's neon sculpture Mandela and Anne Frank Forever, The Endless Column and Glenn Ligon's Condition Report (I Am a Man). But what does "works" mean in the context of a social-statement exhibition? It means the strange confluence of formal and social values.
You know the phrase "If you want to send a message, send a telegram." Art, like the examples mentioned, is better than propaganda because it makes you think. What exactly are the connections being made? Why am I puzzled, moved? In some cases the context improves the art. During his 15 minutes of fame, the charm of Leonardo Drew's art escaped me; fiber artist Sheila Hicks is better. Here, however, his huge minimalist pile of cotton batting, gleaned from abandoned mattresses, resonates with slavery's cotton bales — and vice versa. Was this kind of content part of his art all along?
* * *
History is strange. We turned a blind eye to slavery in the North. Something as simple as discovering a slave burial ground while excavating near New York's City Hall in 1991 has changed all that; the scholarly information about northern slavery leapt from the footnotes to popular consciousness.
We always knew that both Jefferson and Washington had slaves, but that was in Virginia. Now we know that in the 1700s, 40 percent of the households in New York City owned at least one slave. We know that slaves built the wall that Wall Street is named after. That at the foot of that very same street was the site of a slave auction; New York City was second only to Charleston in its slave trade.
And it wasn't just New York City — of which, unfortunately always the worst is expected — but all of New England and Long Island, too.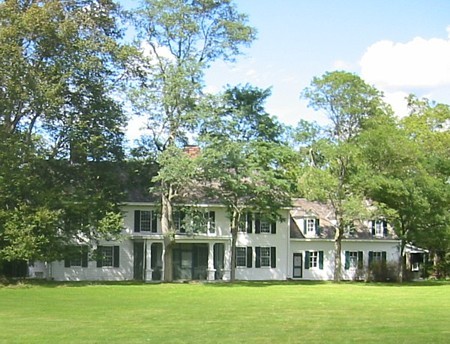 William Floyd Estate, Mastic, L.I.
This past weekend, we went at long last to visit the William Floyd Estate in Mastic, out in Suffolk County. William Floyd was one of the signers of the Declaration of Independence — and a direct ancestor of John Nichols, author of The Milagro Beanfield War. The house (owned by the Fire Island National Seashore division of the Parks Department of the Department of the Interior) "preserves 250 years of change," from Colonial times to 1976. Inside the house I asked the excellent tour guide if there had been slaves. Slavery was on my mind.
Oh, yes, at least 14. She pointed out a painting of a Floyd slave cabin framed in wood that was salvaged from demolition. Were the slaves were all black? No, some were Native American, she answered. (Now there's an underwritten history!)
So what if there was a labor shortage! The Floyds were already rich when they came from Wales, and no one forced them to get richer by starting a huge flax farm and cutting down the old-growth forest for timber to sell.
The study book "Discovering the African-American Experience in Suffolk County, 1620-1860" by Grania Bolton Marcus (Society for the Preservation of Long Island Antiquities, 1988) tries to make the case that slaves were an economic necessity, but the documentary material — inventories, wills, sales advertisements — underline the horror and the inhumanity of it all. That the Greeks had slaves was no excuse.
There is something chilling about "the inventory of the estate of James Sell Late of Brookhaven" (1757):
20 fating Catel………………..£58
4 Oxen and 4 Steers…………£33
10 cow and 3 Farrow Cows…£42
18 Four Year old Cattle
and 3 three olds…£34
15 Yerlings…………………….£15
107 Sheap and 33 lambs……£31
4 Mares and one Colt……… £66
2 Yerlens 3 horses………….
10 hogs and 12 pigs………….£09
8 negrows Slaves………….. £292
3 Molato [mulatto] boys………£40
4 Cows and Calves…………..£14…..
Or how about this advertisement in the May 13, 1805 Suffolk Gazette:
FOR SALE
A Negro Woman, in every respect suitable for a farmer — she is 25 yearsold, and will be sold with or without a girl four years old…

An unpaved road through what Floyd family writers always referred to as "the pathless woods" led to what a drag queen I once knew used to call a marble orchard. The grass between the stately tablets was strewn with Tropical Storm Ernesto's dead branches. Outside the fencing of the family graveyard, white wooden crosses (possibly later additions) now mark the slave graves. Death does not erase the line; slaves are not even equal in death. And this was a good family; they fought on the right side of both the revolution and the War Between the States. One Floyd years later — William Floyd (1871-1943) not only invented an automobile starter but wrote a book called "War Resistance" and another titled "The People vs. Wall Street." Like his ancestors, he was a rotten poet:
As to the man the wife is,
So unto the Floyd is Mastic.
Though it breaks him, he retains it,
Useless each without the other.
But it is too easy to condemn. The past, someone once said, is another place. But is it?
It is far too easy to note that most of the lawn dogs (and the roofing dogs) in Tilling are Mexican/Latin American. When I commented what hard workers they were, their otherwise benign overseer remarked that they worked like slaves.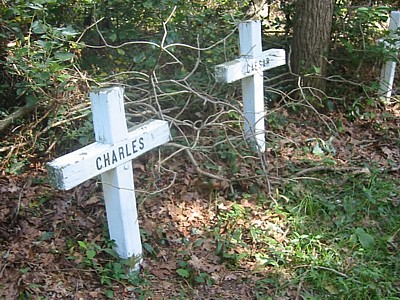 Note: To benotified of new Artopia postings notify perreault@aol.com