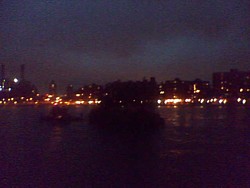 Robert Smithson: Floating Island…
Dead Man's Float
Thirty-five years in the making, Robert Smithson's Floating Island to Travel Around Manhattan Island is being tugged along the Manhattan through next weekend (to Sunday, Sept. 25). Smithson, as we know, died in a plane crash in 1973. In 1970, the same year he created his masterpiece The Spiral Jetty, a curl of rocks jutting from the shore of the Great Salt Lake in Utah, he also made the modest drawing that is the basis for Floating Island.
The Smithson retrospective is still at the Whitney — you can check out what I wrote when it opened. The Floating Island is a good reminder to see this essential exhibition before it closes (Oct. 23), but it is more than that. What a great way to begin the art season! Perhaps the comatose art world is waking up at last after the shock of 9/11. There is indeed more to art than the same-old graduate student "bad" paintings — which no longer look willfully inept and ironic, but simply bad — and the proliferation of pathos.
But last Friday, drenched with humidity, I was on the good-ship Abigail K to view the Floating Island at nightfall. Because of late-arriving guests the yacht was a wee bit tardy in pulling out from its moorings; but Nancy Holt, Smithson's partner and an artist in her own right, had told me to stay at the prow to get the best view of the tugboat-tugged art barge, timed to be nearby as we embarked.
And there it was, closer to the shoreline than expected: an eerie silhouette of floating, living trees. And later, as we toasted the Whitney, Minetta Brook (a nonprofit dedicated to art along the Hudson River), the James Cohan Gallery, the moon and the Statue of Liberty, and dined in the middle of New York harbor, our yacht and the Floating Island did a kind of stately, ghostly pas de deux. Of course, outlined against Manhattan's cliffs of light, the Floating Island hadbecame an unphotographable, unforgettable silhouette. What could the people on pleasure boats and ocean liners and real workaday tugs and barges have made of this strange sight? I wondered too what tourists and ordinary Joes and Janes, in daylight on the shoreline, would make of the serenely plying chunk of park floating by on their lunchtime breaks or on the square screens of their cell-phone cameras. Would they know it was art?
In the '60s, when I was involved with Streetworks — objects or performances that ordinary passersby might stray upon on any given streets — this was a primary question: Seen outside of a gallery or a museum, how much do you have to know to identify what you are looking at as art? Do you carry an art context around in your head?
Yes, given a little bit of education and experience, but also because, as I often explained to my students, "If you don't know what it is, it's probably art."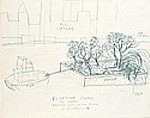 Robert Smithson: Floating Island…(1970)
Displacements, Replacements
Last week, as I prepared for adventure and a little cruise around New York harbor, The Times had already weighed in with a cunning preview of Floating Island in the Weekend Section; and there was even a pro-Floating Island editorial. Was that a first? Art can make us see. One speaker on the celebratory yacht confessed that although she had been raised on the Upper East Side (of course), it never dawned on her until now that Manhattan was really an island.
Floating Island is an artwork that is an island meant to circle an island. It is also, as many have pointed and will continue to point out, a displacement of sorts that calls attention to Vaux and Olmsted's (surprise!) totally designed and totally artificial Central Park. I like calling the new artwork a floating synecdoche, a scenic synecdoche, to point out (1) the poetic affect and (2) the theatrical effect.
In fact, several of the boulders on the barge wereborrowed from that lovely 19th century swathe that is the "nature" New Yorkers best know and love: our beloved Central Park. Real nature is in comparison a bit disappointing; hills and rills and little ponds are never where they look best, although camera viewfinders or screens can compensate for bad planning. The borrowed boulders on the Smithson barge, I hasten to add, will be returned to Central Park, and the full-grown trees will be planted where needed. Two weeks and Floating Island is gone.
Yes, as Smithson and I agreed, Frederick Law Olmsted, co-author of Central Park and sole author of Prospect Park in Brooklyn, was one of the most important artists of 19th century America. His work can be seen as a precedent for Earth Art and therefore for Smithson. If genealogy is all (or at least a foothold), then let us think of Olmsted as Smithson's grandfather.
Because of the celebratory nature of the yacht's-eye view (during which I met up with a few old artist friends) and because of the ephemeral and Victorian, folly-like nature of the artwork itself, I fell through a hole in time and found myself at some Baroque water-pageant. But it was a science-fiction Baroque, never before seen, a triumph of imagination over time.
* * *
More pages from My Art Diary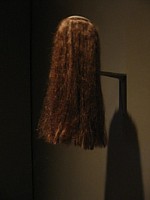 John Perreault: Hair Veil, 1969
Recently, I was in Boston for the opening of "Pattern Language," a broad survey of clothing as art at Tufts University Art Gallery. I am no stranger to the genre, having produced my HairLine of 1969 as part of "The Fashion Show Poetry Event" of that year, recently documented in the Americas Society anniversary exhibition (through Oct. 8).Two modules of hair became in turn a dress, a veil, etc.
My Hair Veil is at Tufts until Nov.13 and will travel to three other university museums. I am thrilled to be in an exhibition with Joseph Beuys, represented by his Felt Suit multiple (1970) and with Yoko Ono, whose Cut Piece (1964) was playing on a video monitor right next to my spooky hank of hair.
We came by Amtrak, we saw, we ate. One might think that all that critics and artists do is go to dinner parties. Not true. But it is part of the territory.
Once in Boston, I couldn't resist going to the Boston MFA to see one of my favorite paintings, Uncle Paul's Where Do I Come From? What Are We? Where Are We Going? (1897-1898). It seemed appropriate, since Gauguin has visited, inhabited, haunted Artopia several times this summer. Now I can add that his masterpiece is probably a theosophical allegory, at least according to H. P. B., Sylvia Cranston's biography of Helen Blavatsky, which I recently reread.
Also, I had forgotten that the MFA has so many lovely Doves. How's this for best painting title of the last century: Arthur Dove's 1941 Neighborly Attempt at Murder.
I was happy to see Winslow Homer's Long Branch, N.Y. (1869). Art and life intertwine. I was recently in Bradley Beach to deliver five of my polluted-sand seascapes to an exhibition called "Under the Rug, Over the Top" at the Shore Institute for Contemporary Art. Remembering the Homer painting, I swung around in my Honda to take a look at the present-day Long Branch beach. It is still an impressive strand, but now there are giant condos peering down at the funky-'50s Fountain Motel, and these retirement cliffs of brick and glass are almost toe-to-toe with the sand.
Note: Must get some Bradley Beach sand for a new painting in homage to Winslow Homer. Are there any islands of oil-spill as on Fire Island or, obviously raked, is it all cleaned up?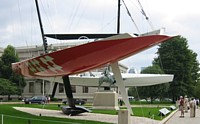 But before I forget, the controversial exhibition of the moment at the MFA is "Things I Love: The Many Collections of William I. Koch." There are some great paintings now owned by this self-identified Godzillionaire that any museum would covet. Artopia is not upset about blatant pandering. Let those who object come up with the cash to purchase the paintings that the MFA hopes will be donated.
And I do not object to Koch's America's Cup boats in front of the museum. Boats have their own beauty. Or to the wine bottles inside. Or even to cowboy art. I too am a collector: midcentury American dinnerware, Southern folk pottery, shell art, lightning rods, and gearshift knobs. So I know the madness.
What I do object to is the wall text that claims Koch collects viscerally and quotes him as saying he does it "to have things around me that remind me of happy feelings and make me feel comfortable, peaceful, pleasant." Comfortable? Is comfort a criterion for collecting art? Not for the art Artopia celebrates; not for the art of the major modernists or postmodernists Someone should have protected Koch from himself here. Surely there are more important reasons to collect: The creation of a legacy, research, preservation, the thrill of the hunt.
But didn't I just write that art and life intertwine? I will use this unfortunate quote in my collectors' seminar at the Phoenix Museum of Art next spring, called "Jump-Start for Contemporary Art: 75 Names You Need to Know," the motto of which is: No question unanswered; no answer unquestioned.