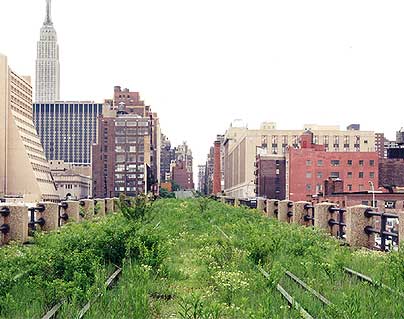 Touring Chelsea: Chelsea High Line Railroad, courtesy Friends of the High Line
Why We Still Go to Galleries
As I become more and more a denizen of the internet, the digital ether, I get nervous. Transformations are traumatic. And so I cling to past modes of perception. Is it my imagination, or is it really the case that the longer I am online, the stronger my need to experience things in three-dimensions, in real space?
Seeing art in real life — in an artist's studio, in someone's living room, in a gallery, in a museum — is better than seeing art in a magazine or on the internet.
But perhaps we are being snobby, still lingering in the 20th century. Let's face it, sometimes real art is disappointing; the image of the image looks better than the image itself.
Furthermore, do we really need the rituals, the people, and the spaces around art? The expense? The aura of cash value? Let's say we didn't have to take that cab ride to Chelsea, or in my case, the subway to 14th or 23rd Street and then a tedious crosstown bus. Let's say we could look at art without getting dressed up or, for some, without dressing down; without a carefully composed face: sort of neutral, but interested, without being too interesting.
* * *
Here, just to inform you and annoy you, are some of the other art gallery rules:
Other than on 57th Street or the Upper East Side, women should not wear couture when visiting galleries. Uptown, men should wear ties, but never in Chelsea, Soho, Tribeca, or Williamsburg; but guys, even artists, should never visit in workclothes or they will be asked by the 22 year-old socialite stationed at the front desk if they are making an art delivery or have come to fix the sink in the storage room. Students don't have to worry, because no matter what they wear they always look like students. And of course no one should talk loudly (to oneself or to others) or wear discernable perfume or cologne.
Celebrities are allowed to visit only during the week; not on Saturdays, when they will distract from the art. The "celebrity bubble" used by a certain scion of a publication family does not work; he, his wife, her dog and at least one guest swan from gallery to gallery on Saturdays (!), limo somewhere offstage, thinking that the plastic dome they have imagined surrounding themselves is adequate sound-proofing. Just because you do no see or acknowledge other people does not mean they do not see you. Or hear you.
No cell phone use in galleries, please. Most galleries, I am told, have installed Cell-Kill, a device that senses activated cell phones and silently and immediately fuses those little chips they have inside.

All of these annoying considerations are part of art, as are many economic and class factors too complicated (and endlessly interesting) to delve into here. Art is social. Furthermore, if the art in question is made to be savored in all of its physicality (or even, in the case of some more conceptual efforts, in its lack of physicality), then, of course, we should make some effort to see it in the context of its intended presentation.

* * *
These perverse meditations were inspired because briefly housebound, I was desperate for art, nostalgic for art – other people's art; art other than my own. So I concocted various cyber tours for myself. And learned something: you can construct your own art magazine. You can preview art on your own, on the internet.
When you are experiencing art-withdrawal symptoms, an image of an image is better than no image at all. Probably more important, an internet preview can help you decide which galleries to go to later on, if you live in New York or will be here on a visit.
We all know we can't trust the art magazines; they are always two months too late. And the newspapers? Well, only if you have nothing else to go by. I'd rather trust myself by making up a list of favorites and then, unless I have an entire week to go to galleries, check out the internet.
Previewing on the internet is more efficient than the usual triage halfway down your must-see list, when you are totally exhausted after three or four hours of elevator waits, garage doors, loading docks and focusing and refocusing with each venue. Chelsea now stretches, between Tenth and Eleven Avenue, for 22 blocks in the shadow of the abandoned High Line elevated railroad (soon to be a park) from Exit Art to Sperone Westwater on West 13th. The High Line spine of the Chelsea Art District could have been a helpful monorail. But not at the expense of a park — so couldn't a monorail be suspended under the High Line?
And then on late Saturday afternoons there's all that infernal socializing. No uptown air-kisses, no 10th Street hugs, no Soho sneers, but chat, chat, chat, and perhaps the sharing of notes: Did you see Jasper's awful new paintings? And that same old stuff at Sonnabend!
But how do you start? One handout, produced by Art in America and Interview, now lists 236 galleries in Chelsea along with their websites — but it is not available online. Galleryguide.com offers 218 Chelsea galleries and is indeed online. It also lists galleries in all the art districts in New York City and elsewhere around the country. Unfortunately, the few thumbnails look like pay-fors and there are no links to gallery websites, where you always can find images. But you can Google to find the gallery sites, one by one.
So here's a virtual tour of Chelsea I made up for myself. You may use it as a starter list, but please remember to visit one gallery you have never been to before every time you are online or out and about. Why be in a rut? What I want to see is your own personal list, ever expanding, ever quirky, ever rewarding. And the 15winners are:

The Basic Chelsea List with Links:
Mary Boone,541 W. 24th St. Karen Davie, paintings made with overlapping swipes and loops, to June 25. Click on thumbnails for excellent blow-ups.
Cheim & Read, 547 W. 25th St. Joan Mitchell, to June 25. Excellent site, with eight views of gallery installation, which are very helpful in communicating scale.
Paula Cooper, 534 W. 21st St. Sophie Calle: Exquisite Pain. First U.S. showing of this conceptual art museum piece, documenting a failed love affair. Click on installation image for an excellent press release describing exhibition.
Charles Cowles 537 W. 24th St. Mona Kuhn: Recent Photographs, to June 18. Naked youths of both sexes, mostly lounging. I'd need to see them first hand. even with the blown-up thumbnails offered.
Gagosian Gallery, 555 W.24th St. Roger Allen and Alec Soth: Photographs; also on view but currently not available online: The Figure in Space and 2 Sculptures by Robert Therrien (which I would definitely take a look at);through July 29. Also if you are in London: Sculpture by Roy Lichtenstein.
Galerie Lelong, 528 W. 26th St. Sean Scully. To June 25. Currently one of my favorite abstract painters. Site only has one image, plus one image each for Lelong's Antoni Tapies show in Zurich and its Jan Dibbets in its Paris Branch.
Barbara Gladstone, 515 W. 24th St. Richard Prince. Old and new works, but I bet the car hoods still look best in real life. Site is a bit difficult. You have to click on exhibitions, then current, then more information. The payoff is 12 installation views.
Paul Kasmin, 293 Tenth Ave. Walton Ford, Watercolors ("delirious natural history spectacles"), to July 2.. Click on current exhibition for 8 images and then on installation for 6 installation views. Without the latter, I might have missed that Le Jardin (a buffalo being harassed by a pack of white wolves) is 10 1/2 feet wide, which is gigantic for a watercolor.
Lehmann Maupin, 540 W. 26th St. Bryan Crockett: Drawn Out of My Mind and Jennifer Steinkamp: Rapunzel., to June 25. Crockett's two sculptures, Solipsist and Male Ghost intrigue, but I gotta see them in the flesh, as it were. Steinkamp's projected installation needs to be seen in real life too. Generally uneven offerings, but always worth a look
Matthew Marks Gallery, 523 W. 24th St. Darren Almond, photographs of Siberia in honor of poet Joseph Brodsky. 522 W. 22nd St. Jasper Johns: Cantenary Paintings, and 521 W. 21st St. Weegee: Idiot Box. A five-minute film shot off a TV in 1965, plus stills by the Great One.
Metro Pictures, 519 W. 24th St. Summer Group Show, to July 29,
Robert Miller Gallery,524 W. 26th St. The Subjective Figure, June 16-July 29. No other information.
PaceWildenstein, 534 W. 25th St. Chuck Close: Recent Paintings, to June 18. Far-flung and usually considered blue-chip. Has a "private gallery" for special customers, requiring a user name and password.
Max Protetch, 511 W. 22nd St. Tobias Putrih, June; video, rear-projection installations, sculpture? Can't tell very much from images on site. What is being projected? But it's fun to see that Protetch also offers real estate upstate in Dia-land, where the gallery has an outpost.
Andrea Rosen Gallery, 525 W. 24th St. Andrea Zittel: A-Z Advanced Technologies and Michael Ashkin; Abjnabistan. To June 18. Zittel is now well-known for her functional objects, and I feel guilty I haven't written about her. In what looks like half a show there appears to be a shelving unit along with items that relate to her A-Z company. Ashkin, an artist new to me, shows an elaborate cardboard model of an anti-nationality he invented. Texts here are excellent, which is not always the case with other galleries.