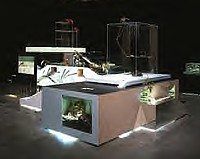 David Altmejd, The University 2
A Werewolf in Brooklyn
I first saw David Altmejd's work in the last Whitney Biennial. In my Artopia essay I gave his Delicate Men in Positions of Power a prize for The Most Strangely Creepy and Oddly Moving Installation. The prize could have been for the best werewolf art, the best art about werewolves. Now at the Andrea Rosen Gallery in Chelsea (525 W. 24th St., to Nov. 27) we can get another look at what this artist is up to.
I think it best to concentrate on the big sculpture called The University 2. The much smaller University 1 is made of mirrored glass, wood, something called mirror mastic, and staples. I like the staples. It is a glamorous piece, but abstract — sort of like those mirrored boxes once produced by Kusama (see below) and Lucas Samaras, only turned inside out — and looking like, if the truth be told, a mirrorized model for a certain Canadian World's Fair apartment house of the future. But just because he is originally from Montreal doesn't mean that this Brooklyn artist had Habitat on his mind, does it?
Another piece, in which, according to the handout/press release, "A monster forces a bony finger into the behind of a werewolf," is also dwarfed by University 2. It uses the same tricks — mirrors, glass and plexi, fake hair, dubious jewels, and death — but takes up far less mental space.
In University 2, one still thinks of Paul Thek (who made a reputation with a full-size self-portrait called The Death of a Hippie and endless vitrines of artificial meat) and Thomas Lanigan-Schmidt, who made glitter into a word of praise. But Lanigan-Schmidt's dead rats from his early "poverty period" have now been reborn as stuffed birds. Altmejd too has quite an imagination, but it strains toward and then, with considerable cunning, slightly backs away from narrative.
Truly, Altmedj's work is about transformation. Isn't that why we fear the werewolf? People changing into wolves is almost as scary as an old friend turning into a Republican or evangelical "Christian." Or looking into the mirror and seeing yourself suddenly becoming quite like some evil, older relative with bags under your eyes and hairs growing out of ears, nostrils, and even (as happened to a friend) right on the tip of your nose.
Or is the werewolf here not about falling back into some animal state of anger or lust, but about an animal straining to be human?
In any case, the werewolf or werewolves are dead. And, at least in Altmejd's visionary tableaux, they have started sprouting crystals. If we fear relapsing into animalhood, do werewolves fear relapsing into mineral? Since the werewolves –or, more correctly, werewolf parts — look like road kills of fierce beasts wearing acrylic wigs, we are sucked into some pretty strange territory.
Is there a dead werewolf at the heart of every university? Some of my academic friends would vote for a live werewolf, dead center. If all the mirrored platforms and passageways depicted are only a model, rather like a bizarre jewelry display (if Tiffany went wild), then the werewolf debris represents a huge beast indeed. Flowers make it a memorial. Stuffed birds bring it all back down to playtime. And then — did I tell you this? – there is something enervating and nerve-tingling about the tentativeness of it all. You can see the seams. In one place you can even look inside and see the carpentry.
Kusama's Circles and Spheres
Yayoi Kusama is at Robert Miller (524 W. 26th St., to Nov. 13) with a variety of old works and one spectacular new one called Narcissus Garden. The latter is made up of hundreds of large, identical, shiny stainless-steel balls. There's that mirror theme again. And a mirrored peek-box centers a smaller room. Plus, up-front in the gallery, stuffed "lobster-claws" forced into cylindrical containers harken back to the Oldenburgian organic.
Also on display are classic Kusama circle-motif paintings, which on any given day can give Agnes Martin — a far too dignified artist indeed — a run for her money. Kusama is not only a proto-Minimalist, painter she is (or was) also a naked-Happenings, polka-dot artist. One of her events was a male-to-male marriage at Judson Church, c. 1968 or earlier.
Putting the paintings in the same rooms as the installations may or may not be a mistake; sharing the gallery with the ever-boring and virtually talentless Victor Vasarely (Mr. Op Art) definitely is an error, if not an out-and-out insult. Templates for possible black-and-white wrapping paper didn't look serious during the hey-day of Op — two months in 1960 — and certainly don't look serious now. Or even amusing.

Kosuth Is Back!

As far away as you can get from Altmejd and Kusama — well, maybe not Kusama — is the new exhibition of works by Joseph Kosuth at Sean Kelly (528 W. 29th St., to Dec. 4). You should also note that the Chelsea Art District has now crept as far north as 29th Street, still a hot-bed of taxi companies and taxi service establishments. But, mark my word, not for long.
The Sean Kelly is as chic as any other prime Chelsea gallery, and there's yet another block before the elevated High Line railroad track ends (or begins) in a sudden curve. Will the proposed elevated park finally contain the art industry?
Turning the High Line into a linear park is a great idea (one of the few of late),although I think we can do without the overly fussy winning design.
Kosuth, a founder of Conceptual Art and certainly one of its most austere practitioners, is back with a vengeance, an elegant vengeance but a vengeance nonetheless. The brick wall above the Kelly gallery entrance is strewn with words in ivory neon: History, Place, Parts, Whole, Context, Meaning.
There. Now you've read the show. Well, not really.
You still have to read a long 1988 quote from French philosopher Gilles Deleuze inside on the gallery wall inside and/or on the announcement. It begins: "I think there's an image of thought that changed a lot through history. By the image of thought I don't mean its method but something deeper that's always taken for granted, a system of coordinates, dynamics, orientations: what it means to think, and to 'orient oneself in thought.' "
As usual, it is actually difficult to decide if Kosuth really understands what he is quoting, any more than it once was difficult to decide if Bernard Venet (before he became the sculptor of arcs) understood the mathematics he patiently copied. Venet once told me that he didn't.
For those who may need to catch up with Kosuth's past, conveniently there are three dictionary definitions from 1965, all defining the meaning of meaning in German, possibly Russian and certainly Hawaiian. Furthermore, blue neon in the director's office spells out "Subject/Subjective."
There. Now you've read the show. No, not really.
After a hallway (with a "key" to what lies a head), one comes upon, rather is assaulted by, a room full of words placed over fluorescent lights: philosophical quotes, of course, from everyone from Derrida to Voltaire.
Language is the subject; philosophy is the subject. But what is the objective? Art, after all, is not philosophy. But neither is language.
Sealing Your Mind
More directly political, so perhaps not as provocative, is Cildo Meireles' installation at Galerie Lelong (528 W. 26th St, to Dec. 4). Called Strictu, it consists of a table, two chairs, steel poles, handcuffs and a quote from a Ku Klux Klan leader: "We want to steal their time. We want to steal their space. We want to steal their mind." One of the best of the avant-garde Brazilians, Meireles is also showing his cool Descalas, "ladders" flat against the walls that make up variations on a theme — or on a metaphor. Is it because of the proximity of the interrogation piece called Strictu that the ladders seem so effective? Repression and evil are simple; it is liberation that is complex.

In Another Part of the City
I also highly recommend Barbara Kruger's current show at Mary Boone uptown (753 Fifth Ave., to Dec. 2004). Called "Back to the Future," all works, in one way or another, use her white lettering on red or black, highly graphic, signature-style. In one case — the knockout piece from 1995 — countless guys in white bathing caps swim in a sea of phrases all beginning with "busy." Busy with dying, Busy with strategizing. Busy with boasting, Busy with killing. Are they really all men? Don't women die, strategize, boast, kill? But I won't quibble; it's a powerful piece.
The show is a mixture of old and new pieces, making the point, I am afraid, that the more things change the more they stay the same — in politics and in the human predicament.
An image of President George W. Bush with the words "falling upwards" is bound to be a crowd pleaser, at least on both coasts. Another favorite of mine, since the presentation of the text as white letters on a bright red ground in an art gallery is ambiguous and therefore thought-provoking is Untitled (Pledge) from 1988. Simply and bluntly, it's the Pledge of Allegiance, which in case you've forgotten, reads like this: I pledge allegiance to the flag of the United States of America and to the Republic for which it stands, one nation under God, indivisible, with liberty and justice for all.
The "under God" was added by Eisenhower as a Cold War ploy. Does Kruger know this?