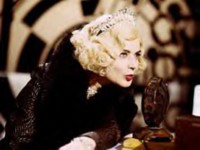 Guy Maddin, The Saddest Music in the World, 2003 (Isabella Rossellini as Canadian beer tycoon)
ArtOutside the Art Galleries
At a time when it is hard to avoid movies or digital projections in art galleries, why not go back to origins? Musician/artist Brian Eno once prophesized that although it might seem that art has disappeared, we would find it again in an unlikely place. Could that be in movie theaters and thenon DVDs?
Not only is the maddeningly eccentric Guy Maddin incredibly visual, he is a movie auteur. I like putting the two terms together, for as an author (an artist), Maddin — like John Waters, the Baltimore filmmaker who has given us Pink Flamingos and Hairspray — is making movies rather than film or cinema. Even his most outrageous images are employed in the service of storytelling. In Maddin's case, however, you don't know if Isabella Rossellini's beer-filled glass legs (in the 2003 "big" budget The Saddest Music in the World) are an homage to surrealism, or making fun of it. I vote for making fun. But am I right?
If making fun is Maddin's main talent, why are we so often disturbed and/or moved by his fey, outré, over-the-top absurdities? The real-life Maddin has a weird neurological disorder that causes him to feel he is being poked by ghosts. There are ghosts in his movies, too. His older brother, who at age 16 committed suicide on the grave of his freshly buried sweetheart, is always in the background. But there are other ghosts too, and I do not mean only ghosts-of-movies-past.
As a way of dealing with tragedy, Maddin's movies are firmly planted in camp or, more properly, meta-camp; in his own archeology of silent film; in his childhood; or in the mores and local legends of Winnipeg, Canada, his flat and icy hometown. If you thought Baltimore was an unlikely place for filmmaking, just think of Winnipeg. I think I lectured there once, but the only thing I really remember is parking meters with electric outlets: you plug in your motor blanket to prevent your engine block from cracking in the cold. In Waiting for Twilight — a documentary extra that comes with Twilight of the Ice Nymphs (1997), Archangel (1990) and Heart of the World (2000), all on a recent DVD — a Maddin crony explains that Winnipeg is so cold you don't really want to go outside, so you turn inward.
)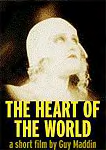 The Silence of the Wolves
Maddin's "silent" films, like the brilliant, six-minute Heart of the World, the hour-long Cowards Bend the Knee (2003) or the poignant (and hilarious) musical The Saddest Music in the World (2003) — all my top picks — are fast, faster than the silent films so lovingly or scathingly parodied. Heart is fastest of all, since, to the stirring pulse of Georgi Sviridov's Time, Forward, it condenses all of Russian silent cinema (and German Expressionist cinema) into a few breathtaking minutes, thus deserving its reputation as the best of recent "experimental" films.
Here I have to describe the signature Maddin "look" of flickering imagery, iris shots, and fake disintegration of film stock. Not a fan of the silent period of movies, I confess that seeing one of Maddin's pseudo-silents made me want to look at them again — but when you do look at them, at the correct speed or even the speeded-up usual versions, they are SO SLOW. I rented an early Hitchcock silent called Downhill, which was sans the music track. Without a rolling piano or string quartet to guide one through the emotions, it was nearly impossible to "read." Maddin makes "silent" movies the way you would want them to be: with sound and sometimes even the spoken word, along with the impression you yourself are being fast-forwarded on your VCR or DVD. The convoluted plots may crawl along, but the images (and the over-the-top emotions) are on speed.
But silence isn't always golden.
In Careful (1992), which after two viewings has become another favorite, Maddin presents an imaginary mountain community where silence — as in early motion pictures — is the rule. Animals have their vocal cords cut, and even geese passing above might trigger a deadly avalanche. Cavorting is saved for special valleys, where the echoes cancel out the sounds they are echoing.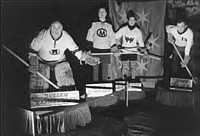 Cowards Bend the Knee, 2003 (Actors as wax replicas of Maroon hockey team)
Acting Is a Popular Disease
All of Maddin's movies, with the exception of Twilight,imitate silent movies, even if there's actual dialogue. Perhaps it would be better to say that he often points to early sound movies, or what they would have been like if silent-movie montage had been maintained. If there is dialogue, it is usually stilted and either postproduction or, if synchronized, sounds as if it's dubbed. The actors deliver their lines as if they are, as one says, phoning them in. An exception, along with the ever-game Rossellini as a Canadian beer baroness, is the ever-charming Shelley Duvall. Her role as the host of television's once-popular Faerie Tale Theater helps create the atmosphere of the lush and lugubrious Twilight.
Twilight, however, is not a full-color fable for the kiddies. In spite of the saving grace of John McCulloch's journey-music, it is even darker and certainly more perverse than any Cocteau tale. After the promising lines, "Aren't you tired of thinking like a prisoner? How about thinking like a criminal?" we have to wade through many dead scenes and arch poses until, more than three-quarters through, we get to see Duvall go totally bonkers and hammer a spike into the head of a crusty, impotent ostrich farmer. This is the high point.
After Twilight of the Ice Nymphs (not typical, but seemingly in perpetual replay on the Sundance TV channel), Maddin tried to make a big operetta film called The Dykemaster's Daughter. He couldn't raise the mere million he needed. I don't know why the Canadian government couldn't come up with the money; after all, it was to star British horror actor Christopher Lee and Leni Riefenstahl (notorious director of Triumph of the Will) in her acting comeback. She had started as an actress in silent, very-German alpine flicks. Dykemaster's probably fits into the select category of The Wildest, Most Unlikely Movies Never Made.
In fairness, most of the "acting" is just what Maddin wants. Like Hitchcock, he tells his actors as little as possible, so, he says, so they won't take the movie away from him. He also reveals that he coached the actor who had to pretend to eat his father's corpse — in his first movie, The Dead Father (1986) — to "eat yogurt by the light of a refrigerator as if he really disliked yogurt.")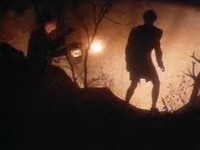 Careful, 1990
More Movies, Music, Writing and Camp
I'll pass by, this time around, Archangel — about Canada's largely unknown intervention against the Bolshevek revolution — and Tales from the Gimli Hospital, 1988, (which approaches the forbidden subject of a devastating epidemic in the Canadian, largely Icelandic community of Gimli, north of Winnipeg.) Both have their charms.
The most recent movies (and therefore not yet available on DVD), Cowards and The Saddest Music, like all of Maddin's works, are long on plot and deliriously short on sense. So that I do not ruin your eventual delight or disgust, suffice it to say that Cowards, Maddin's most autobiographical effort, was initially meant as a gallery installation in the form of 12 peep-shows. It's about destiny, hockey, beauty parlors, incest, and the Hands of Orlac; The Saddest Music is only outwardly about a maniacal female owner of a Canadian beer company. She (played by Rossellini) has the brilliant idea that now that Prohibition has been abolished, she will encourage the drinking of beer by mounting an international radio contest to find the saddest music in the world. It is, by the way, hilarious that mariachi music from Mexico is one of the entries.
In my view, if movies be music, than Maddin wins any such contest for sadness. Beneath the parody and the mayhem, there's a lonely child trying to get out of a Canadian straight-jacket. What was it like to grow up in Winnipeg in an Icelandic family, father working for a famous hockey team, auntburning hair in her beauty shop downstairs? Did little Guy, as he claims, actually crawl up the beauty parlor hair-shoot to spy on the ladies? Was there really a blue hand under one of the sinks?
Maddin's writings (From the Atelier Tovar: Selected Writings, Coach House Books, 2003), are as pleasingly overwritten as his movies are overwrought. The journal entries, screen treatments, and reviews will let you in on lazy-boy Maddin's secrets — but no more than Cowards, whose main character is called Guy Maddin. Most will see an element of camp in Maddin's films. Yet in spite of a few male shower scenes and the hilarious short Sissy Boy Slap Party (1990), Maddin appears to be straight, has a grown daughter he dotes on, but, divorced, seems unlucky in love. So much for the still socially prevalent assumptions about ironclad links between sexuality and temperament. (And, judging by the way he dresses for the documentary Waiting for Twilight, he is not even a metrosexual.) But, as all of his movies prove, even a former stick boy for the Winnipeg Maroons hockey team can dish out emotions exaggerated beyond all cause. If this be camp, then it is camp about camp, meta-camp.
Cocteau once promised that making a film would be like writing. In Maddin's best efforts, 10 percent usually is writing, in the form of intertitles. Then too, the images have a certain written-ness about them. They stick in your mind like images from bad poems, too vivid for their own good. It is their vividness that is their meaning, not their referents.
These oddly moving movies are more Jacobean than Restoration. In Careful, the blond and goofy youth who kisses his sleeping mother's exposed breast, burns his mouth with a live coal and cuts off his fingers inremorse– before jumping off a cliff. Of course, like the whole movie, the kiss may have been a dream. The remaining brother, also incest-prone, has his brother's fingers sewn back on so that their truly loopy and self-centered mother won't know the fall was suicide. Tragedy is communicated by farce, or vice-versa.
Update: Films of Guy Maddin @ Berkeley Museum of Art to Oct. 31.