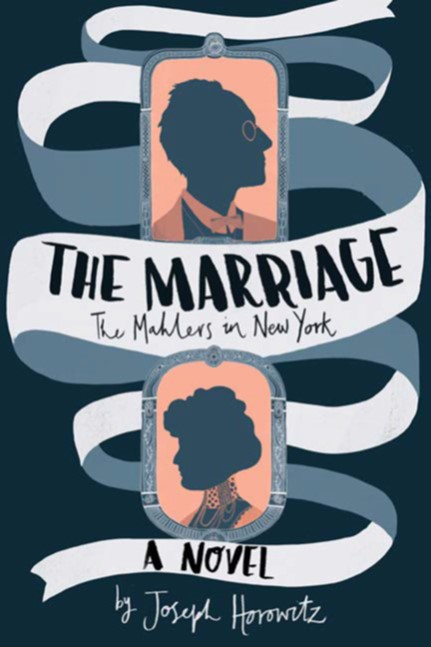 From Erik den Breejen's review of my novel The Marriage: The Mahlers in New York, in the current New York Sun::
"Mr. Horowitz's is an alchemical quest – to bring memories and accounts from dusty archives to life . . .
"When recreating a rehearsal of Mahler's own Second Symphony, Mr. Horowitz's rich use of detail compellingly evokes the feeling of the music but also the artist's own unease in his new home: 'a hushed and distant trumpet song, a tender lullaby over cascading harps. Memories – despoiled by these renegade Americans in a city of cement.'
"This in contrast to the vivid description of the triumphant debut performance in Munich of Mahler's 'Symphony of a Thousand' . . . The music created 'a surging organism, a sentient community bound by a single primal impulse of apocalyptic sound and feeling.'
"While rehearsing the orchestra, Mahler instructs the players that the work is "a mosaic, not a blend. Shifting grains of color, always individual grains" – an astute description of Mahler's music as well as The Marriage itself, with its myriad distinct strains coalescing into a convincing whole."
Den Breejen also writes:
"One of the central problems facing contemporary orchestras is how to appeal to a generation raised on 15-second videos. A 'dumbing down' of programming is not what Mr. Horowitz sees as the solution. ''Orchestras have moved in a different direction than museums,' he says. 'The thing that most dismays me is that museums are so far ahead of orchestras. They have scholars on staff, they embrace scholarship, they curate the past, which means they have a knowledgeable understanding of previous achievement, and in particular, American achievement. No orchestra even aspires to do that. . . . '
"Amid this weekend's sold-out performances of Mahler's Ninth Symphony led by the New York Philharmonic's future music director, Gustavo Dudamel — who inspired the character Rodrigo on the Amazon series Mozart in the Jungle — I asked Mr. Horowitz if he thought the problem of the 'celebrity conductor' that he outlined in Understanding Toscanini persisted to this day.
"He offered diplomacy, while adding, 'The fact that a conductor, rather than a composer, should be the iconic musician, is, I think, a problem that begins with Toscanini and exists to this day.''