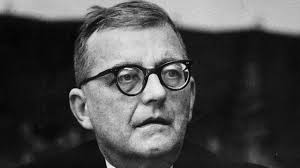 I'm in Sioux Falls, where the South Dakota Symphony – to my knowledge, the most genuinely innovative American orchestra – is performing Shostakovich's Seventh Symphony Saturday night at 7:30 pm Central Time. A 30-minute preamble (which I've scripted) explores the extraordinary context of this work. It's all being livestreamed via http://www.sd.net or http://www.facebook.com/sdsymphony
The performance links to two weeks of activity at South Dakota State University and the University of South Dakota – an educational experiment I cannot imagine implementing anywhere else.
"My Symphonies are Tombstones," the "dramatic interlude with music" that begins the concert, starts with some really lascivious music from Shostakovich's opera Lady Macbeth – and the notorious Pravda editorial that resulted. Delta David Gier – the orchestra's music director since 2004, and a Sioux Falls resident since 2005 – also samples the ending of Shostakovich's Fifth Symphony in the course of exploring the ways in which this singular composer bears witness to history.
Composed during the terrible siege of Leningrad, Shostakovich's Seventh rallied a nation. It was broadcast throughout the Soviet Union – and also to the front. A German soldier later testified: "It had a slow but powerful effect on us. The realization began to dawn that we would never take Leningrad. We began to see that there was something stronger than starvation, fear and weather – the will to remain human."
I will be turning the entire "Shostakovich in South Dakota" exercise into my next NPR "More than Music" documentary, with commentary by the participating students and musicians – including members of the Dakota String Quartet, which performs Shostakovich's autobiographical Eighth String Quartet on both campuses. 
(This is the same Dakota String Quartet, comprising SDSO principal players, that made the world premiere recording of Arthur Farwell's Hako Quartet, a landmark achievement in the Indianists movement Dvorak inspired and Farwell spearheaded; and it's not kitsch.)  
How I wish other orchestras could link to universities in this fashion, or so creatively strategize to maximize the impact of music in live performance.
(Next season, Gier and Emanuele Arciuli perform Lou Harrison's Piano Concerto, a work frequently extolled in this space. The same program will incorporate a gamelan demonstration, exploring Harrison's ingenious techniques of cultural fusion.)   
To read a related blog on the South Dakota Symphony, click here
To read Alex Ross on the South Dakota Symphony in The New Yorker, click here.