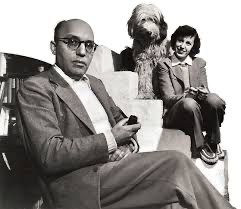 Kurt Weill, a refugee from Nazi Germany, turned himself into one of Broadway's leading composers – an amazing feat of assimilation. After the war, he only returned to Europe once, in 1947 – and reported: "Strangely enough, wherever I found decency and humanity in the world, it reminded me of America."
How does that sentiment play today? It's a question posed and pondered in my latest NPR "More than Music" documentary, which treats Weill's odyssey as a lesson in immigration.  The commentators include the social critic John McWhorter and the Weill scholar Kim Kowalke, both of whom reference Weill's anti-apartheid musical Lost in the Stars (1949) – an implicit condemnation of Jim Crow.
Kowalke says: "There's no question that when he arrived [in 1935] Weill believed in the American dream. . . . That love of country persisted. . . . But like so many others after the war Weill felt that the American dream had been punctured. And I often think — what if he had lived to see what's going on in this country today? How would he respond?" Maybe, Kowalke continues, with the  "bleak warnings" about the "fragility of democracy" earlier to be found in Weill's Die Bürgschaft (1931) and Der Silbersee (1933). 
Asked "What makes Weill Weill?", Weill himself is heard commenting, on a 1941 radio broadcast: "I seem to have a very strong awareness of the sufferings of underprivileged people."
Tracking Weill in Berlin, Paris, and Broadway, our broadcast samples historic recordings by Bertolt Brecht, Walter Huston, Todd Duncan, and Bobby Darin. And we hear terrific modern-day renditions, recorded in live performance at the Brevard Music Festival, by Lisa Vroman and William Sharp, by Brevard's Janiec Opera Company, and by the Brevard Music Center Orchestra conducted by Keith Lockhart.
My own favorite Weill performance, which closes the show (at 42:20), is Weill himself singing a Broadway love song thathas nothing whatsoever to do with social justice: "That's Him." It's yet another face of Kurt Weill – of the worldly immigrant, the New York cosmopolite. It magically evokes the sophistication of Broadway 80 years ago. And the words couldn't be more distant from the sardonic political wit of Weill's Berlin partner Bertolt Brecht. They're by the poet Ogden Nash, who specialized in urbane nonsense rhymes — and who here conveys romantic effusion via whimsical understatement. Nash begins:
You know the way you feel when there is autumn in the air,
The way you feel when Antoine has finished with your hair,
That's him.
Nash and Weill rhyme about the way you feel "when you smell bread baking," the "way you feel when a tooth stops aching." "That's Him" peaks with a veritable paean of understatement. The romantic object of desire is
Not arty, not actory.
He's like a plumber when you need a Plumber.
He's . . . satisfactory.
Accompanying himself at the piano, Weill is himself "not actory." Mary Martin, who sang "That's Him" on Broadway, sounds "arty" by comparison. Weill is here the "plumber": no less than the song, his rendition divinely celebrates the quotidian.
To listen to the show, click here
LISTENING GUIDE:
00:00 – Bobby Darin and Bertolt Brecht sing "Mack the Knife"
3:20 – Walter Huston sings "September Song"
4:40 – Weill on the radio show "I am an American" (1941)
7:00 – Lisa Vroman and William Sharp sing "How Can You Tell an American?"
9:00 – John McWhorter on Weill's notion of "America"
12:16 – The Seven Deadly Sins, with commentary by Keith Lockhart
17:45 – Lisa Vroman sings "My Ship"
22:00 – Weill sets Walt Whitman in response to Pearl Harbor
25:40 – The Ice Cream Sextet from Street Scene
31:40 – Kim Kowalke on Weill and social justice
35:00 – John McWhorter on Lost in the Stars
38:20 – Kim Kowalke on Weill and the American dream
42:20 – Weill sings "That's Him"
FOR A RELATED BLOG, click here.