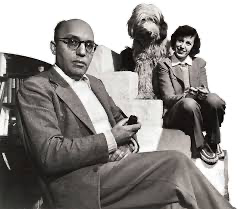 My favorite recording of any Kurt Weill song – as I have occasion to remark at the close of my recent NPR documentary on Weill's immigrant odyssey – is Weill's own rendition of "That's Him." Re-encountering this remarkable performance, with the composer accompanying himself at the piano, I feel a need to ponder what makes it so special.
As I observed on the radio:
"It's a song from his 1943 show One Touch of Venus, originally sung by Mary Martin. So it's supposed to be sung by a woman. . . . It's yet another face of Kurt Weill – that of the worldly immigrant, of the New York cosmopolite. It magically evokes the sophistication of Broadway 80 years ago. And the words couldn't be more distant from the sardonic political wit of Weill's Berlin partner Bertolt Brecht. They're by the poet Ogden Nash, who specialized in urbane nonsense rhymes. So this is a love song unlike any other – it achieves romantic effusion via whimsical understatement."
Nash begins:
You know the way you feel when there is autumn in the air
The way you feel when Antoine has finished with your hair
That's him.
Nash rhymes about the way you feel "when you smell bread baking . . . The way you feel when a tooth stops aching…. "
The song peaks with a veritable paean of understatement. The romantic object of desire is:
Not arty, not actory
He's like a plumber when you need a plumber
He's . . . satisfactory.
As sung by Weill, this love song is not a love song. You can hear that it's supposed to be by listening to Mary Martin sing it – a beautifully calculated interpretation, with its calibrated dynamics and sweet portamentos. (She was a trained soprano.)
But it is Weill's interpretation that's "not arty, not actory." Its keynote is the first sentence: "You know how you feel when there is autumn in the air." For Weill, "That's Him" becomes a personal expression of twilit serenity. And it's about Weill himself: a self-portrait.
What's more: the same twilight tone inflects Weill's two most popular Broadway tunes: "Speak Low" and "September Song." Like "That's him," "Speak Low" comes from One Touch of Venus, with words by Ogden Nash:
Speak low when you speak love
Our summer's day withers away too soon, too soon
Speak low when you speak love
Our moment is swift like ships adrift
We're swept apart too soon
Speak low, darling speak low
Love is a spark, lost in the dark
Too soon, too soon
I feel wherever I go that tomorrow is near
Tomorrow is here and always too soon
Time is so old and love so brief
Love is pure gold and time a thief
We're late, darling, we're late
The curtain descends, everything ends
Too soon, too soon
I wait, oh darling, I wait
Will you speak low to me, speak love to me and soon?
The words for "September Song" are Maxwell Anderson's:
When I was a young man courting the girls
I played me a waiting game
If a maid refused me with tossing curls
I'd let the old Earth take a couple of whirls
While I plied her with tears in lieu of pearls
And as time came around she came my way
As time came around, she came.
When you meet with the young girls early in the spring
You court them in song and rhyme
They answer with words and a clover ring
But if you could examine the goods they bring
They have little to offer but the songs they sing
And a plentiful waste of time of day
A plentiful waste of time.
Oh, it's a long, long while from May to December
But the days grow short
When you reach September
When the Autumn weather turns the leaves to flame
One hasn't got time for the waiting game
Oh, the days dwindle down to a precious few
September, November
And these few precious days
I'll spend with you
These precious days
I'll spend with you.
As it happens, Weill recorded "Speak Low" – and it sounds like this. He never recorded "September Song" – but he should have, because he would have been the perfect interpreter.
Long ago, when a music critic for the New York Times, I had the privilege of interviewing Weill's widow, Lotte Lenya, in her Manhattan apartment. She said: "The old-timers were always talking about the past. And Weill never did. Never. Because they would always talk about how marvelous it was in Berlin. And Kurt was always looking ahead. He didn't want to look back."
Certainly "Speak Low" and "September Song" explicitly "look ahead" – to "precious days" to come. But the affect of these songs, and of "That's Him" as rendered by Weill – is autumnal. It would be imprecise to call them "nostalgic." But they convey a journey's end. They register, retrospectively, a crucible now mainly past – fleeing the Nazis, skimming Paris and London, tackling the Broadway hegemony of Rodgers & Hammerstein.
Who was Kurt Weill? Judging from his correspondence with Lenya, his personality wasn't exactly becalmed. The letters allude to frustrations and rivalries. In one (June 4, 1944), Lenya writes (in her acquired English): "Maybe after the war you will have a chance to write operas again and then see what will be left of that Hillbilly show 'Oklahoma.' That music sounds dummer and dummer every time I hear it. There is something about tradition and it cant be pound into people. It has to grow trough centuries. Evidently. So lets be patient and be grateful for the little white house we got out of spite of them not knowing your real value."
But "That's Him," "Speak Low," and "September Song" transcend every second thought, every regret and sorrow. They exude reconciliation. And this autumnal dimension enlarges these songs in special ways. As Lenya testified, Weill didn't wish to "look back." But he could not wholly ignore his tumultuous past. Weill died young – at the age of fifty. Whence his twilight tone? His fraught saga of flight, immigration, and assimilation, I believe, can be read into "time is so old, and love so brief."
A footnote: Weill's delivery seamlessly mates speech and song. That's part of its magic. Artur Rubinstein, summarizing the supreme art of Feodor Chaliapin, observed that he sang with the same voice with which he spoke. Cf.: "The Greatest Vocal Recording of All Time."