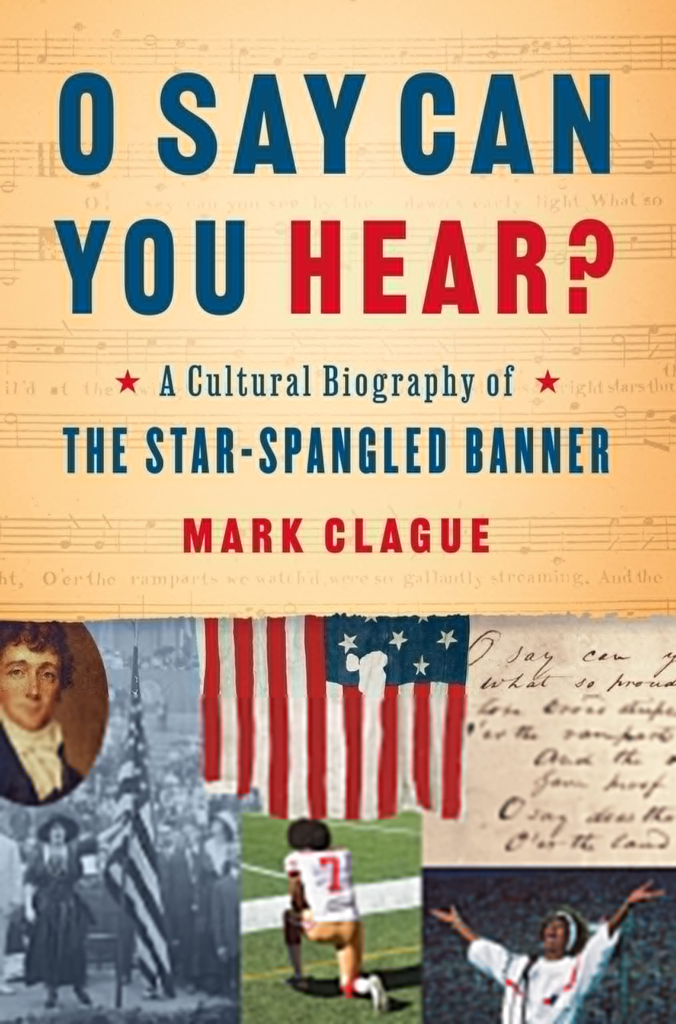 My July 4 "More than Music" special for National Public Radio seems to me the hottest radio show I've ever managed to produce. The topic is The Star-Spangled Banner – as an instrument for exploring issues of race and national identity. You can hear it here.
The Star-Spangled Banner is controversial today for three reasons. The first is that Francis Scott Key, who wrote the words, owned slaves. The second is that the little-known third verse references "hireling and slave" – and we're not sure what that means. The third is that American identity is being scrutinized as never before in living memory – what does it mean, right now, when we sing "land of the free"?
The music historian Mark Clague, who invaluable partners the broadcast, has written an important new book: Oh, Say Can You Hear? It's a "cultural history" of The Star-Spangled Banner. Mark has many answers. He tells us that Key both owned slaves and, as an attorney, freed nearly 200 enslaved Black Americans. He explains that "slave," in Key's third verse, doesn't refer to African-Americans (which, he adds, doesn't let Key off the hook).
And Mark eloquently makes a case for retaining The Star-Spangled Banner – with two revisions. As part of our national inheritance, it stands witness to our history; it changes significance over time; it instigates a virtual "conversation" about the shifting meaning of American patriotism.
The outstanding African-American bass-baritone Davone Tines, however, finds The Star-Spangled Banner "colonialist" and "bellicose." He builds a case for a new national anthem: "Lift Every Voice and Sing." The "Black national anthem," it's as harmonious and inclusive as Keys' song is ("conquer we must") is martial.
A third participant in the show is the eminent Civil War historian Allen Guelzo, who tackles a related issue: what to do with statues of Francis Scott Key and other famous slave-owners? Leave them alone, he argues. We are an increasingly forgetful nation. We need to possess a national past.
Along the way, partnered by Peter Bogdanoff's technical wizardly, I sample renditions by Jimi Hendrix, Aretha Franklin, Whitney Houston, Morton Gould, and Igor Stravinsky, among others. And we also hear two of the more than 500 (!) alternative verses for The Star-Spangled Banner – a post-Civil War anti-slavery lyric by Oliver Wendell Holmes, Sr., which Clague believe should be formally adopted; and a bitterly sarcastic 1844 Abolitionist lyric that, when we hear it sung, chills the spine:
Oh say, do you hear, at the dawn's early light,
The shrieks of those Bondmen, whose blood is now streaming
From the merciless lash, while our Banner in sight,
With its stars, mocking Freedom, is fitfully gleaming?
Do you see the backs bare, do you mark every score
Of the whip of the driver trace channels of gore
Oh Say does that Star-Spangled Banner yet wave
O'er the land of the free, and the home of the brave?
Here's a listener's guide:
7:40 – A close look at Whitney Houston's 1991 Super Bowl rendition
11:00 – Stravinsky's version, for which he was accused of "tampering with national property"
14:00 – A close look at Francis Scott Key and slavery
15:04 – What does Key mean by "hireling and slave"?
18:00 – Allen Guelzo on those statues, and related matters
25:00 – Davone Tines on "a demonstrably toxic way of building a foundation for a nation"
26:00 – The Star-Spangled Banner recast as an Abolitionist salvo
33:30 – "Hail Columbia" as an alternative to The Star-Spangled Banner
35:00 – Antonin Dvorak's alternative to The Star-Spangled Banner
37:00 – Davone Tines' alternative to The Star-Spangled Banner
43:30 – Mark Clague's "new verse," courtesy of Oliver Wendell Holmes, Jr.
You can link to previous "More than Music" radio documentaries via the bottom of my home page.