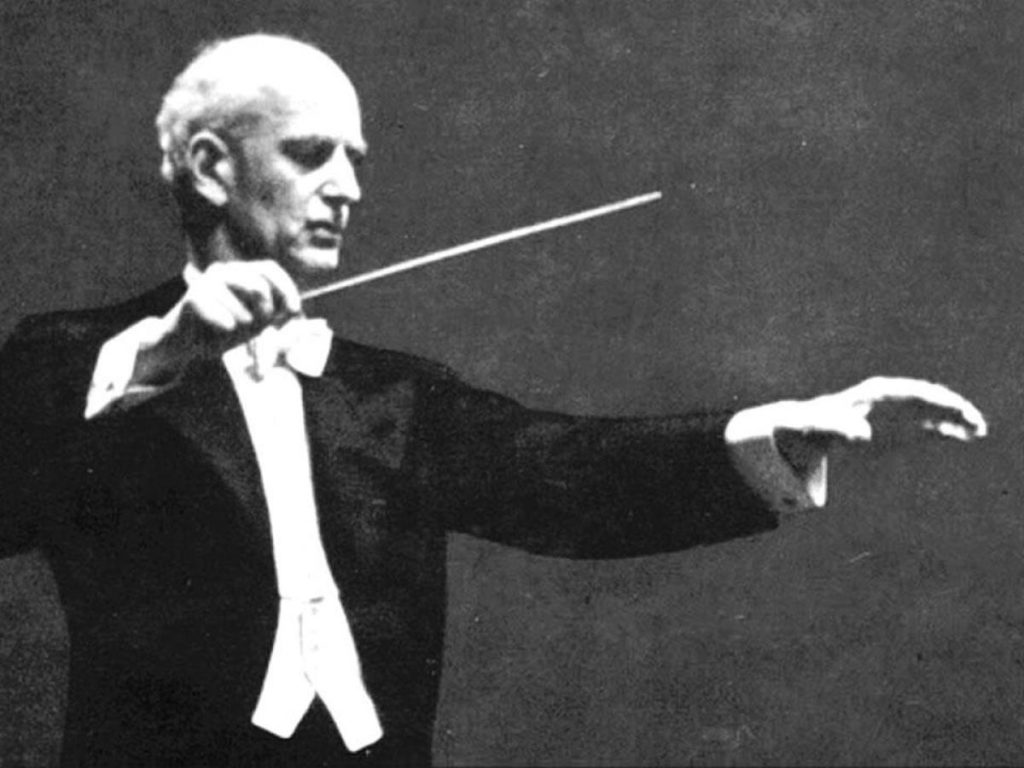 Books continue to be written about what it was like to live in Germany under Hitler. I wonder if any of the authors have auditioned Wilhelm Furtwangler's wartime broadcasts with the Berlin Philharmonic. They should.
About a year ago, the Berlin Philharmonic issued a $250 box containing 22 CDs and a 180-page booklet. The contents comprise the complete surviving Furtwangler wartime broadcasts (1939-1945) in the best possible sound. Since most of these performances were recorded with magnetic tape (unprecedented at the time), the dynamic range and general fidelity are superior to the broadcast concerts Americans were (once) accustomed to hearing.
A specimen: the finale of Brahms' Symphony No. 1 – the final work on Furtwangler's final wartime broadcast (January 1945). This astounding document opens an audio window on life in Berlin when the city lay in rubbles. Since the orchestra's historic home had been destroyed one year before, the venue was a faded operetta theater making do as a concert hall. The program had begun with Mozart's Symphony No 40 — interrupted midway through when the lights went out. The audience stayed. An hour later, the concert resumed. Rather than returning to Mozart, Furtwangler skipped to the concert's final scheduled work: the Brahms. 
What was it like performing and hearing Brahms' First under such dire circumstances? It becomes quite possible to find out.
It was my privilege to audition this singular performance with my longtime radio colleagues Bill McGlaughlin and Angel Gil-Ordonez on the most recent "PostClassical" webcast via the WWFM Classical Network. Brahms would not have recognized Furtwangler's 1945 reading as Brahmsian. With its radical extremes of tempo and mood, it is not "true to the score." Rather, it is true to the moment. What I glean is something I could not have predicted: not terror, but pride and defiance. Brahms's clarion C major horn call, banishing the dark, here becomes an iteration of "the real Germany," stalwart in the face of barbarism and insanity.
We should stop presuming to judge Furtwangler's decision to stay rather than emigrate. His conviction that in doing so he was preserving a precious legacy is here made wholly tangible and intelligible.
Richard Taruskin, in one of three valuable essays in the Berlin Phil booklet, ponders "Expressivo in Tempore Belli: Considering the Conductor Wilhelm Furtwangler" – the most empathetic writing I can recall from this prolific music historian. Taruskin writes of Furtwangler:
"His definition of Deutschtum (Germanness) was elastic enough to encompass his Jewish countrymen. In an address commemorating Mendelssohn's centenary in 1947, which was coincidentally the year of his denazification, Furtwangler ended with the explicit declaration that 'Mendelssohn, Joachim, Schenker, Mahler – they are both Jews and German,' and then added heartbreakingly: 'They testify that we German have every reason to see ourselves as a great and noble people. How tragic that this has to be emphasized today.'"
As Taruskin stresses, Furtwangler's notion of Werktreue – textual fidelity – was not Toscanini's or Stravinsky's. Rather, it was Wagner's: not literal adherence to the composer's notated instructions, but an act of extrapolation discovering the "idea" of the piece. And, I would add, that idea could prove malleable accordingly to time and place: conditions Furtwangler channelled with uncanny sensitivity and communicative force.
As I mentioned on the "PostClassical" webcast, I once had occasion to share with my wife, Agnes, a 1951 Furtwangler performance of Tchaikovsky's Pathetique Symphony. This justly famous Radio Cairo broadcast does and does not resemble Furtwangler's 1938 studio recording. The difference is the memory of war. Tchaikovsky's symphony seems — as Agnes remarked – "about World War II." The composer's autobiographical heart-ache and Weltschmerz are here transformed into a dire existential statement transcending the personal.
Shostakovich is not irrelevant. He, too, possessed a genius for channeling the moment. The legendary first Leningrad performance of Shostakovich's Seventh Symphony, in the midst of a murderous Nazi siege, was cathartically empowering for a great city facing extinction. Shostakovich's Seventh was a direct product of those circumstances. Brahms had never intended his First Symphony as a survival strategy. But that is what Furtwangler made it become.
The other discovery of our webcast was a Schubert passage. His "Great" C major Symphony was a Furtwangler specialty. The work itself is polyvalent, both gemutlich and demonic. Its second movement, marked "Andante con moto," is and is not a "slow movement." Rather, it is a march with trumpet tattoos in alternation with intimations of the sublime. Furtwangler's wartime broadcast, in December 1942, is never gemutlich. Bill McGlaughlin, in the WWFM studio, memorably characterized its massive climax as "a firestorm." Here Schubert's march is a juggernaut hurtling toward an abyss. The abyss is a silence of three beats. In Furtwangler's reading, the silence lasts eight seconds: an eternity. Reacting in the moment, Bill's voice quavered when he said: "This time we really broke it; we really broke civilization." And he characterized the music finally lifting the silence – the tenuous pizzicatos, the tender cello song – as an act of dazed consolation.
Something awful is conveyed in this Furtwangler reading of Schubert's climax. It is, I suppose, something Schubert – a seer — may have distantly or subliminally glimpsed. But it is Furtwangler, channeling the moment, who has uncovered it. This reading no more conforms to our notions of "Schubert" than those Brahms and Tchaikovsky performances support received wisdom. They instead affirm that music has no fixed meaning, that great works of art are so profoundly imagined that their intent and expression forever mold to changing human circumstances.
For more on Furtwangler, see my blogs of Aug. 4 and 8, 2018.
A LISTENING GUIDE FOR THE WEBCAST:
PART ONE:
10:18 – Brahms Symphony No. 1: finale (January 1945)
39:40 – Bruckner Symphony No. 9: first movement (October 1944)
PART TWO:
00:00 – Beethoven Symphony No. 5: first movement (September 1939)
7:09 – Beethoven Symphony No. 5: movements three and four (September 1939)
21:38: — Schubert: Symphony No. 9: second movement (December 1942); to hear the silence, go to 32:00
45:08 – Schubert: Symphony No. 9: fourth movement (December 1942)