[contextly_auto_sidebar id="ctCMXahMD8XY2682T9IuKSFZKLmSE6BP"]
Continuing now with my suggestion — or is it a crusade? — that we in classical music start moving heaven and earth to find an excited, new, younger audience…to prioritize that…and to give education, outreach, and advocacy a lower priority…
I suggested last week that we don't do this because it seems impossible, and because if it could be done, we'd have to dumb classical music down. Or otherwise make changes that many of us wouldn't welcome.
So it's important now to say that it has been done, that we have proof of concept, that there are ensembles and institutions in classical music who've built just the kind of audience I'm talking about. Or anyway we have partial proof of concept, because we don't have many examples of people building the new audience and sustaining it. But when you read what follows, I think you'll agree that the new audience can be sustained, if anyone who begins to have an audience like this keeps on building it.
And once we've seen the new audience in action, then we can see what kind of changes we might really need. They're notable. I won't deny that. But they don't remotely involve dumbing down.
Here we go
The first success story that comes to mind:
The Orchestra of the Age of Enlightenment, in London.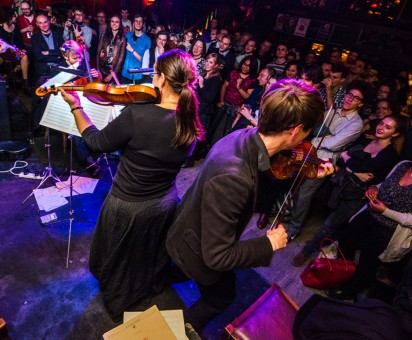 For a number of years, they've rebranded themselves for a younger crowd as the Night Shift. (See also here.) And then attracted a new young audience to late-night repeat concerts of their regular programs — selling out a thousand-seat hall, they've told me — and also to smaller performances in clubs.
Here's a video in which you can see their branding in action. They were recruiting people from their audience who don't look like standard classical music patrons. Whom they later on paired with members of the orchestra who have a similar look.
How they made this work:
moving into the cultural space their new audience is in; looking and feeling like that audience
keeping at it; making this a priority for the organization, and working at it year in and year out
Note that they do their normal rep at the Night Shift events: standard classical pieces, played on period instruments. And something I've noticed, about moving into the cultural space of their audience. Like many classical music institutions, they might have jazz or pop music in any of their spaces, preceding their Night Shift shows. But unlike just about everybody, they've made a point of saying who those acts are. I've seen them talk very seriously, and with admiration, about a singer-songwriter who'll precede them. Thus showing they know the music their new audience normally hears, and that they care about it.
Quote: "As always, it's a rules-free evening, so drinking, cheering and chat is all encouraged – including from the stage as we'll be introducing all the music on the bill."
This group still exists, and is still devoted to its premise, which is to mix indie rock and classical music on concert programs. It must be a success, since it continues year after year, but my memories of it — unforgettable ones — come from its founding in 2006, and what happened  immediately afterward.
First year: four concerts (if I remember correctly) in a 400-seat hall, sold out. Second year: 10 concerts in an 800-seat hall, sold out. Plus a concert of contemporary orchestral music, played two nights in a row in a 1000-seat church, and sold out, without any notable marketing.
What were these concerts like? At the smaller ones, there'd be an indie band.  And, after it played, then classical music. Ranging from free, noise-music improvisation, down through Shostakovich preludes and fugues, and stretching all the way to Bach. At one concert I went to, the second half was all Bach, the B-flat keyboard partita. The audience screamed and whooped for it, as they did for all the classical pieces I heard on the series.
The orchestra concerts were special. The attraction was a piece by Jonny Greenwood, guitarist with Radiohead. Who of course has a following, and which of course was why the concerts sold out. But his piece wasn't a rock piece. Greenwood has extensive classical composition chops and experience (he'd been composer in residence with the BBC), and this work was a complex texture piece, reminiscent of early Penderecki. (And in fact Nonesuch later released a CD of Greenwood and Penderecki works, because the two composers share a sound world.)
Also on the program: music by John Adams and Gavin Bryars. The audience, people in their 20s and 30s, loved all of it (the Bryars piece, The Sinking of the Titanic, was the longest work on the program). And I'll never forget how one of my friends in the business, a veteran of major orchestras, stood with me after the event and watched the crowd leaving the church. And said words to this effect: "This is the audience we always talk about getting." To which he added: "But I told one orchestra I've worked with: If you really do get a younger audience, watch out. It won't be an audience you like."
Two things I've written about Wordless Music: about one of their early concerts, and about the orchestral show.
How they did it: like the OAE, they moved into the cultural space the young audience already is in. Not with branding, but by pairing classical music with the music the audience already likes. And the classical music remained untouched. It was what it would be anywhere else.
Quote: "Wordless Music is devoted to the idea that the sound worlds of classical and contemporary instrumental music – in genres such as indie rock and electronic music – share more in common than conventional thinking might suggest."
And now I see that putting all this together takes a while. So I'll do it over several posts. With the OAE and Wordless Music I've only just begun.