[contextly_auto_sidebar id="QozyjB9OFYaMj6zzdQl7aauiYUWGD8n3″]
Continuing from two posts ago, when I said it was more important — by far — to develop a new, excited young audience than to focus on education and outreach…
It's time now to say why I think most people in our field don't seem to think this way.
First, and most simply, I think that most of us can't imagine that new young audience ever existing. In part that's because we're so used to the old audience, made up of people my age (I'm 71). And in part it's because we can plainly see that younger people don't go, and mostly don't want to go, to classical performances.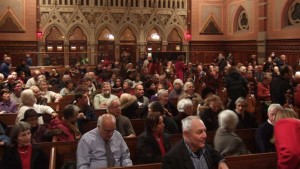 So reality seems stacked against my idea. In our gut, so many of us  —whether we think about this consciously or not — just can't believe the younger audience could ever happen.
Of course, then we might ask what will happen in the future. Who will the audience be? Not, of course, the same older people who are the audience now. We'll pass on. So do we imagine, in the future, a new older audience, made up of people younger now, who as they age take an interest in classical music?
I think many people do believe this will happen. Even though there's no evidence for such a process. The age of the audience has increased over time, and studies by the National Endowment for the Arts (the American national arts agency) show that people born after 1943 are much less likely to go to hear classical music than those born in 1943 and earlier. Some new people younger than 70 do come into the audience, but not enough of them to guarantee a future audience (or future pool of donors) anywhere near as large as the one we have now.
Looking more closely
So now let's look a little harder at the idea that younger people — as we see them right now in our world — aren't likely to come. Plainly, they don't know classical music, and don't care for it. Some of us blame our society for that, because younger people aren't educated in classical music the way younger people were in past generations. I wouldn't take that view — seems to me that the widespread classical music education in the past was the result (not the cause) of the widespread popularity of classical music.
But let that dispute lie for the moment. No matter which side of it you're on, it's plain that younger people don't have a classical music culture. As in fact is true for just about everyone under 70. (Including, for an intriguing example, Nobel Prize-winning economist and New York Times columnist Paul Krugman, 61 years old, who's a connoisseur of smart pop music, which he loves to talk about in his blog. Here, for instance.)
Many of us in classical music may also imagine that younger people have a dumber culture than we do. Which is another argument. You know which side of it I'm on, but I'll skip all that here. What's clear is that if, even unconsciously, you think that classical music culture is smarter, deeper, more artistic than the culture younger people have, then you might also think that the only way to get younger people to classical events is to dumb classical music down.
Which would be another reason not to move heaven and earth right now to develop a new, young audience, at least not as things now stand in our culture. Some people will think that to do this, we'll have to ruin classical music. I couldn't disagree more. I think, in fact, that the truth is just the reverse. We'll have to make classical music a lot smarter than it seems right now, especially to sharp, smart, critical people immersed in current life, who devour the deep cultural probing in TV series like Mad Men or The Wire, and by comparison might find classical music (as currently presented) largely an exercise in nostalgia for a distant (and idealized) past.
That's another long discussion. But people in classical music who haven't had it, and can't (yet) make the leap required to compare a new Quentin Tarantino film with what happens in, let's say, our opera houses, and find the opera houses lacking…well, people in our field who don't make this leap might not see how a new, young audience might actually boost classical music higher artistically.
Fear of change
But then we come to what perhaps lies at the heart of all this. Beneath the difficulty in believing that change could happen — that a new, young audience could emerge — may well lie fear of that happening. Fear of what classical music would be like, after it's reborn. A Quentin Tarantino film? Well, I only used Tarantino as a rather graphic example of something superb artistically, but lightyears away from classical music. Substitute a Scorsese film, or one by Wong Kar-Wai, or a Margaret Atwood or Zadie Smith or Haruki Murakami novel. Or The Wire. Or Judy Chicago's classic feminist art installation, The Dinner Party. Or Björk's album Biophilia, which in its alternate form as an iPad app became the first app ever added to the Museum of Modern Art's permanent collection. Or make your own list of current smart cultural touchstones.
Whatever you might take from other arts to suggest what classical music might become, you can quickly see that, if it follows this path, classical music will have to change. Change a lot! Which means that if you want to keep going to classical performances where you'll be deeply, and repeatedly enriched mainly by the masterworks of the past, by Mendelssohn and Berlioz, Brahms and Bach, La bohème and Otello (with Mefistofele or a Janáček opera as occasional spice), then a new evolution of classical music might — and I sympathize — fill you with dismay. You'd be losing something you love.
Which would mean — and again I sympathize — that what I'm proposing is beyond the pale. And you might (perhaps without ever having thought this through) avidly urge outreach, education, and advocacy, as strategies to save classical music while keeping everything basically the same.
To be fair, there's one more consideration. People at large classical music institutions may want to move toward a younger audience, in the ways I describe. But don't dare do it full steam ahead, because they know they need the older audience, too, because that's where the money — from ticket sales and donations — currently comes from. 
Again I sympathize. But if the older audience is, as seems clear, slowly vanishing, how long can we wait before moving heaven and earth to find a new one?