[contextly_auto_sidebar id="YWGHPQvIyeLEohvh1W6bXuJ2qa3AFmL1″]
Here's something I feel passionate about. When I think about the future of classical music — about how it can, should, and will be restored to the place of honor it used to have in our culture — there's only one measure of success that, in the end, seems to matter.
And that's full houses. If big and small orchestras, opera companies of all sizes, chamber music groups, soloists, early music groups, choruses, everyone who performs classical music were overrun with people buying tickets, and if these people were a new, younger audience…well, then we'd know that classical music was back. That it had been reborn.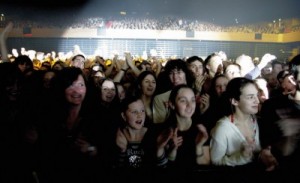 Wouldn't that be worth a thousand educational programs, a thousand outreach events in the community, a thousand hours of earnest advocacy?
But I don't hear people saying this. Or (with a few exceptions) working on anything that adds up to it. Instead, the orthodox position in the field is to prioritize precisely the education, outreach, and advocacy that wouldn't seem nearly so urgent if people thronged to our performances.
Please understand me: I'm not saying that education, outreach, and advocacy are in themselves bad. Of course we should be in schools. Anything that's good for kids is good for our whole society (and warms my own heart, speaking as a parent). And of course we should spread musical knowledge and the ability to play music to anyone interested. And even if we had a large, new, shouting, cheering, stomping audience, there's no reason that we shouldn't reach beyond it, talking to people who weren't buying tickets, and doing good in the community. That's just good PR and marketing, good community relations, things that caring profit-making businesses so often do.
So I'm not saying we should scrap education, outreach, and advocacy.But what I am saying is that ticket sales are more important. Far more! If you succeed with ticket sales, you have a head start on everything. On fundraising, for instance, since donors come from the audience). Or on community buzz. And certainly on advocacy. because if people are lined up to buy your tickets, who could doubt your place in your community, or your value to it?
Please let us in the door
But — again — not many of us say this. Instead, we're likely to hear ideas like some I was intrigued to read in my wife's Washington Post interview with Deborah Rutter , the former CEO of the Chicago Symphony, who now runs the Kennedy Center in Washington.  I want to make it clear that I'm not singling Deborah out for comment. I have warm feelings about her personally, based on contact we had some years ago, and by all accounts she did amazing work in Chicago. She's been warmly welcomed in Washington (where, I might add, the leaders of four top institutions central to classical music, the National Symphony, the Washington Opera, Washington Performing Arts, and now the Kennedy Center, are women).
And what I've quoted isn't any lapse on her part. It's one piece of the currently accepted solution to classical music's problems, which is that we need to educate, reach out, and advocate for our art. So in saying what she said, she's being entirely honorable, and entirely up to date. It's just that I dissent from these widely-held views.
Here's what she said. Anne was summarizing the success Rutter had in Chicago, and cited one project, done in partnership with Yo-Yo Ma, something called Citizen Musician, an initiative that, in Anne's words, is meant to "extend music as a civic as well as an artistic entity."
Speaking of that, Rutter said:
I believe that [orchestras] have to be part of the solutions in our city, country, region, not seen as superfluous extras.…If we are seen as helping with some of these challenging issues, and it's understood that we play a really important role, then we will have a seat at the table.
There's a lot packed into those two sentences. Firs is the apparent assumption that orchestras don't yet have a seat at the civic table. And, worse, that maybe they're seen (or soon will be seen) as "superfluous extras," community entities that most people just don't care about.
Which would mean we're in trouble. That's where Rutter seems to start.
So what can we do about that? The answer that she gives — and I'm not saying it's her only one, but certainly it's something I've heard a lot — is that orchestras have to get involved in civic affairs. We have to show we care about problems in our communities, and that we can help to solve them. To quote again:
If we are seen as helping with some of these challenging issues, and it's understood that we play a really important role, then we will have a seat at the table.
So if we play an expanded civic role — if we help with issues crucial to the community, if we make ourselves valuable, in ways (or so it seems) other than musically, then we'll get that table seat. We won't be irrelevant.
Such a small step
But isn't that a modest goal? To persuade people that we matter? Can we imagine a forceful profit-making company setting a goal like that? Wouldn't they first (or alongside community initiatives) go all-out to sell their product?
Which, as you know, is what I think we ought to do. Create performances so powerful — and so much in tune with current culture — that people just about break down our doors to go to them. Do we really want instead to go out into the world with what's essentially a timid plea? "Please don't reject us." I'm sorry to use strong language, but I think that's a loser's game.
Next: Why we're so timid. And how we build that eager new audience.