When I saw I had 16 comments on my latest post about CD covers (and more have come in since), I knew I'd provoked a storm.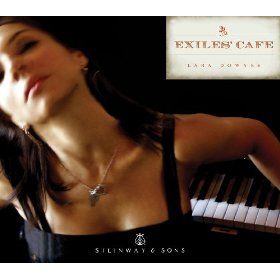 And I had. Many of the commenters objected to the Lara Downes CD cover — for her album Exiles' Café — I offered as an example of something good. (Shown here.) Which is perfectly fair. Nobody's required to have my taste.
But the reasons for not liking it! You can't see her whole face. She's not in focus. She's on a slant. "It looks like when my five-year old goes on a shooting spree with my phone camera." It's soft porn. The title doesn't mean anything. Why café? We don't see a list of the composers Lara's playing. The image doesn't suggest classical music.
Some of these make me think some people in our field just aren't comfortable with contemporary art and design. Where not everything has to be a complete image of anything, and things are allowed to drift out of focus and out of alignment. Have been for decades now!
And café — how many café-titled movies and pop albums have there been? In Lara's case, what "café" evokes seems very clear. Exiles have no home. They've long gathered in cafés. (Casablanca, anyone?) We all know that many, many composers were exiled during World War II. And, without straining our imaginations too much, might guess that many of them would be on this album.
I'm reminded of comments I found years ago on a public radio blog, and have heard many times informally — that classical music serves as a refuge from the wider world. Are we seeing that in these comments? Classical music as a refuge from abstract art, fashion design — and, I fear, unpredictable aesthetic experience. How comfortable, how secure to be told who the composers are! As opposed to what the album cover in fact gives us (or at least means to) — the promise of an aesthetic experience we can predict only to some small extent (we can guess that record won't be full of bouncy dance music), an experience that might surprise us, that might take us places we can't yet specify, places that we haven't been.
Like, for instance, this CD cover promises. It's the debut album of a striking singer-songwriter, Wolf Larsen, who sings almost in a whisper: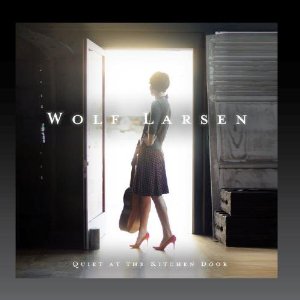 This happened to find its way to our home (my wife met the singer's mother). I was so struck by the cover that I had to listen, and was transported. One of the highlights of my musical year. With the cover unclear, out of focus (what does the singer really look like? does her look mesh with the heels she's wearing).
But so evocative.
Next i'll post some classical CD covers that I like.