First, here's a success — a good CD cover, sent to me by Lara Downes, a pianist whose new album it is: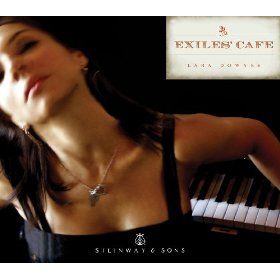 Strong, evocative. And the image resonates with the album's name. Thanks, Lara, for sending this to me! Your website is terrific, too.
Now for some bad ones. I doubt they need any comment, but I've added few words anyway.
From Sony Classical: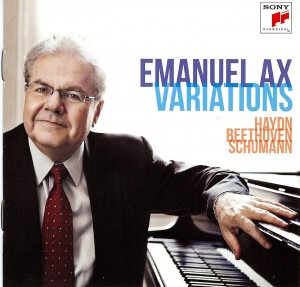 Who, looking at this  — and not knowing Manny Ax — would want to hear it, let alone buy it? Does the person shown here look like an artist, someone with taste and feeling, someone thoughtful? Not a chance. How could they have picked this photo?
Again from Sony: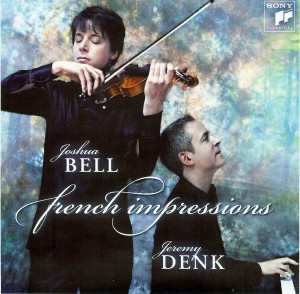 So frilly. A stereotype of French music — that it's sweet and pretty (unlike the heavy German stuff). The two musicians look silly. Looking at this, you'd expect shallow, pretty playing. You'd never guess that the CD unexpectedly brings together a remarkably thoughtful pianist and a violinist who doesn't have that reputation. But if there's wonderful teamwork here, you'd never know from the image.
From Bridge records: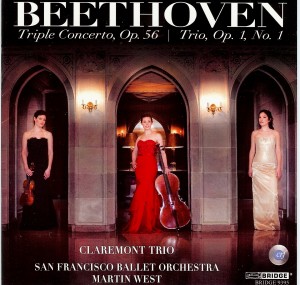 Makes me think of the various puzzlers in which you have to guess which of three doors to open. But look! Each one has a gorgeous babe! What this has to do with Beethoven is beyond me. And why are the three women making an entrance? Their trio has been around for a long time, and they've made many recordings.
But the back cover is worse: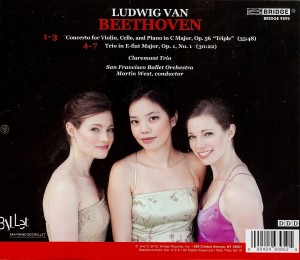 Yes, the Claremont Trio has gone in for glamour. But here they look like three (very) young girls. Are they mature enough to be playing Beethoven? Not if you believe this photo. (And, just to be clear — I do not mean that glamorous women couldn't knock Beethoven out of the park. Clearly I have nothing against glamour. Look at Lara Downes"s CD cover. What bothers me here is how young and unformed the three women look. Far younger and unformed than they really are!
From Anakleta, a Canadian label: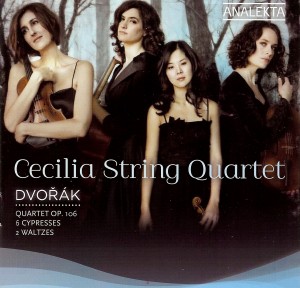 Zombies. That was my first reaction. Zombies in the woods. Is this photo in any way appealing, interesting, exciting, artistic, musical, personable? Does anything about it suggest the grace and warmth of the Dvořák pieces they're playing?
Making it worse is a sticker on the CD wrapping, which quotes a review that says the group plays with "intimidating perfection." Whether they want to tell the world that you're intimidating is their call (I think they're crazy to do it, especially if they're playing Dvořák.) But what in the photo suggests perfection in their playing?
The quartet also, sigh, uses a version of this photo on their website. Truly misguided.
And then finally my all-time favorite: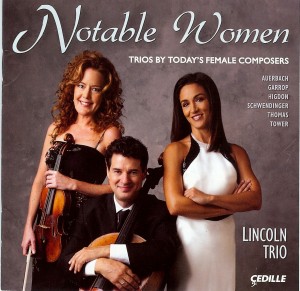 You couldn't make this up. Notable Women, announces the title, and then we see a photo of a man. Yes, yes, yes, I know the title means they're playing music by women, but somehow, as this recording was being produced, nobody caught the simple gut thing — title says women, photo says man. Might work, if there was some irony somewhere, if maybe the man looked like the women's helper. Or something like that. But there's not a hint of irony anywhere. Just the dead, literal, obvious meaning, contradicting itself the moment we look.
In my last post, I said that book publishers do better. For an example, look at the new releases page from the Yale University Press website. Not everything is great, but it's all at least decent. They want designs that say something real about their books. And some of the covers are very good.
One last thing. I didn't have to search for these covers. All I did was open the mail.