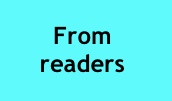 More suggestions from the many I've gotten, after I asked who in classical music is doing things in new ways. I'll post all the suggestions I get, though not all at once.
The suggestion I posted: Ad Hoc, a chamber ensemble in Rochester. (I'll have more)
One thought, before going further. Many people mention performances in clubs. Nothing wrong with that. Classical musicians have been playing in clubs for more than a decade, and clearly they're bringing classical music closer to everyday life.
But because this has been going on for so long, it might be helpful to ask a few questions. We've had years of experiments, new departures, striking innovations. Now we need to learn from what we've done, and develop sustainable change.
So when you play in a club, what do you get from it? And what happens next? Did you attract a new audience — maybe an audience new to classical music — or did your existing audience come to the club to hear you?
Do you keep on playing in clubs? If the answer is yes, how often will you do it? Will this be an adjunct to your normal performances — maybe a way to get people to come to them — or are you building something new, that will stand on its own?
And if you're building something to stand on its own, how will you make it sustainable? Which more bluntly means: How will you earn income from it? The only way to do that, I think, would be to build your fan base, so you can move from small clubs to large ones, and then into small theaters. But is anyone doing that? If anyone is — or even is thinking about it, or would like help in doing it — please let me know! I think a big part of our future might lie in that direction.
On to the suggestions:
From Rick Robinson, in a blog comment:
I'm really inspired by San Francisco violist Charith Premawardhana who immediately recognized the potential for a concert at the Revolution Cafe in the Mission district to reach an audience resistent to the establishment culture. Six years later Classical Revolution has at least 35 established, volunteer chapters worldwide in bars, clubs, cafes and restaurants, which has allowed each of us to experiment with what I call New Classical, presentation formats that make the difference for curious music lovers. Now if we can only secure funding to professionalize the movement.
(So there's another road to sustainability: get funding. Though I'd think that without an earned income component, a project can't really support itself. Or do we see playing in clubs — which is what Classical Revolution does — as essentially a charitable endeavor, something we're giving to the community, which has to be paid for by big-hearted donors?)
From Brent Straughan, in an email:
Dear Greg,
I wish I did know some classical music mavericks, alas, besides myself, I can think of no one.
I achieve this "status", in my own mind, by writing lyrically and melodically – a skill which has long been thought lost, and is thoroughly beneath the contempt and intellectual rigour of those in charge of music schools and orchestras today.
I have sent students to such people who were told that if they continued to write "like that" they would not be admitted to the composition programme, and would have to leave music school.
Audience, however, is quite opposite minded, and clutches desperately at melody and recognizable pattern, whenever it can find it, in order to make sense of its world.
From Kira Grunenberg, on Twitter:
I never chimed in this morning on your prompt for "mold breaking" classical artists: Do you know @breakofreality?
(Break of Reality, on its website, describes itself as "a cello rock band":  "Their sound is cinematic, subdued and heavy all at once, and their live audiences are equally diverse; fans of Led Zeppelin, Radiohead, and Yo-Yo Ma are finally getting acquainted.")
From Rosebrook Classical, via Twitter:
@jadesimmons should definitely be on that list.
(To which Jade responded: "I totally concur :)" She'll certainly be one of my own choices, when I get to posting more of them.)
And from Marc van der Heijde on Twitter:
Pianist Daria van den Bercken certainly applies. She recently gave a talk @TEDxAms It went online today:youtu.be/0PzPk3K_iW4
(Daria, whom I met briefly in Amsterdam, does striking things, like having her piano pulled by a truck while she plays for delighted people on the street.)
That's all for now. More to come! And so many thanks to everyone who sent these thoughts to me.
Other posts in this series:
"Breaking the mold" (about Ad Hoc, a chamber ensemble that describes its performances as jams)
"Mavericks nominations" (the first group of readers' suggestions)
"Path-breaking piano curriculum"(about a truly astounding program at a Canadian university)
"Mavericks — continuing" (still more from readers)
"We personalize what music is" (about the River Oaks Chamber Orchestra, which is breaking 
"A lot of mavericks" (final nominations from readers — who suggested more than 50 people and groups)
"Final mavericks — Jade Simmons and a Go-Go symphony" (final only for 2012, because we'll resume this in 2013)
"Still more mavericks" (resuming in 2013, with marvelous things from two major institutions, the Toronto Symphony and the Orchestra of the Age of Enlightenment)