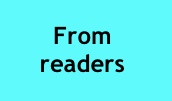 Finishing — for now — with the many, many suggestions I've gotten from readers. If I missed anyone (maybe a Facebook comment, or something on Twitter, or whatever else might have escaped my dragnet, forgive me! This isn't over. We'll resume in the new year. And then keep doing this!
Because what we've done here is something badly needed. We're compiling a list of classical music alternatives — of the many new things that people have done, to change the face of this art form, and give it a new birth.
From Andrew Lyon:
 I am writing in response to your call for groups that "break the mold".  With that in mind, I would like to tell you about The Circle City Chamber Group – an Indianapolis, Indiana-based organization, of which I am the Founding President and Artistic Director.  The Circle City Chamber Group is a non-profit organization that brings together the city's top visual, culinary and musical artists for an all-new, all-inclusive arts experience.  This goal of the group's events is to culitvate a new audience from within the coveted young professional community.
From our website, www.CircleCityChamberGroup.org:
"We believe that through fostering these artist-community relationships, we can help cultivate a love of, and future for, the arts culture in Indianapolis.
"As Indianapolis blossoms into a major metropolis, the need for a wider range of cultural activities and performance opportunities grows along with it.  The goal of Circle City is to offer the growing professional community a balanced diet of audio, visual, and culinary experiences – all in the same night."
I would also like to invite you to listen to an NPR interview I gave back in 2008 (WFYI-Indianapolis), where I talked about how my background as an orchestra conductor and nightclub bouncer played a role in the genesis of Circle City.  Interview athttp://www.andrewjlyon.com/andrewjlyon.com/Press.html.  At the end of the interview, and given our desire to "lose" our audience to bigger arts events and organizations, host Sharon Gamble gave us the dubious title of "gateway drug to the arts."  Oddly enough, it's the perfect description of our efforts to bring more attention to Indy's arts community as a whole.
[I love the food angle. Which the River Oaks Chamber Orchestra (the link goes to my post about them) also uses, in their own way.]
From Arlene and Larry Dunn (on Twitter):
@ICEensemble @SpektralQuartet @dalniente @eighthblackbird.
There are more we can mention of course, but that's a good tip of the iceberg. You might also look into what@doylearmbrust is doing with his@UnfamiliarMusic series. facebook.com/UnfamiliarMusic
From Steve Ledbetter:
I'll nominate a wonderful Boston group (string ensemble) called A Far Cry.
Each program is planned by a member of the group (in consultation with the others), to express some kind of theme, though almost always one that is fresher and more original than the kind program-makers have tried on us for years. It almost always includes a wonderful, unlikely mix of the new and the traditional, in ways that reflect musical connections often overlooked.
And they play gloriously.
[Steve mentioned a review of a recent concert, but I can't find the link he must have given. Apologies, Steve! I'll get it from you later, and put it in the blog.]
From Candace Allen (on Facebook, where Steve's comment also came):
Age of Enlightenment orchestra's Night Shifts
[The Night Shift is the wonderful name the Orchestra of the Age of Enlightenment gives to their performances in London clubs. Check out the shocking pink Night Shift webpage! The OAE does other out of the box things, too, like looking for someone to be a representative face from their audience — someone maybe with piercings, as far from classical music orthodoxy as they could get.]
From Elizabeth S Lane:
Greg, take a look at Bach Aria Soloists!
[They play Bach in intimate settings — house concerts, for instance — in Kansas City.]
From Adam Matthes:
I'd like to give a shout-out to the Amelia Piano Trio. As people, they're some of the most vibrant, quirky personalities making music in the 21st century. One amusing example that stands out: during their summer camp in Wisconsin (Green Lake Chamber Music Camp), they have a "K-Mart Extravaganza"; take all the kids to K-Mart, give them $5 each, and instruct them to find the weirdest item in the store; the winner keeps all the purchased items. Building creativity from the bottom up. Also, the programs they deliver to public schools are outstanding.
 From Kala Pierson:
Google landfillharmonic, which I just learned about from Joe Gregorio. Definitely something you need to see!
[This is the Landfill Harmonic, an orchestra created by people in a Paraguay slum who make a living by separating garbage for recycling. They made some of the garbage into musical instruments. Wonderful story.]
From David Pratt:
[The powerful, earthy chorus that sang in Golijov's La pasión según San Marcos.]
Jason Rylander (via email):
One more nomination and that is Robert Wood's UrbanArias in Arlington, VA, which has made a name for itself the past three years producing high quality, short opera, in English, by contemporary living composers.  http://www.urbanarias.org/
 I am on the board and we have introduced Washington audiences to productions of Ricky Ian Gordon, Conrad Cummings, Tom Cipullo, and will be producing a new opera by Greg Spears in the spring.
In addition to our major works, we have done opera improv at a local bar where the audience suggests themes and the singers riff, operatically, on those themes, along with very short 10-15 minute operas, like Craigslistlieder by Gabriel Kahane, and At the Statue of Venus by Jake Heggie.  http://www.urbanarias.org/performances/blinddates/
 We are doing a lot of innovative stuff.  And audiences are growing for music and composers that many of them have never heard of.
 [I've seen one of their productions. They do a good job.]
I would [also] like to nominate Jolle Greenleaf and her group TENET, and specifically the Green Mountain Project.  As you may know, a few years ago she organized some of the best early music players and singers in the country to put on a performance of Monteverdi's Vespers for free on January 2 at St. Mary the Virgin near Times Square (not a small church).  and this was in a year when Monteverdi concerts were particularly numerous because of the 400th anniversary.  People had to be turned away at the door.  Reviews were stellar.
The NY Times called it one of the top concerts of the year.
She did it again the following year and I came up from Washington to see it. I wasn't the only one. The line to get in was out the door and down to Broadway.  It was like a rock concert.  She used Kickstarter, among other sources, to raise funds for the musicians.
Since then an early New Years Vespers has become an annual event.  It has spread to two nights in NY and one in Boston.  Last year she and violinist Scott Metcalfe created a new set of Vespers based on Monteverdi works from 1640.  It was just released on disc (full disclosure: I performed in that concert, although that was the only of these in which I participated).  This year, it's back to 1610 with three dates (two in NY and one in Boston), and the Kickstarter campaign has already raised half of its $10,000 goal.
This is a project that is not cheap to produce, has been offered year after year as a gift to NY and now Boston, and is of the highest quality and people responded incredibly to it.  They are now charging for tickets, but mostly for crowd control purposes!  Tickets start as little as $10.
Other than that one concert, I am not part of the group and may have a few details amiss, but there's much about them in reviews: http://www.tenetnyc.com/press and this one in particular about Jolle: http://www.nytimes.com/2010/12/31/arts/music/31jolle.html?_r=0
 Jesse Read, in a blog comment:
 Here is a creative and enterprising cellist in Vancouver:
http://www.sidewalkcellist.com
Rafael de Acha, on the blog:
Sorry I missed your earlier post on musical mavericks, as I would have enthusiastically endorsed four organizations here in Cincinnati that are changing our musical landscape by thinking and doing things musical way outside the box. Annalisa Pappano's Catacoustic Consort does early music (only game in town) with all the stuffy stuffing taken out of it and in all sorts of intimate venues. Queen City Chamber Opera, led by my friend Isaac Selya is exploring Opera without elephants all over Cincinnati (upcoming Zaide and Abu Hassan at CAM). [They don't seem to have a website, but if you Google them, you'll find their Facebook page, references to them, and some YouTube stuff.]
concert:nova — all in lower case — plays everything from Mozart to Frank Zappa in everything from bars to living rooms to an ever growing and younger audience. Finally, Laura Jekel's MyCincinnati is turning the blighted Price Hill area of Cincinnati into a hub for music instruction for kids who are being taught to play string instruments and stay out of trouble. In one way or another Annalisa, Isaac, Laura and concert:nova's Ixi Chen are reinventing music in Cincinnati on a shoestring and with no labels, just lots of heart and imagination.
From Charith Premawardhana (from Classical Revolution, himself nominated in an earlier post, along with the organization, as a maverick):
I'd also recommend you talk to London-based Gabriel Prokofiev (Sergei's grandson) who besides being a composer himself as well as a club DJ, runs an organization called Nonclassical which serves both as a record label and club concert promotion company.@gprokofiev
Another good person to talk to is Joshua Kohl, who runs the Degenerate Art Ensemble [fabulous website!] based in Seattle and conducts chamber orchestra concerts in alternative venues (small theaters and beyond).
 There is a lot of cool stuff happening in Chicago these days, some of which I've seen recommended to you on twitter.I'd like to mention Dominic Johnson, who besides running the New Millenium Chamber Orchestra, performs frequently in club settings, recently in collaboration with Mason Bates and his Mercury Soul project.
[Mason, composer and DJ — and composer in residence at the Chicago Symphony, no less — certainly belongs here.]
 Finally, I'd like to give a shoutout to Judd Greenstein and New Amsterdam Records who've been supporting the new music community by putting out recordings on their label as well presenting their artists in alternative venues in NYC.
[New Amsterdam's brand new office was destroyed in Superstorm Sandy. They need donations to get back on their feet. I gave. Hope you will, too.]
From Etienne Ambelin, in Switzerland
Greg, many great ones mentioned here already: Judd Greenstein, Gabriel Prokofiev, Daria Van den Bercken, Charith of course, Mason Bates – I'd add Francesco Tristano who mixes things up as a pianist, composer and DJ. And Uffe Savery over at the Copenhagen Phil, a true rock star (as member of the Safri Duo) who did maybe my favorite flash mob of all times:http://www.youtube.com/watch?v=gww9_S4PNV0
[Savery doesn't seem to have a website, but Googling him gives you many things he does.]
Plus, I'd add Stephen Malinowski, whose classical music Youtube channel got over 100 million views and countless enthusiastic and moving comments. Many more in the years to come, it's an exciting time!
from Bradley Gawthrop (mentioned earlier as a maverick):
Flattered to be mentioned here, I'm just a small organ builder swimming upstream rather than self promote, maybe I'll just leave a few of my own nominations : The Open Goldberg Variations project, Friends of the Wanamaker Organ (daily organ concerts in a crowded Macy's – and one a week is streamed online. That's a start!), and those involved with 'The Orchestra', an iPad app from Touch Press.
from Carman Moore:
Greg, you need to catch up with THE SKYMUSIC ENSEMBLE…
[That's Carman's own group, whose website says it's "a world-class electro-acoustic chamber group  featuring a distinctly original blend of styles from classical to jazz and ethnic musics. Carman, of course, has been smashing categories for decades, starting long before doing that in classical music was fashionable. He was a pioneer.]
 from John Steinmetz, reacting to my post about the maverick piano curriculum at Wilfrid Laurier University in Canada:
CalArts has similar intent. As a student bassoonist there, back in the 20th century, I played lots of recent and new pieces, performed a South Indian classical piece, and played tons of West African music. I played standard chamber and orchestral repertoire, too, but that was just one thread among many. Lots of improvisation went on—modal, folk, classical Indian (northern and southern), jazz, free, avant-garde. I tinkered with electronic music, sang in the choir, composed for dancers, listened to the gamelan. The rhythmic training was incredible: African, Indonesian, Indian, modernist, minimalist, and Rock Etudes. It was an environment for exploration and discovery, a fabulous education. The place still centers on current music in its amazing variety.
from Kevin Smokler (@Weegee on Twitter):
What @salon97 does to bring to young/less experienced to classical = first-rate maverickness.
[I'd second that! Here's how Salon97 describes itself on its website: "Established in 2008, Salon97 is a community-based organization that makes classical music inclusive, educational — and awesome — for people with an interest in arts and culture, but who find the formal nature of the concert hall intimidating. Through a series of curated, themed listening parties and other hosted events, attendees learn about and discuss classical music, form new friendships and business relationships, and have a great time!
[And let me give a shout here to Cariwyl Hebert, who made that all happen. It's been too long, Cariwyl. We've got to catch up!]
and finally, from Evan Allen:
And I add Francesco Tristano's teacher — Bruce Brubaker. The two of them gave a truly remarkable show at Poisson Rouge in New York that overlapped a whole lot of classical music. It managed to be shocking and beautiful. Go figure.
[Bruce and I got friendly when he was at Juilliard, and he's a wonderful spirit. Now he heads the piano department at New England Conservatory, where he certainly was an unconventional choice. Imagine a major music school picking a piano department head who's a new music specialist! And also unconventional in so many ways. Good call, Evan!]
This long, long list — more than 50 people or groups nominated by readers as mavericks, plus some I've named — is only the beginning. Classical music is exploding with change, and we're documenting that here. Thanks once more to all the readers who took part in this!
Other posts in this series:
"Breaking the mold" (about Ad Hoc, a chamber ensemble that describes its performances as jams)
"Mavericks nominations" (the first group of readers' suggestions)
"More Mavericks" (more readers' suggestions)
"Path-breaking piano curriculum" (about a truly astounding program at a Canadian university)
"Mavericks — continuing" (still more from readers)
"We personalize what music is" (about the River Oaks Chamber Orchestra, which is breaking 
"Final mavericks — Jade Simmons and a Go-Go symphony" (final only for 2012, because we'll resume this in 2013)

"Still more mavericks" (resuming in 2013, with marvelous things from two major institutions, the Toronto Symphony and the Orchestra of the Age of Enlightenment)