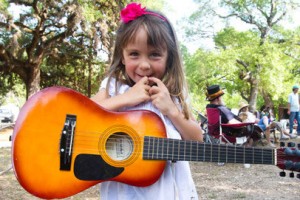 Austin, TX, bills itself as the "live music capital of the world." That's one thing I learned visiting there last week, to speak to students at the University of Texas School of Music.
And — you saw this coming — classical music, including all the concerts given at the school, plays almost no part in Austin's live music scene. Everyone I talked to at the school said this.
So there's a challenge for us. If we have a music school surrounded by what might really be the most active live music life anywhere, let's make the school part of that.
Of course, I'm in no position to work on this, since I'm an outsider in Austin. But let's agree that this is a challenge all of us in classical music should care about. I've said many times that our highest priority — our absolutely highest priority — should be to build a new, younger audience. I've also said that music schools (especially those that teach entrepreneurship, which at this point means just about all of them) should encourage and help their students to find an audience their own age.
And where better to do that than Austin?
Again, I'm an outsider. But here's one way they might proceed. The important thing, I'd think, is to start small. Don't try to make the school a major player right away in Austin's club and concert scene. It won't work. Second, I'd carefully pick the performances that might work in Austin clubs. A lot of them, I'd think, would be new music. And few, at least at first, would be long performances of old repertoire, a complete Brahms trio, for instance.
Third, I wouldn't try to map the path in much detail in advance. That's because we don't know enough yet about what will work. So I might pick some students who wanted, as performers, to make this leap into Austin clubs, and who had a chance of doing it successfully. They'd have to be carefully chosen. They'd have to be people comfortable in clubs, people who'd look right there, and who'd know how to handle themselves, how to talk during their shows (as bands do). And how to pick music that would work in clubs.
Once those students were chosen, or chose themselves, they'd get in contact with people who book the clubs. The school most likely should make preliminary contacts, to get the thing going. The club bookers would have to buy into this, at least in principle, before the students talked to them. I wouldn't want to saddle students with all the work of blazing the necessary trails.
Finally, one thing is absolutely crucial. This is not an education effort. We don't want to presume to teach anything to our club audience. We'll assume that they're smart people, overall, with lots of curiosity about music, eager to hear something new, and to roar if they like it.
So the question then is to find performances that speak entirely for themselves. Ligeti etudes, for instance. A pianist goes into a club, a pianist with a good club style, aces three Ligeti etudes, blows the roof off the place, and leaves people screaming for more.
That could easily happen, and it shouldn't be hard to think of other music that would work. The first pieces to pick, I'd think, would be pieces whose sound blends with the music you'd normally hear in the clubs, which is why I think new music would generally work best.
But after our pianist establishes herself as someone who belongs in clubs, the next step is for her to build her fan base (something the school should be ready to help her do, with mentoring, encouragement, ideas, and maybe funding). And once she had fans, she could play things that might not have worked at first — a Chopin nocturne, a Debussy prelude, Webern's Piano Variations. Once people like you, they'll follow you to places they didn't know they'd want to go.
And of course I might be wrong in some of this. Again, it's not a great idea to plan these things too much in advance. I think my general approach would work, but once it's in effect — stand back and see what happens! What actually unfolds (and unfolds with great success) might not be anything that we'd expect.
Footnote: the piano. Small clubs don't have pianos. So I'd envisage getting funding, to bring pianos to the clubs. The apparition of a grand piano on a club stage would be a sensation in itself.
And if this turns out to be impractical, other instruments of course would work. Solo flute, solo clarinet. Solo bass. Tuba! And of course violin and cello. Find the right player, find the right music, and go.
Second footnote: this approach would work anywhere where there are clubs — in any reasonably large city, for instance. But if Austin really is the live music capital of the world, with a major music school in the middle of it, that would be a perfect place to start.