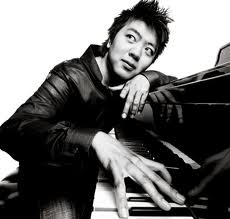 After I taught my class about branding — using an Apple-gadget charger and some chocolate — one of my students gave a branding example: Lang Lang's haircut. You know it's him, as soon as you see his hair.
And a few commenters here decried branding as shallow, surface stuff.
But remember that the chocolates — with their varied shapes, and varied-color wrapping — look different because they're different inside. And that's what branding ought to be about: What you are inside. Which then shows on the outside, and makes people remember you. So it's more than a haircut. If Lang Lang wasn't an arresting pianist, his haircut wouldn't do him much good.
For branding that comes from the inside, think (for one example), of the two most famous operatic tenors of the 1960s. Franco Corelli was virile, with a huge, silver voice, and thrilling passion. Carlo Bergonzi was limpid, pure, authentic, transparent. More stylish, too, people said. Two brands! Recognizable in an instant, though no one thought that these two were branded. They just were who they were. But we now can see this was their brand.
Rosalyn Tureck, a pianist active from the 1940s to the '80s, was branded — again without anyone using the word — because she largely played Bach.
And a pianist today with an unmistakable brand is Simone Dinnerstein. Thoughtful, radiant, introspective, strong. With a particular repertoire (nothing flashy). And a backstory that's unforgettable — small career, learned the Goldberg Variations while she was pregnant, made a private recording, which, when people heard it, went so deep that it made her famous. (I cried when I first heard it– one of my peak musical experiences in the past decade.)
And now, or so I'm told, she's Sony Classical's best-selling artist. Her last record even got on the Billboard Top 200 pop album chart. Her brand is so strong (as, again, I'm told) that marketing campaigns don't greatly affect her recording sales, which continue steadily, whether she's promoted or not.
So here are honest brands. If you watch a promotional video for Simone's upcoming album, you'll see some conscious branding going on, as (among other things) we see strong family roots (Simone's parents, husband, son). (This link goes to YouTube, though you'll also find the video on her website, which I linked above. And yes, Simone's now a friend, though I hadn't met her when I heard her Goldberg.)
This video shows us something — how, when you have a brand (or the makings of one), you can communicate some essence of it, so that people know who and what you are. More on that in my next post, with reference not to stars, but to what you might do when you're just starting your career.
Though let me add that Simone has been an entrepreneur. When she gave small concerts in New York (her home), she put together a mailing list of people who'd heard her play. When her big career launched, she sold out her first large-scale New York concert (at the Metropolitan Museum), by using precisely that mailing list.