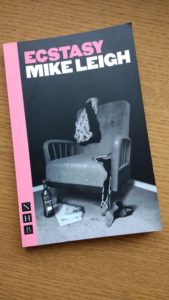 A friend points out that this hasn't been the cheeriest of series. Few hugs and precious few puppies. This may say something about me, or my bookshelves. And prospects for joviality don't seem much brighter with today's choice, despite its title. Ecstasy (1979) by playwright turned (mostly) filmmaker Mike Leigh. A long night in a cramped bedsit with a heroine who is more despairing than delighted.
For many years, Leigh was a byword for grim. Abigail's Party is often hilarious, but cruel towards its characters' crimes against good taste. The first films of his I saw – High Hopes, Naked, Career Girls – felt punishing, towards audience and characters alike. People outside his orbit of sympathy were pilloried; people within suffered. Life wasn't sweet.
And then, it seemed, something changed (I date this specifically to the moment Marianne Jean-Baptiste's quietly resolute optometrist entered Secrets and Lies and transformed her birth family's disgruntled dynamic). Vera Drake, Turner and his landlady, the complicated Savoyards in Topsy-Turvy, the hospitable couple in Another Year, all offered a wide, wise emotional range. Leigh's characters could now be vulnerable without being pummelled; self-involved without being mocked. They could be kind and that kindness could have an effect in the world.
It doesn't initially seem like that in Ecstasy. Like Caryl Churchill's Owners, my first pick in the series, it's set in a down at heel corner of north London, even closer to the Thatcher ascendancy. The structure is unusual – a short first of shortish scenes, in which Jean's miserable shag sessions with a married man are rumbled by his wife. The much longer second act is one extended scene, in which Jean and three pals return from an evening in the pub, sliding gradually from tiddly to stocious to sobering up. It's cunningly composed, the dialogue apparently nothing but meander, the atmosphere often scratchy or despondent. A mid-act singsong deepens the mood – songs sad, angry and saucy.
And then Jean, upset and lonely, is left with awkward, gentle Len, who she has clearly brushed off in the past. You worry that it will darken – that she'll be abandoned utterly, that her last shreds of self-protection will be stripped away. But no – the play ends in quiet, considerate companionship. It's kind to the characters, and to us, a reminder that kindness is no small thing in hard world.
So, not a cheerful play. But one which offers a glimmer of hope, like a fitful pilot light in a Kilburn bedsit. It's just about enough.
Sample stage direction 'Jean cries throughout the following, never raising her head from her lap. And somewhere during this speech, Len starts to cry too.'
Sample quote Jean: 'I didn't enjoy meself tonight. Didn't want to talk about anything, just got upset.'
12 Plays of Xmas
I have, surprise, a lot of books. And I have, surprise, not read them all. So, 12 unfamiliar plays, 12 posts: welcome to 12 Plays of Xmas.
Owners by Caryl Churchill
Birth by TW Robertson
Ruined by Lynn Nottage
The Roaring Girl by Middleton & Dekker
Alkestis by Euripides/Anne Carson
Pal Joey by O'Hara, Rodgers & Hart
Egor Bulychev by Gorky
Follow David on Twitter @mrdavidjays