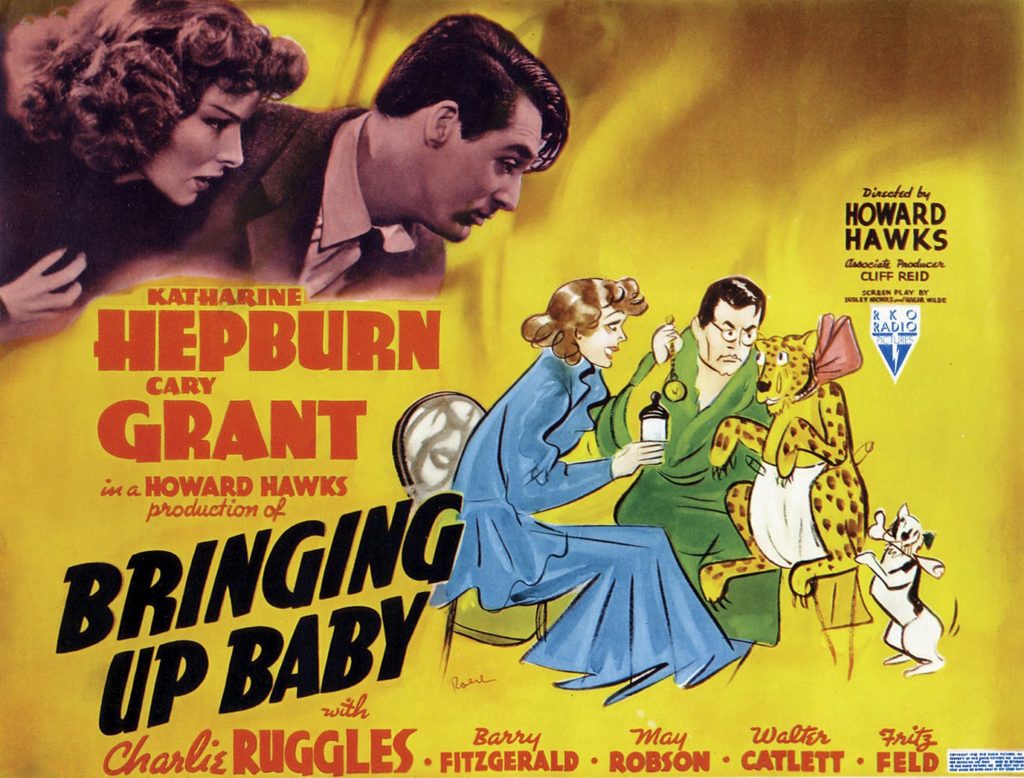 Watch Bringing Up Baby with Lockdown Theatre Club on Tuesday 30 June. Bringing Up Baby is available on BBC iPlayer. At 8pm everyone presses play and watches together. You can tweet along (#LockdownTheatreClub) or just enjoy the film knowing we're all part of an audience together.
What is Bringing Up Baby? A classic 1938 screwball comedy directed by Howard Hawks. Cary Grant is an unworldly paleontologist who gets mixed up with Katharine Hepburn's madcap society gal, her terrier and not one but two leopards. With hilarious consequences? Indubitably.
Who else is involved? Both leopards – one tame, one escaped from a circus – were played by a leopard called Nissa.
Watch out for? Skippy, the wire fox terrier who plays Hepburn's dog in Bringing Up Baby, had a distinguished Hollywood career during the 1930s and early 40s. He also starred alongside Cary Grant in The Awful Truth, and as Asta in The Thin Man and its sequels.
Very American
Veronica Horwell on farmhouse style, slacks and dinosaurs – designing Bringing Up Baby.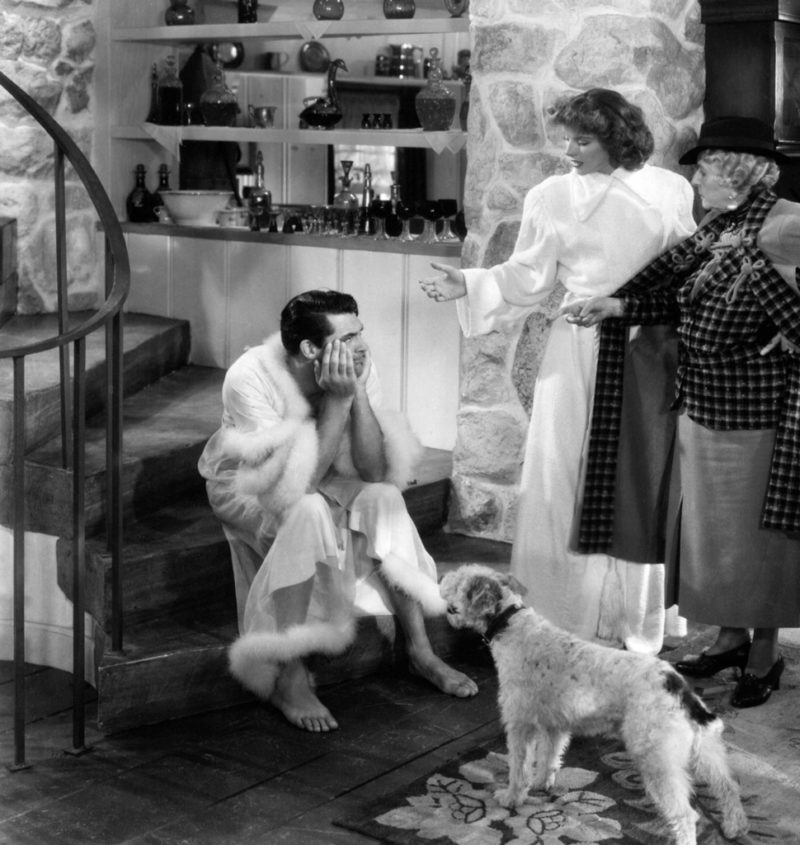 Van Nest Polglase joined RKO Pictures in 1932 as the head of its design department, a post he treated more like brand manager, setting up a house style with sub-divisions from swanky international high to Manhattan tenement low, with associate art directors assigned individual movies. The most versatile was Perry Ferguson; he began as a sketch artist and Polglase as an architect (designed the presidential palace in Havana), but both operated by drawing the mood of a place long before its walls and doors. The prevailing early 30s RKO mood was utter frivolity, as seen in Astaire and Rogers musicals, their hotel suites, liners and nightclubs simplified to Deco cartoons: Ferguson executed The Gay Divorce and Top Hat.
That style was a continuum of white-white-white and chrome-rimmed revolving doors across an imagined London, New York, Venice. However, through the 30s a very American rural style of luxury was developing, suited to movie 'farmhouses' in Connecticut, inns in Vermont, and especially country clubs. Polglase took credit for the 1938 Fred and Ginger film Carefree, with its country club's mighty fireplaces and walls of rough boulders buttered together with thick mortar, a very long way after Frank Lloyd Wright's prairie style; Bringing Up Baby was Ferguson's movie the same year, and he shared the concept, and possibly actual chunks of the studio-crafted, plaster-simulated, stone walls.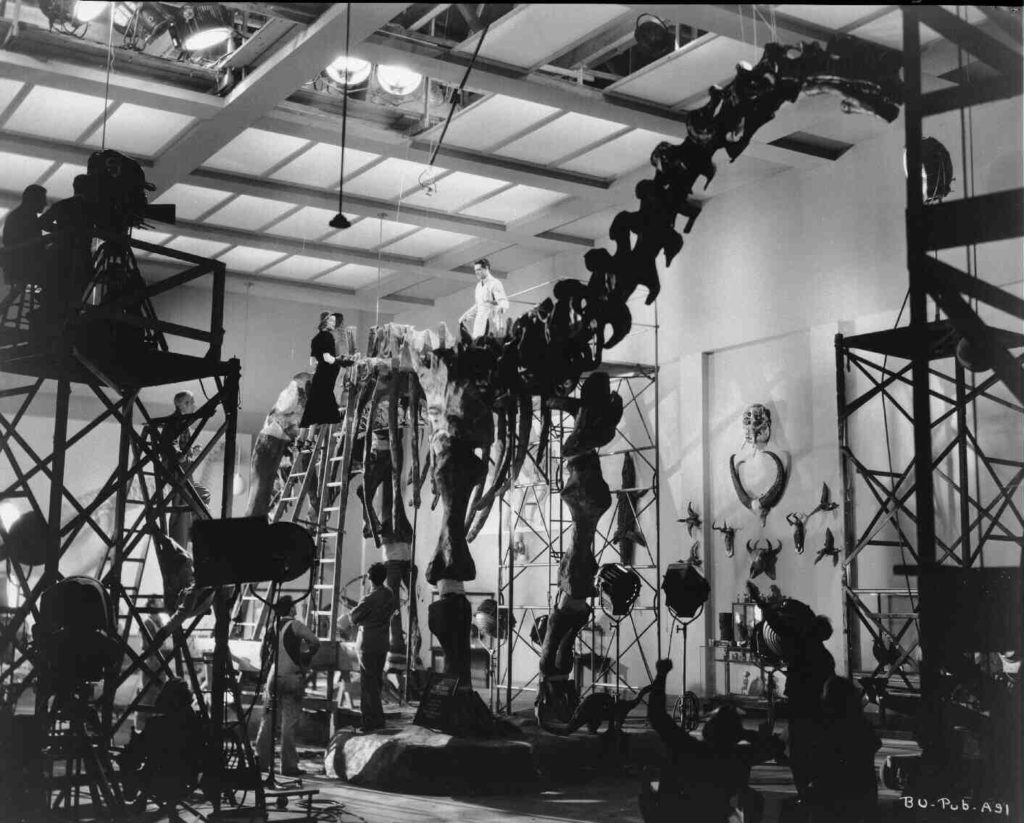 He used every trope of the New England mode; the two-halves stable door, top pushed open to the outside world; dollshouse net curtains tied back with a bow, plus half-length nets; rag and braided rugs; an antiques emporiums-worth of mixed 19th century furniture including four-poster beds, wheelback chairs, chintzed divans. A checklist of 1938 House and Garden doodads: ship in bottle, natty bedside lamps. And curvy wooden rural stairs, to be contrasted with the 'Vogue Regency' staircase in the film's other set-piece, a city bar-restaurant-dance-floor suggesting the conversion of a Gilded Age NY mansion into an urban country club – check out its huge 'carved stone' fireplace.
The dinosaur in its mighty yet cluttered set is almost a throwaway joke, yet expands the whole scale of the film merely by using a sound stage's dimensions plus a couple of truckfulls of hired or borrowed props. (It won't surprise you that Ferguson's reputation for delivering a well- filled screen on a budget got him the Citizen Kane gig.)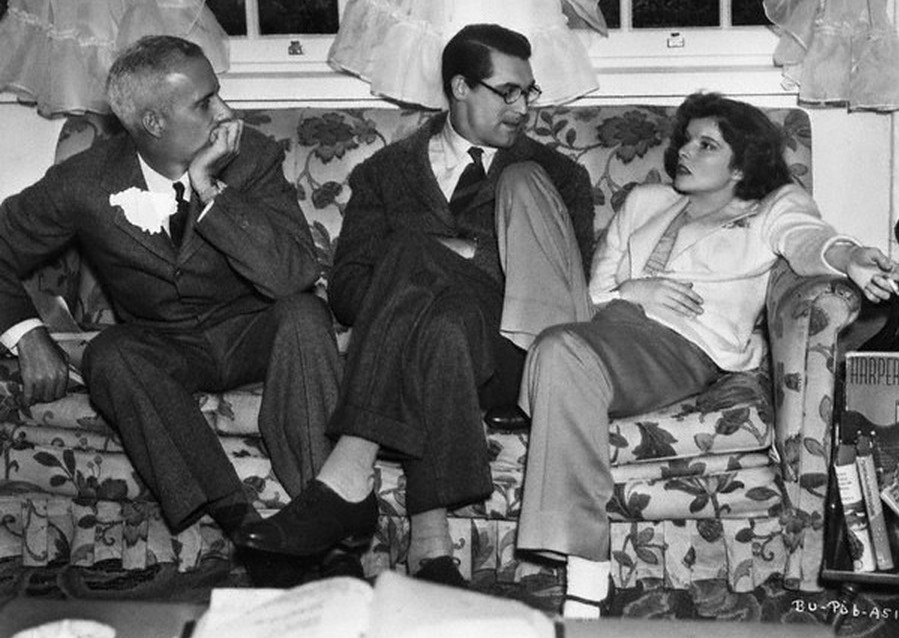 The forte of Howard Greer, who provided Katharine Hepburn's clothes – and they're clothes, not costumes – was also Americana. He had international training, began work for the experimental London designer Lucile, Lady Duff Gordon, who did wearable, walkable fashion before the first world war, and the women's-tailoring master, Edward Molyneux. He could create an evening gown just as well as movie legend Adrian, although Greer's style favoured the striking-because-whacky approach, more like Schiaparelli picking up on 1930s Surrealism.
At the time of Baby, Greer had not long returned to movies after a decade running his small couture house, making day clothes and leisure wear as well as gowns for off-duty Hollywood stars. He had already supplied civilian gear to Hepburn, who gowned up only under pressure (her formal evening attire in Baby, despite its satin and ruffles, is there mostly as a cue for rips and pratfalls – she doesn't respect it a bit).
Like Garbo, also a Greer client, Hepburn had long taken to the American, especially New England-Californian, uniform of sportswear, its unconstricted shortish dresses, perfectly constructed coats (look at Hepburn's tailored bathrobe, there to contrast with Cary Grant wearing her sheer negligee wrap) and slacks. Hepburn's ensemble of long jacket over loose pants for bone hunting marks that moment when, after a decade of trousers for women as beachwear and 'playwear', silly garb for fashionable lidos, they became slacks, soon freeing women for war and work. (That hat is pretty dippy, though, but screwball comedy needs cockamamie headgear.)
Veronica Horwell writes for publications including the Guardian and Dance Gazette.