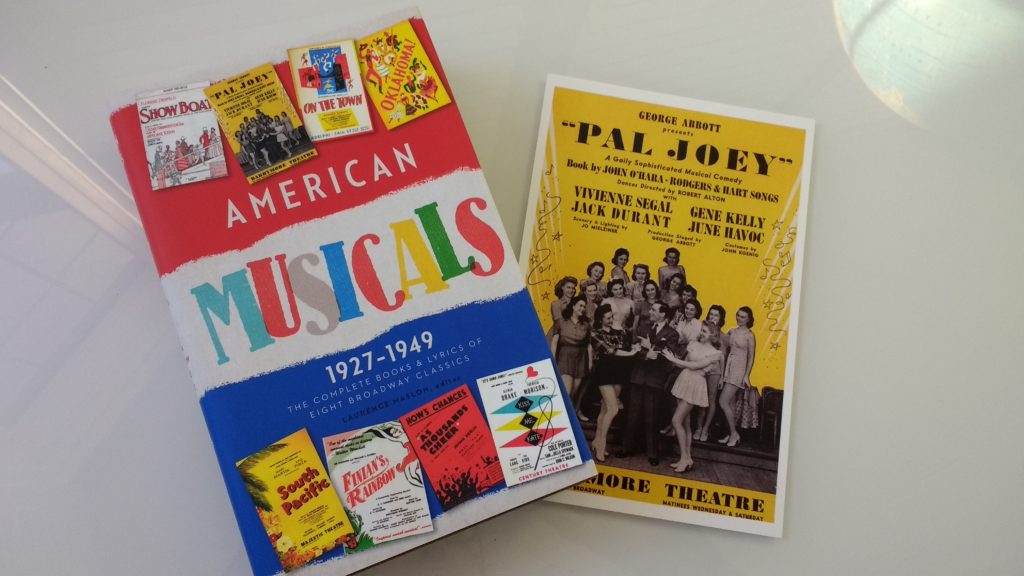 Book trouble – it's the curse of the musical. One of my most slaveringly anticipated shows of the past winter was David Bowie's Lazarus, but the book by Enda Walsh was an embarrassment of portent, messily motivated and thumpingly framed. Similarly, some of the zippiest musical choreography I saw this year was in the retooled Half A Sixpence, but the rancidly snobbish book by Julian Fellowes made it seem, if anything, even more old-fashioned than the original. Two promising shows, sunk by terrible scripts.
I thought it would be interesting to read a musical like a playtext: the Library of America's American Musicals is my friend here. Love me a bittersweet slice of Rodgers and Hart, so Pal Joey it is. I've only ever seen the 1957 Frank Sinatra-Rita Hayworth movie: the original 1940 stage show is meaner, dirtier and so much more cynical.
So many musicals soften out character – people are too ready to become all heart, to swap life lessons at uncomfortable volume. Not our pal Joey. John O'Hara invented him in the aftermath of a drunken bender: a not-too-successful young hornbucket of a nightclub mc describes his unscrupulous antics in clubs and beds in letters to his friend Ted. Joey's letters appeared in the New Yorker before inspiring a musical. As with Damon Runyon's beguiling Guys and Dolls stories, what makes Joey sing is the voice – naively demotic, confiding, braggartly, buoyant and sleazy. In an age when relatability is key, it's hard to peg Joey as a hero: 'Then I told her what I thought of her and her sister and if she ever showed her face around the hotel I would knock her teeth down her throat. Woman or no woman. I shut her up the bitch.' Charmed, I'm sure.
Richard Rodgers believed that the musical 'would be different from anything anyone else had ever tried.' In the very first scene, as Joey tries out for a job in Chicago, he's quizzed about his vices: he disowns drink, boys and 'nose candy' before admitting he can't keep his hands off the dames. He romps right through the chorus line before Vera, a rich older woman, takes him to bed and bankrolls his new venture. It all ends in extortion and a hastily closed bank account, leaving Joey on his uppers.
O'Hara's script is salty – so tough and disillusioned that the songs come as a shock. After Joey (for whom flirting and fibbing are a single manoeuvre) spins a load of manure to a woman he meets at the pet store, it's disconcerting that they slide into the crooning 'I Could Write a Book.' This judder continues – the best rationale for the disconnect is that song is where characters briefly voice their better selves: vulnerable, soft and self-aware. When Vera speaks she's all front; but she's endearing when she sings 'Bewitched, Bothered and Bewildered': 'He's a laugh, but I love it/ Because the laugh's on me.' Nor is she deceiving us, or herself, about what she wants from Joey: 'Horizontally speaking, he's at his very best… He's kept enough,/ He's slept enough,/ And yet when it counts/ he's adept enough.'
You can see why Pal Joey hasn't quite secured classic status, and why the book has received major surgery for the screen or recent revivals like the 2008 New York production with a revised text by Richard Greenberg. Still, it wins a place in my heart with its sardonic interviewer Melba Snyder. She has one scene, but what a scene – she prepares for the interview with a double scotch, says she never bothers taking notes, sees right through Joey ('he's given me plenty of information, I don't know about the facts'). And she gets the show's sassiest number, inspired by an alleged interview with Gypsy Rose Lee about the way her brainbox mind wanders while stripping: 'Zip! I was reading Schopenhauer last night/ Zip! And I think that Schopenhauer was right.' Now that's a journalist.
Sample stage direction 'Joey gives Mike "the fingers" and exits backstage… Mike gestures "You SOB" with bottle.'
Sample quote Joey: 'Keep me as sweet as I am – pamper me a little.'
12 Plays of Xmas
I have, surprise, a lot of books. And I have, surprise, not read them all. So, 12 unfamiliar plays, 12 posts: welcome to 12 Plays of Xmas.
Owners by Caryl Churchill
Birth by TW Robertson
Ruined by Lynn Nottage
The Roaring Girl by Middleton & Dekker Alkestis by Euripides/Anne Carson
Follow David on Twitter @mrdavidjays