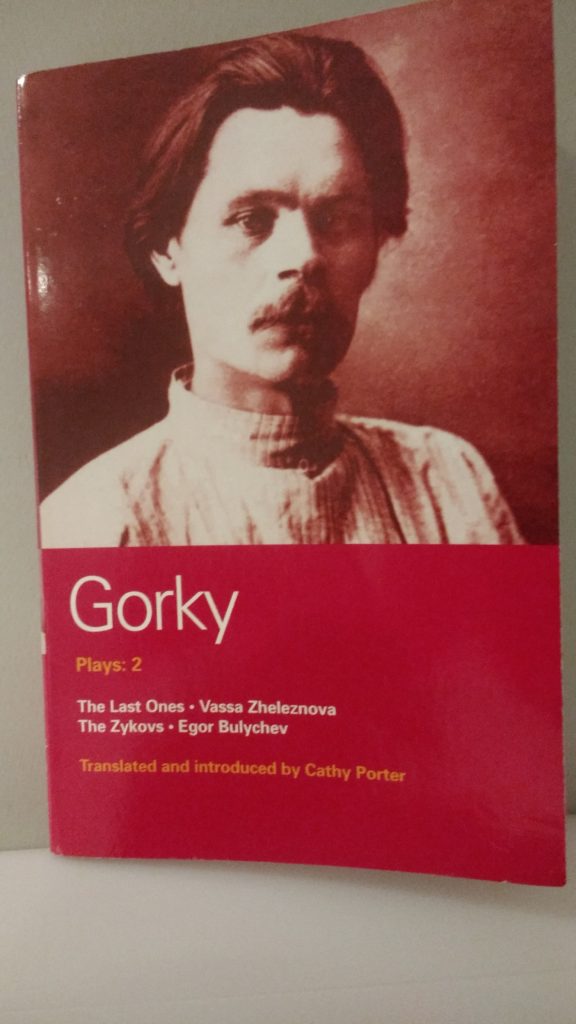 I've seen a lot of Chekhov. I mean, a lot. Last year, I marvelled at Uncle Vanya at the Almeida and spent a day with the National Theatre's Young Chekhov trilogy. I can almost sing along with the Three Sisters and Cherry Orchard, even bits of Ivanov. The characters' disconsolate eccentricity is a wardrobe I recognise; their world on the shift feels familiar.
So it's good to remember that Chekhov isn't the only Russian on the bookshelf. I've enjoyed Ostrovsky's sly comedies and bittersweet Turgenev. But Maxim Gorky, just six years younger than Chekhov, is a fascinating complementary figure. It's exciting that London's Arcola Theatre will pair The Lower Depths with The Cherry Orchard: two panoramic views of changing times.
The Lower Depths (1902) was Gorky's first stage hit, but I've gone to the end of his career for the brawling family drama Egor Bulychev from 1932 (smartly translated by Cathy Porter), part of a projected trilogy following turbulent Russian history from the revolution into the 1930s. Gorky's later plays were ensemble plays clustered around a tyrannical lynchpin – Vassa, with its remorseless matriarch, is the best known, but others have bombastic fathers at their centre. These domestic tyrants symbolise a stultifying bourgeoisie, but we also see how they have cowed or alienated their children, bred conniving, spineless heirs, attracted a swarm of shysters around their business empires. Egor Bulychev is set during 1917, with revolution around the corner – Gorky shows why it might have been necessary.
It's a messy play – oodles of characters, shouting and sparring and scrapping for Bulychev's inheritance before he's even in his grave. His lawyer son-in-law has the smarts, his illegitimate daughter has the spark; there are also an abbess auntie, priests and business rivals, a trio of implausible faith healers who seek to heal Bulychev with dervish chanting and wind instruments. You imagine an overstuffed drawing room, and an overstuffed stage, as everyone piles on for a good bellow. The play ends with revolutionary songs bursting through the window and filling the room – the future is coming.
There's a reason these plays don't get as much airing as the Chekhovs. They seem noisier, messier, more closely mired in Soviet politics (Gorky went in and out of favour: his death in 1936 has often been regarded as suspicious). You can't but read for hidden messages – are the bullying patriarchs, with toadies scurrying in their shadows, icons of an old regime or images of iron-fisted Stalin himself? Michael Walling's 2015 student production sounds as up for an argument as the characters themselves. We need to see more of the plays in the west to catch the nuances, to gauge the full range of interpretation.
Sample stage direction 'Propotei sits on the floor, droning and shrieking.'
Sample quote Bulychev: 'Roubles are breeding like lice on soldiers and I'm not ready to die yet.'
12 Plays of Xmas
I have, surprise, a lot of books. And I have, surprise, not read them all. So, 12 unfamiliar plays, 12 posts: welcome to 12 Plays of Xmas.
Owners by Caryl Churchill
Birth by TW Robertson
Ruined by Lynn Nottage
The Roaring Girl by Middleton & Dekker
Alkestis by Euripides/Anne Carson
Pal Joey by O'Hara, Rodgers & Hart
Follow David on Twitter @mrdavidjays