Recently in blogroll Category
About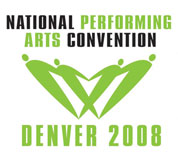 About this blog
From April 1 through June 9, 2008, weekly entries were posted here by some of the performing arts community's top bloggers. This 10-week intensive series served as a unique forum for digital debate and brainstorming, and both the entries and comments were archived for use at the live NPAC sessions in June. Participants:
Jaime Green - Surplus
Nico Muhly
Kristin Sloan - The Winger
Jason Grote
Jeffrey Kahane
Eva Yaa Asantewaa - InfiniteBody
Greg Sandow
Hilary Hahn
Tim Mangan, Paul Hodgins, Richard Chang - The Arts Blog
Andrew Taylor -
The Artful Manager
During the convention (June 10 through June 14, 2008), attendees from across art forms and job functions reported on their conference experiences. Participants:
Amanda Ameer
- web manager, NPAC
Sarah Baird
- media and public relations executive, Boosey & Hawkes
Joseph Clifford
- outreach and education manager, Dartmouth College Hopkins Center for the Arts
Lawrence Edelson
- producing artistic director, American Lyric Theater
James Egelhofer
- artist manager, IMG Artists
Jaime Green
- literary associate, MCC Theatre
James Holt -
composer; membership and marketing associate, League of American Orchestras
Michelle Mierz
- executive director, LA Contemporary Dance Company
Mark Pemberton
- director, Association of British Orchestras
Mister MOJO
- star, MOJO & The Bayou Gypsies
Sydney Skybetter
- artistic director, Skybetter and Associates
Mark Valdez
- national coordinator, The Network of Ensemble Theaters
Amy Vashaw
- audience & program development director, Center for the Performing Arts at Penn State
Scott Walters
- professor, University of North Carolina at Asheville
Zack Winokur
- student, The Juilliard School
Megan Young
- artistic services manager, OPERA America
Please note: the views expressed in this blog are those of the independent contributors and participants, not the National Performing Arts Convention or the organizations they represent.
NPAC
- the
National Performing Arts Convention
- took place in Denver, Colorado on June 10-14, 2008. "Taking Action Together," NPAC sought to lay the foundation for future cross-disciplinary collaborations, cooperative programs and effective advocacy. Formed by 30 distinct performing arts service organizations demonstrating a new maturity and uniting as one a sector, the convention was dedicated to enriching national life and strengthening performing arts communities across the country.
Contact us
Blogroll