From beyond the border
The convention is now over, finally got a good nights sleep... and I'm now dealing with the humidity of New York City rather then the unbelievable dryness of Denver. I just wanted to try and get one more post up before I'm back in the office tomorrow.

By Friday I was able to sneak away to a few more events although I'm sorry to say that there wasn't a single session which I saw from beginning to end. I suppose the place to start is with Friday's general session, "Radical Ideas from Beyond the Border".... since that was the first event I was able to get to that day:

Germaine Acogny: Inspiring
José Antonio Abreu: Inspiring
Marin Alsop: Inspiring
The quiet and respectful protest: quiet and respectful

I don't want to get in the middle of the debate about the absence of Ms. Dutta but I do wish that our friends at NPAC had dealt with this situation better. It is interesting that a quick Google search for "Madhusree Dutta and NPAC" still brings up links to websites of two organizations (actually three) which STILL say she will be attending. Come on.

I was also able to catch about 15-minutes of "Taking Note" which presented/previewed(?) some of the initial results of the Columbia University survey of composers across the country. Again, there seemed to be few surprises but it may be better to confirm what we suspect rather than have to re-think what the life of a composer is like these days. I hope to track down a copy of the presentation so I can see the results first hand and in context. Apparently 75% of composers network online... I think the only surprise here is that it's not higher.

Then I was off to Nixon in China and Altitude Adjustment (the 35&under party at Orange Cat Studios)... Both were great and I'm happy to have attended, but for all you kids out there, it's probably better to eat at least once during the day if you are going to attend a three-hour opera and a late-night party... especially if you are also going to drink more at the hotel after. A little food and a lot of water will help in an evening like that.

This is already a longer post then I intended so I'll be wrapping this up....
Technical problems aside, I was very VERY impressed with the final AmericaSpeaks Town Hall meeting which closed the conference on Saturday morning. Close to 1500 convention delegates were able to make their voices heard (with instantaneous results) on topics which our industry as a whole has now committed to following through on. Be looking for the nation wide media frenzy in the not-to-distant future! Then it was off to the airport in a super-shuttle full of exhausted but vocal delegates, it was kind of like one final caucus meeting before heading home. This small sampling seemed in agreement that this National Performing Arts Convention was infinitely better then the first attempt in Pittsburgh in 2004 - they also wished that there had been one more day but without changing the content. They seemed to think NPAC in Denver was great but too much information in too short a time. We'll see what happens in 2012.

posted by James Holt.

About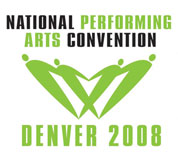 About this blog
From April 1 through June 9, 2008, weekly entries were posted here by some of the performing arts community's top bloggers. This 10-week intensive series served as a unique forum for digital debate and brainstorming, and both the entries and comments were archived for use at the live NPAC sessions in June. Participants:
Jaime Green - Surplus
Nico Muhly
Kristin Sloan - The Winger
Jason Grote
Jeffrey Kahane
Eva Yaa Asantewaa - InfiniteBody
Greg Sandow
Hilary Hahn
Tim Mangan, Paul Hodgins, Richard Chang - The Arts Blog
Andrew Taylor -
The Artful Manager
During the convention, June 10 through June 14, 2008, attendees from across art forms and job functions reported on their conference experiences. Participants:
Amanda Ameer
- web manager, NPAC
Sarah Baird
- media and public relations executive, Boosey & Hawkes
Joseph Clifford
- outreach and education manager, Dartmouth College Hopkins Center for the Arts
Lawrence Edelson
- producing artistic director, American Lyric Theater
James Egelhofer
- artist manager, IMG Artists
Jaime Green
- literary associate, MCC Theatre
James Holt -
composer; membership and marketing associate, League of American Orchestras
Michelle Mierz
- executive director, LA Contemporary Dance Company
Mark Pemberton
- director, Association of British Orchestras
Mister MOJO
- star, MOJO & The Bayou Gypsies
Sydney Skybetter
- artistic director, Skybetter and Associates
Mark Valdez
- national coordinator, The Network of Ensemble Theaters
Amy Vashaw
- audience & program development director, Center for the Performing Arts at Penn State
Scott Walters
- professor, University of North Carolina at Asheville
Zack Winokur
- student, The Juilliard School
Megan Young
- artistic services manager, OPERA America
Please note: the views expressed in this blog are those of the independent contributors and participants, not the National Performing Arts Convention or the organizations they represent.
NPAC
- the
National Performing Arts Convention
- took place in Denver, Colorado on June 10-14, 2008. "Taking Action Together," NPAC sought to lay the foundation for future cross-disciplinary collaborations, cooperative programs and effective advocacy. Formed by 30 distinct performing arts service organizations demonstrating a new maturity and uniting as one a sector, the convention was dedicated to enriching national life and strengthening performing arts communities across the country.
Contact us
Blogroll