Why we dance
FREDDIE FRANKLIN!
Honestly, I knew the name and that he was of legend-status in the ballet world, but this 93 year old man rocked my soul last night at the Dance/USA Honors Dinner! At each major Dance/USA gathering, they host an Honors Celebration Dinner where 2-3 awards are given to individuals in the dance field who are either 'behind the scenes,' creating the work, or serving the entire field in a huge way. Among the honorees were Anna Kisselgoff, former NY Times dance critic, Rena Shagan, who helped found Dance/USA, and a bubbly 93 year old ballet dancer Frederic Franklin.
Freddie is turning 94 tomorrow and still performing with ABT, yes, performing ballet at 94! Beyond that, his generous nature and love of the craft of dance left not a dry eye in the ballroom at the Denver Sheraton. My business partner, LACDC Artistic Director Kate Hutter, put it best "This is why we dance." It's so true that we that get lost, especially at these conventions, in the nuts and bolts of "operating" and "sustaining" the arts. It was terrific to stop, just for a moment, in a small ballroom at a jampacked convention and reconnect to why we do what we do.
Thank you Dance/USA and Freddie for an unforgettable evening.
Freddie's
bio
.
posted by Michelle Mierz.
About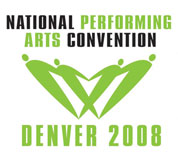 Be sure to check in all week for continuous blogging from NPAC. Attendees from across art forms and job functions report on their conference experiences. Comments from the convention and beyond are welcome!

Reporting from NPAC:
Amanda Ameer
- web manager, NPAC
Sarah Baird
- media and public relations executive, Boosey & Hawkes
Joseph Clifford
- outreach and education manager, Dartmouth College Hopkins Center for the Arts
Lawrence Edelson
- producing artistic director, American Lyric Theater
James Egelhofer
- artist manager, IMG Artists
Jaime Green
- literary associate, MCC Theatre
James Holt -
composer; membership and marketing associate, League of American Orchestras
Michelle Mierz
- executive director, LA Contemporary Dance Company
Mark Pemberton
- director, Association of British Orchestras
Mister MOJO
- star, MOJO & The Bayou Gypsies
Sydney Skybetter
- artistic director, Skybetter and Associates
Mark Valdez
- national coordinator, The Network of Ensemble Theaters
Amy Vashaw
- audience & program development director, Center for the Performing Arts at Penn State
Scott Walters
- professor, University of North Carolina at Asheville
Zack Winokur
- student, The Juilliard School
Megan Young
- artistic services manager, OPERA America
Please note: the entries posted by the attendees above represent their personal impressions, not the viewpoints of the organizations they work for.
About this blog
From April 1 through June 9, 2008, weekly entries will be posted here by some of the performing arts community's top bloggers. This 10-week intensive blog will serve as a unique forum for digital debate and brainstorming, and both the entries and comments will be archived for use at the live NPAC sessions in June. New entries will be posted every Monday morning.
Please note: the views expressed in this blog represent those of the independent contributors and participants, not the National Performing Arts Convention.
NPAC
- the
National Performing Arts Convention
- will take place in Denver, Colorado on June 10-14, 2008. "Taking Action Together," NPAC will lay the foundation for future cross-disciplinary collaborations, cooperative programs and effective advocacy. Formed by 30 distinct performing arts service organizations demonstrating a new maturity and uniting as one a sector, NPAC is dedicated to enriching national life and strengthening performing arts communities across the country. Click
here
to register, and we'll see you in Denver!
The Authors
Jaime Green, Nico Muhly, Kristin Sloan, Jason Grote, Jeffrey Kahane, Eva
Yaa Asantewaa, Greg Sandow, Hilary Hahn, Tim Mangan, Paul Hodgins, Richard Chang and Andrew Taylor!
Contact us
Blogroll